Everywhere you turn, there's a new small-batch food product just waiting to be tasted. From stands at local farmers markets to mega-retailers devoting some precious shelf space for regional producers, the "eat local" movement has grown in metro Detroit.
The food culture here has spawned a network of organizations and individuals willing to offer advice, time, and resources.
So who are the new entrepreneurs striving for a proverbial piece of the pie? In some cases, it's a "when life gives you lemons" response to not being able to find a job. Others hope to support local farmers, help save a neighborhood, or simply share the results of a personal search for a better granola bar, burger, or barbecue sauce.
Some work out of their homes; others rent space in a shared commercial kitchen or operate large brick-and-mortar facilities.
The following pages feature a sample of Detroit-area food entrepreneurs. Their business goals range from a small-batch producer testing the waters to see if the food business is right for them to those seeking an "angel" investor. After all, the next McClure's Pickles or Garden Fresh Salsa could be coming around the corner — perhaps in a food truck.
Food photographs by Cybelle Codish // Portraits by Justin Maconochie // Illustrations by Kate Bingaman-Burt
Hair and makeup by Kelly Mitre from Flaunt Salon // Prop styling by Erika Patterson
Profile set props from Oddfellows Antiques, Berkley; 248-399-6098; oddfellowsantiques.com
SPECIAL THANKS TO:
The Carr Center and The Arts League of Michigan for hosting our portrait session. The Center is housed in a 19th century building formerly known as the Harmonie Club. It is dedicated to making the arts an integral part of life in metro Detroit. 313-965-8430; thecarrcenter.org
Dawn DeMuyt
Company: Labrosse Farm
Products: Heirloom tomatoes and peppers, plants, and (coming soon) Heirloom Tomato Ketchup
Distribution: At various farmers markets and on facebook.com/labrosse.farm or labrossefarm@gmail.com
Back story: From seed to harvest, Dawn DeMuyt and Patrick LaMourie are cultivating 30-plus varieties of heirloom vegetables — mainly tomatoes and peppers — on a small Corktown farm they bought in 1997.
They've expanded beyond the backyard of the house they moved into a few years ago, branching out to nearby lots a neighbor lets them farm.
In 2006, Labrosse Farm started off selling excess tomatoes at farmers markets. The following year, they started selling plants.
This fall, Labrosse Farm is taking the next step: They plan to partner with a certified kitchen and produce a line of three small-batch heirloom ketchups using this season's harvest.
"They'll all be fresh, nothing from a paste," says DeMuyt. That also means using honey instead of sugar.
"Detroit is a great place to be in the food world right now," says DeMuyt, citing a growing network of resources for small producers.
Urban farms are part of the "big picture" of producing local food rather than buying it "packed from a large corporation from the other side of the country," DeMuyt says.
Cassandra Thomas
Company: Sweet Potato Sensations
Products: Sweet potato pies, tarts, cupcakes, cheesecakes, cobblers, and more
Distribution: Store in Old Redford, farmers markets, and retail stores, including Whole Foods
Back story: Remember that character in Forrest Gump naming all the ways to prepare shrimp? Cassandra Thomas can offer up a sweet potato version of that list.
But it started off with a simple cookie. The former Hudson's buying manager decided to test the waters in 1987, setting up a table at a 30-block garage sale. She gave out samples, and asked people to fill out a survey. Two findings: They loved the cookies but not the name "Mrs. T's Cookies" (it evoked an ubiquitous 1980s Mr. T character). Then her husband had a dream and a slogan: "Sweet Potato Sensations … The Greatest Taste in the Nation."
They sold 125 bags "without pushing," Thomas says. But it wasn't exactly legal. So she rented a licensed kitchen in the North Rosedale Park Community House.
After some hard lessons, Sweet Potato Sensations moved into their own building in 1994 (across from their current 5,000-square-foot location).
They were also featured on Food Network a few years back — a channel Thomas says her husband used to turn off. "He doesn't turn it off anymore," she says.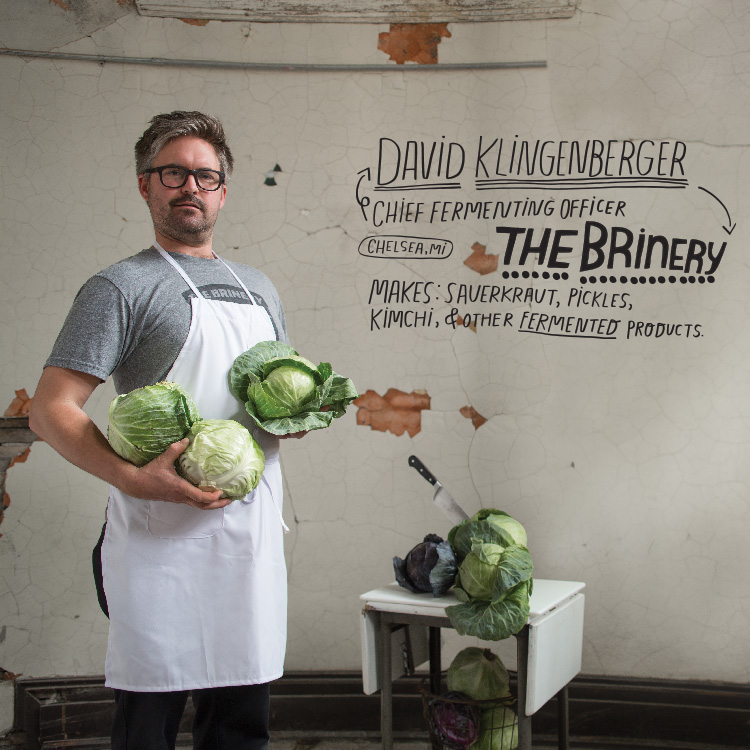 David Klingenberger
Company: The Brinery
Products: Sauerkraut, pickles, kimchi, and other fermented products
Distribution: Farmers markets, retail outlets (Plum Market, Zingerman's, Whole Foods, and more) in Michigan and beyond, restaurants, plus online at thebrinery.com
Back story: Cultures around the world have discovered that barrels and bacteria make a great combination. "Once you start looking, every culture has some kind of fermented food," says David Klingenberger, the "Chief Fermenting Officer" of The Brinery.
His journey began with a field of autumn cabbages at Tantré Farm in Chelsea. Where it ends upis anyone's guess.
He made his first batch of sauerkraut more than a decade ago, but didn't really think about selling it. More recently, he started distributing "bootleg kraut" to friends and family out of the back of a car. No real business plan. More like: "Hey, I just make money selling kraut!" he says.
After he went a bit more "formal" at some farmers markets, it sort of snowballed. "Stores started calling us," Klingenberger says. Stores like Whole Foods. "I don't know if I'm a brilliant businessman or just lucky."
What he is for sure: an awfully good fermenter. The goal is to use as much Michigan product as possible (ingredients such as ginger root are sourced from afar). They buy from a half-dozen large and small farms.
If the dozen or so full- and part-time employees can keep up with production, The Brinery will be in even more stores. They've moved to larger facilities at the Washtenaw Food Hub, an offshoot of Tantré Farm.
"We've got the manic energy and ambition," for more growth, Klingenberger says.
Recognition from outside of Michigan also lends credibility. The Brinery won a 2014 Good Food Award in San Francisco — sort of like the Oscars of certain food categories.
Rachel Fawaz
Company: Starry Night Baker
Products: Hand-painted cookies, specialty cakes
Distribution: By appointment only; starrynightbaker.weebly.com
Back story: After a career in the bookselling business, Rachel Fawaz decided to stay at home to raise her kids. She started a small online book sales business, but also opened a home-based kitchen.
She specializes in custom cakes and cookies, including hand-painted cookies that mimic classic paintings. At one point, she was donating part of the proceeds to the DIA. The name "Starry Night" comes from one of her favorite subjects — a Van Gogh painting.
When considering names for the business (it was formerly Rachel's Cookies & Cakes), a friend suggested "Cakes on a Plane," she says, adding: "That one didn't make the cut."
Fawaz says the Michigan Cottage Food Law of 2010 helped make it easier for people like her to start their own business. She isn't looking to expand too much, or even open a store at this point. Starry Night is extra income — and an outlet for her artistic talent. But perhaps not too much extra income.
The cottage law limits you to $20,000 in gross sales. So for now, Fawaz wants to get "just popular enough" to make $19,999.
Joe Uhl
Company: Joseph Wesley Black Tea
Products: All-natural tea sourced from China and India
Distribution: Local businesses via personal delivery, online at josephwesleytea.com
Back story: The journey to start a business can be long — both in time and distance. When Joe Uhl taught in China 13 years ago, he'd talk with tea merchants in Ürümqi. During these gatherings he realized the creation of tea parallels the creation of life. Tea is steeped in a large pot metaphorically referred to as the "mother pot." Smaller, shot-sized teacups are the "son pots."
Uhl says this "arrow through my heart" revelation spurred a far-flung dream to open a tea business … some day.
After returning to the Detroit area and attending law school, Uhl practiced law for eight years. But he wasn't happy, and knew he could do something more engaging. Then a friend reminded him of his tea idea.
His flame rekindled, Uhl quit his job and launched Joseph Wesley Black Tea.
Uhl remains in contact with farmers he met in China, and visited in May to inspect the harvest. He sources seven teas from China and two from India, where he goes "to sample the various lots and to help create the flavor profiles that I want my teas to have," he says.
More than 15 southeast Michigan businesses sell Uhl's tea; Cliff Bell's and Woodbridge Pub sell the beverage by the cup and retail accounts include Zingerman's and Pure Detroit. He personally delivers the product.
Teas are also available online, and he ships all over the globe. He is seeking co-owners (as of press time, he found one) for financial support. He's also looking for a distributor to get Joseph Wesley Black Tea onto store shelves and hopes to release a ready-to-drink bottled tea.
Uhl is also working on a book, slated for a spring 2015 release, which will feature the history of tea, recipes, and making the perfect batch.
"I'm in it for the culture," Uhl says. "I'm really giving you something personal when I'm giving you tea. The tea is just the vehicle to demonstrate this relationship." — John Domol
Andy Chmielewski
Company: Dave's Sweet Tooth
Products: Toffee (currently six varieties)
Distribution: Online, plus some 200 stores throughout Michigan, including Hiller's Markets and Vince & Joe's locations; davessweettooth.com
Back story: After Andy Chmielewski's father, Dave, retired as a Detroit firefighter, the two started making small batches of Dave's toffee recipe. They started selling at local craft shows during the holidays — placing the product in Mason jars and printing labels off a computer.
Apparently, enough people thought the sweet-filled jars were nice gifts. They started getting calls for orders. Then a store asked about putting it on their shelves. The result was some 12-hour shifts.
That's when the younger Chmielewski had to "get serious" about licensing. Plus, he admits, "My mom wanted us out of the kitchen."
After he sought and received advice from Garden Fresh Salsa's founder Jack Aronson and vice chairman Dave Zilko, "They took me on a tour [and then] pointed me in the right direction," he says.
Dave now plays a lot of golf" and explores new flavors or varieties —what Andy calls "product development."
Business has tripled from year to year, Andy says. "Hopefully, in 10 years, we'll be turning down an offer from Pepsi," referring to tales that Garden Fresh turned down a multimillion-dollar offer from the food giant.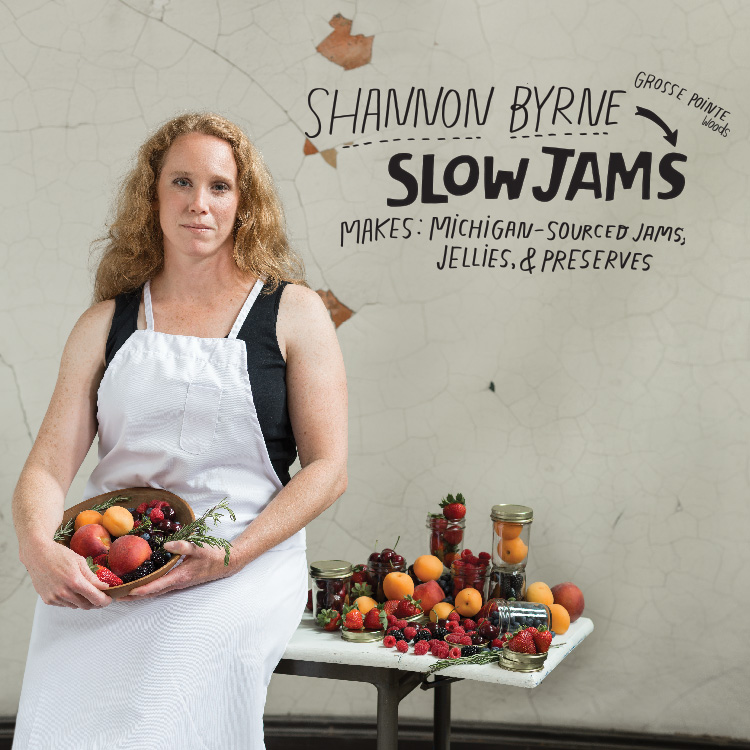 Shannon Byrne
Company: Slow Jams
Products: Michigan-sourced jams, jellies, and preserves
Distribution: At farmers market and grocers such as Westborn Markets, Plum Markets, local Whole Foods, Rocky's, and Zingerman's Creamery. 313-318-0916, email slowjamsjam@gmail.com
Back story: What Shannon Byrne and a group of friends started out of a community garden has sort of "spread" (pun intended).
Slow Jams began with a group who wanted to learn the art of traditional jam making, then share it with family and friends. By 2011, they decided to try selling face to face to consumers at Eastern Market.
They were soon approached by retailers and restaurant owners, leading to the next step: a commercial kitchen in Grosse Pointe Woods.
As Slow Jams' popularity grew, so did their number of suppliers. When they exhausted the community garden's raw materials, they started purchasing from Eastern Market wholesalers. The main goal was the same: Use only Michigan products.
Another goal is to help support the local economy. They've developed relationships with farmers throughout the state — from Ruhlig Farms & Gardens in southeast Michigan and a strawberry grower in Armada to getting cherries from the northwest and hitting up the blueberry belt on the southwest.
The Slow Jams team has expanded. Some are more part time than others, but "My mom's in the kitchen [and] my mother-in-law's in the kitchen," Byrne says.
Byrne is also helping others get started in the food community, in part by sitting on the steering committee of FoodLab Detroit. "We were blown away by the amount of support," from others, she says. "Folks are so eager to help grow good, viable jobs. So we want to give back."
Another part of giving back is working with the Detroit Food Academy. Slow Jams mentors high school students who learn everything from sourcing to balancing books.
Rachel Leemis
Company: Monty's Beef Company
Products: Piedmontese beef
Distribution: Direct to restaurants and a Royal Oak retail outlet; montysbeefco.com
Back story: The search for a better burger led Rachel Leemis down quite a different path than she originally intended. She's now raising a herd of cattle with a distinctly Italian heritage here in the Midwest.
After working in everything from mom-and-pop to high-end steak restaurants, Leemis planned to go solo with a "casual burger joint." Trying to find a product she loved led her to Italy — and Piedmontese beef. But there was a rub. Where to source it?
The question led her to a 72-year-old, fifth- generation Michigan farmer and Piedmontese cattle expert. But instead of opening a restaurant, Leemis decided to focus on developing the breed — and a market for it.
Leemis took the product on the road, knocking on a bunch of kitchen doors. Soon, Monty's was supplying some of the better restaurants in the Detroit area (think Ocean Prime and Bacco).
Monty's Beef opened a retail store in Royal Oak around a year ago. The next step is to grow the herd, because "200 acres in Michigan is not enough," Leemis says. They now work with nine cooperative breeders.
"When I grow up I want to be Niman Ranch," Leemis says, referring to the California-based nationally recognized brand.
Michele Bezue
Company: Sweet Artisan Marshmallows
Products: Handmade, natural marshmallows
Distribution: Farmers markets; just opened licensed kitchen
Back story: Talk about a sweet inspiration. When Michele Bezue's daughter Kelsey moved to Detroit, they considered opening a candy store. Then they came across handmade marshmallows.
At first Bezue thought, "How much better can they be?" But she was amazed at how different handmade marshmallows were compared to mass-produced ones.
So Bezue — a sort of serial entrepreneur who tried the bed and breakfast route at one point — started exploring flavored marshmallows, such as a roasted peach with brown sugar, butter, and basil — all made from scratch.
The first public test was at a Campus Martius holiday market. "I wanted to see if people had the slightest interest," Bezue says. That led to showing up at farmers markets. They see a potentially larger market at stores and coffee shops.
Bezue was a district manager in retail, but stresses the "was" … she's going full force into the new venture. "I'm confident it will work."
She's opening a commercial kitchen on Mack Avenue on Detroit's east side. The next step? Become the "go-to" for gourmet marshmallows. "My kids crack up at me," Bezue says. "But my plan is to build a 'fluff' empire."
Facebook Comments