For a moment, let's consider the cultural phenomenon of mozzarella sticks. Fresh mozzarella cheese is rolled in a medley of breadcrumbs spiced with traditional Italian seasoning, deep-fried, and served with a side of tangy-sweet marinara sauce. Though each ingredient it takes to make a proper serving of mozzarella sticks is a fundamental of Italian cuisine, somehow, the dish — with its stretchy cheese proportionately as enamoring for mature adults as it is for wide-eyed children — has become the archetype of the American appetizer. At Cork & Gabel, the mozzarella sticks aren't entirely American or Italian. At Cork & Gabel, they're hardly mozzarella sticks at all.
Here, the Fried Dubliner Cheese is a starter course ushering diners into the German-Irish-Italian fusion that's to be expected from all of the dishes to follow. Gooey Dubliner cheese wedges are coated in a crisp herb crust and served atop a smear of marinara sauce and garnished with fresh basil, shaved Parmesan, and a fiery splatter of hot honey.
The medley of flavors and techniques is a nod to Executive Chef Matthew McGrail's Italian-Irish roots, Owner Joe Mifsud's penchant for German food, and the Corktown restaurant's New American approach to traditional dishes native to each culture.
Pióg an Aoire is constructed with all of the ingredients of an authentic Irish Shepherd's Pie — a piping hot blend of ground beef and lamb, diced carrots, green peas, rice, cheddar cheese, and silky mashed potatoes — but fried crisp into spheres the size of meatballs and plated with a puddle of savory brown gravy.
For the Italian Caprese, a fall menu item, wedges of mozzarella are served in rows of three with beautifully charred lines from the griddle, sliced cooked tomatoes, and a ring of balsamic reduction drizzle.
Varieties of German sausages show up on the "Bangers and Brats" portion of the menu. A dish featuring kielbasa and sauerkraut made for a comforting entrée on a cool fall day. The skin on the back of sliced links of kielbasa offers the perfect snap, while the meat itself is tender, with just the right amount of grit that makes a good sausage. Golden sauerkraut peppered with bits of green onion is tangy, complementary to the pile of potato salad served on the side. A heavy hand of vinegar that's steeped into chunks of potato is slightly overpowering, but not enough to stop you from eating every last bite.   
The restaurant, originally intended to open as a German-style biergarten, has an industrial setting that exudes the feel of a cavernous beer hall. Plates are served to wooden tables with wrought-iron details, exposed brick, and vaulted wooden ceilings as the backdrop of your dining experience. The space is unassuming, and a lighthearted energy fills the room. Diners at communal tables are unashamed to eyeball their neighbors' dishes or probe for menu recommendations and meal reviews. On one night last spring, the high-pitch tone of live Irish bagpipes blared throughout the space, played by a bearded man suited in a proper kilt. On another night, a six-piece band tuned up its keyboard and guitars for a lively set that brought diners to their feet for an unexpected night of dinner and dancing. And this past fall, the restaurant was preparing to open an outdoor patio, where guests are welcome to continue the party just steps away from Michigan Central Station.
The European fusion crystallizes with Cork & Gabel's dessert menu. The Mayflower, the namesake of the restaurant's origin as a doughnut shop founded by German immigrants in the 1940s, is a sweet ode to the venue's historic start. Four warm doughnuts rolled in cinnamon sugar are slid onto the tabletop on a dark wooden plank. Dollops of whipped ricotta cream — the most decadent part of the dessert — divide the pairs of dense, bite-size treats, which are more cake-like than a bakery-style doughnut hole. But the Irish Waffle Bomb steals the show. A thin, fluffy, rich, boozy Guinness-infused chocolate waffle is crowned with one scoop of Baileys Irish Cream ice cream impaled with a shard of chocolate. After the last bite, which comes far too soon, you'll likely be inclined to drag your spoon across the plate, chasing every bit of the chocolate-covered pretzel dust that is grated over top of the plate, trapping sweet-salty bits in a sticky scrawl of Jameson caramel sauce. And while it may never reach the level of cult status of America's beloved mozzarella sticks, the dish is a marvel in cultural fusion deserving of acclaim in its own right. 
Cork & Gabel, 2415 Michigan Ave., Detroit; 313-638-2261; corkandgabel.com. D Mon.-Fri., BR,L,D Sat.-Sun.
---
Smoke Show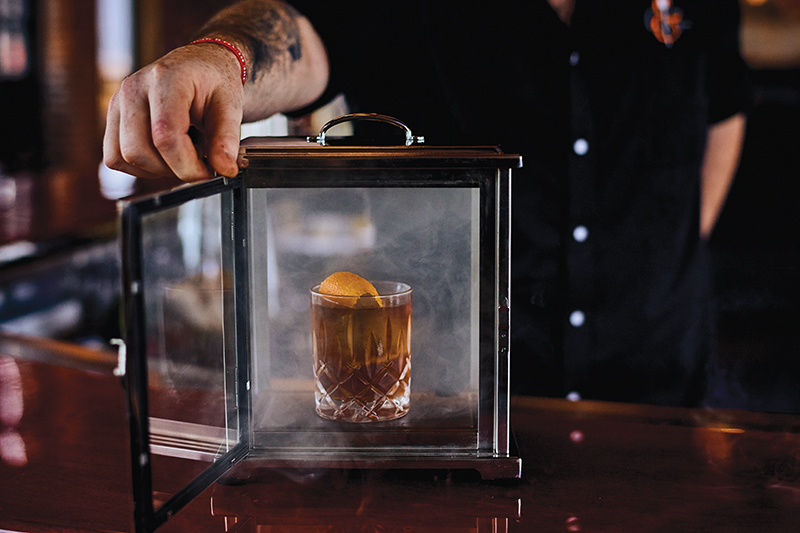 Seated at a communal table at Cork & Gabel, my dinner guest perked up at the sight of an item being served to a diner sitting at the table behind me. It wasn't a dish that commanded his attention — and that of the various other diners craning to catch a glimpse of the elaborate presentation — but rather, to my surprise, one of the several cocktails on the restaurant's drink menu.
Dubbed the O.F.A.F., the drink is a unique take on a classic — the old fashioned. It's encapsulated in a glass case filled with cherry wood chips and a cloud of smoke. Woodford Double Oaked Bourbon, rich demerara simple syrup, orange oil, and a blend of angostura and black walnut bitters are smoked behind the bar in that case and served tableside.
Our waitress explained that in-house smoking is one of the chef's prized techniques. On the food menu, you'll find smoked blue cheese made for dipping the saucy Gabel Wings, and applewood smoked bacon appears on the popular Schnitzel BLT.
But nowhere is it more pronounced than in the artful O.F.A.F. The over-the-top cocktail comes at a lavish price of $25 for just one serving.
Facebook Comments