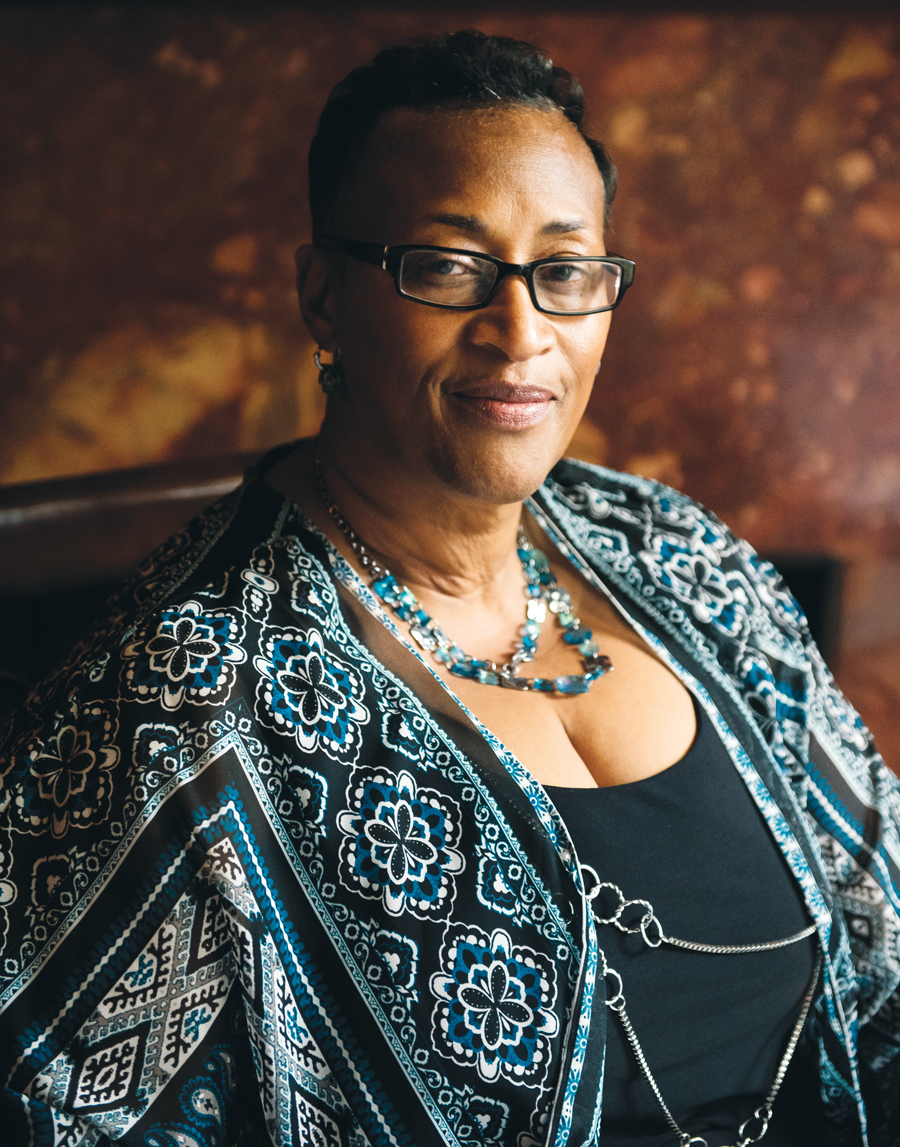 On Saturday mornings, 63-year-old Mary Jones gets up around 2 a.m. and heads to Eastern Market. At her booth in Shed 3, she unloads dozens of bags of loose leaf tea with names like "Redbird," "Balance," and "All For You." She arranges them alongside tea accessories and candles, says a brief meditation, and by 6 a.m., "The Tea Lady," as she's known around here, is ready to greet visitors with piping hot samples and to share the stories behind her handcrafted teas.
A Florida native, Jones has been selling tea in metro Detroit since the early 2000s. Her passion for the world's drink began as a girl when her father would send her teas and trinkets while on assignment in the Navy. The connection to far-off places evolved into a lifelong love of tea and, eventually, her own business, which she dubbed "Intu."
"Intu means getting into yourself, being kind to you first, and everything will fall into place," Jones says. "To me, tea is personal."
That philosophy is fitting for a business that's grown at its own pace.
Jones first presented her concept for Intu in the early 2000s at the newly formed TechTown, where a two-year program helped her develop a business plan and market her product. But the endeavor wasn't as successful as she'd hoped.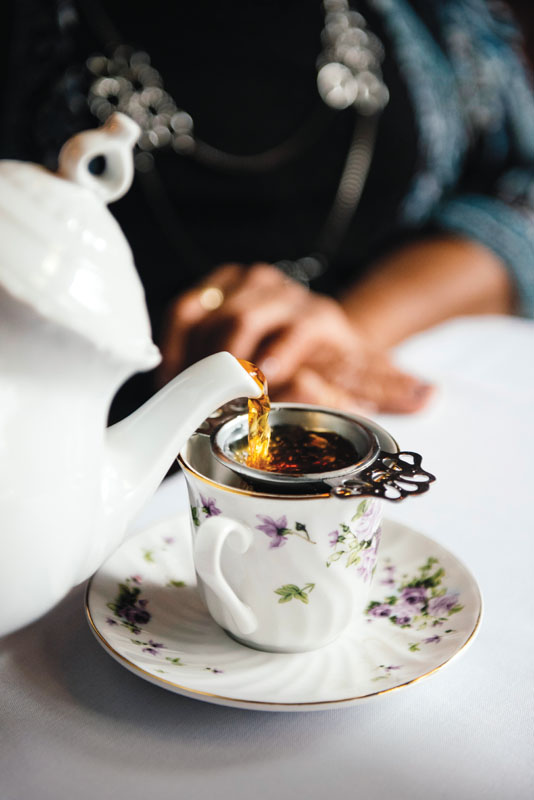 Over the years, Jones continued to take her teas to places like Canterbury Village in Lake Orion and the International Women's Expo in Novi.
Along the way, she endured professional and personal setbacks: a business plan that took some re-tooling, a business partner who took off with some recipes, and a string of health issues that led to two rotator cuff repairs and a titanium brace implanted in her neck.
Throughout it all, tea has remained a source of healing for Jones.
"There isn't a day in my life that I don't drink tea," she says. "But there is a limit. Four cups a day … I want you to drink tea, but I want you to be healthy so you can drink my tea for a long time."
When Jones' husband, Charles, was diagnosed with cancer in September 2006, caring for him became her full-time commitment, and she put Intu on hold. In 2013, after Charles passed away, she re-focused her business and developed a tea dedicated to her late husband.
"I had to come up with something that when I thought about him would make me smile because I was so in love with this guy," Jones says. "We'd bought a house that had a family of cardinals in the backyard, and I'd come home and he'd say 'Hey babe, there's these red birds in the backyard.' From then on, he was a bird lover. So 'Redbird' came out of that."
Today, Redbird is Intu's most popular tea, the top seller of about 50 others that Jones blends in the commercial kitchens at Bushnell Congregational church in Detroit's Grandmont-Rosedale neighborhood. The teas are sourced from estates all over the world, but exactly where, Jones won't say.
"If I tell you that, I'd have to kill you," she says with a smirk.
Intu's blends range from standard tea menu selections to bold, original flavors. Alongside familiar earl greys and oolongs, Jones' repertoire includes creations like "Peach Apricot," a fruit-filled black tea, and "All For You," an herbal tea with rooibos, lemongrass, and more. Other teas include ingredients like chili pepper, ginger, vanilla, and chocolate.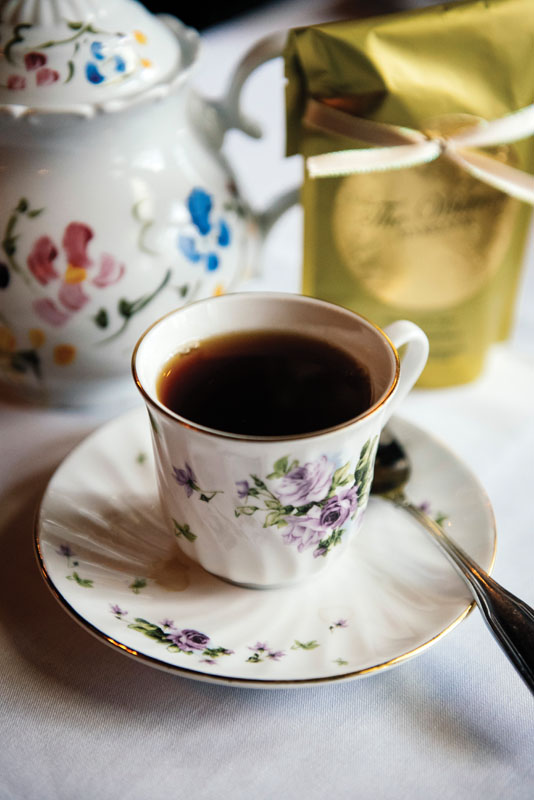 In addition to Eastern Market, customers can find Intu teas at Brooklyn Street Local in Corktown, the Exquisite Corpse Coffee House in Port Huron, and The Whitney in Detroit, where Jones was invited in 2015 to revamp the mansion restaurant's tea program.
As part of her role at The Whitney, Jones has created several Whitney house blends including a "Garden Tea" inspired by the mansion's garden. Throughout the year, Jones also hosts specialty teas, including afternoon teas, holiday teas, and a Valentine's Day tea called "Aphro-tea-siac," where she elaborates on the "passionate" side of tea.
Elsewhere in the community, Jones shares her experience as a small business owner with budding entrepreneurs. In recent years, she's teamed up with L'Anse Creuse Public Schools in Clinton Township to serve as a guest speaker in an entrepreneurial program.
But even with her collaborations throughout metro Detroit, there's still room for Intu tea to grow. And as other tea vendors have come and gone, Jones says that her knowledge of her product is what helps her persist.
"There's so many people doing this now," Jones says. "But I just have to stay the course. The people who are meant to sell tea will continue and the rest of them will go on to the next venture."
For more information, call 248-893-7636 or visit intutea.com.
---
Beyond the Blends
With unique ingredients and creative combinations, Mary Jones' Intu teas are full of intriguing flavors. But just as intriguing as the teas themselves are the stories and inspirations behind them.
1. Balance
Despite having just three ingredients, Jones says blending this green tea took some time. "I could not get that darn tea balanced," Jones says. "I used that word balanced so much I said 'What the heck, that's what I'm going to name it.'"
Ingredients: Sencha green tea, lime leaves, lemongrass
2. Garden Tea
Brewed exclusively for The Whitney, Jones says she drew inspiration for this herbal tea from the mansion's garden. "[The garden] there has a calming effect," Jones says. "It has a gentleness about it."
Ingredients: Hibiscus, Egyptian chamomile, cinnamon, rosehip, ginger, peppermint
3. Peach Apricot
This black tea doesn't shy away from its fruit flavors. "I'd had peach teas and apricot teas, but they were never full-bodied," Jones says. "I wanted to be able to distinguish the two [main] fruits in there."
Ingredients: Black tea, peach, apricot, papayas, blackberry, lime leaves, calendula, and
sunflower petals
4. Redbird
Named in honor of her late husband's love of birds, Jones says Redbird is now her top-selling tea. "My husband passed four years ago," Jones says. "We were married 31 years … Redbird has done more for me than any other tea."
Ingredients: Cinnamon, cloves, orange, lemon, hibiscus, pomegranate peel, lemongrass
5. All For You
Anyone can drink this herbal tea, Jones says, but she created it with women in mind. "I should have named it 'All For Us,'" Jones says. "Everybody should be drinking rooibos, but for women's health, rooibos is very nice."
Ingredients: Rooibos, hibiscus, lemongrass, ginger, rosehip, apple, sunflower, passion flower, raspberry, strawberry, kiwi rose, raspberry leaves