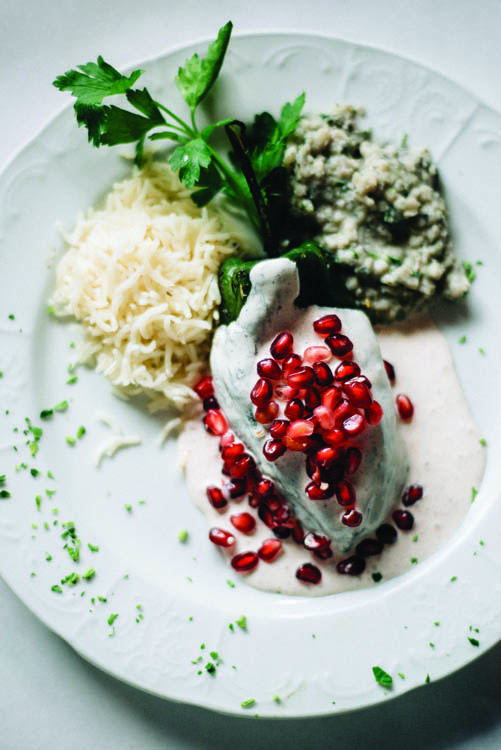 This March, the Detroit Institute of Arts opens its massive Diego Rivera and Frida Kahlo in Detroit exhibit. At the same time, the Michigan Opera Theatre is staging Frida at several metro Detroit locations.
If you're looking for the perfect pre-show dinner, there's no place like Southwest Detroit's Mexicantown. But for one special weekend in late March, diners can get immersed in the "Frida fest" by trying some of Kahlo's recipes.
An internationally recognized painter, Kahlo was also an accomplished cook. As a co-production with the Michigan Opera Theatre, three of Detroit's top Mexican restaurants will offer special menus the weekend of March 28 to show visitors and locals a different and lesser-known side of this icon.
Inspired by the MOT's production of Frida, renowned chefs from restaurants El Barzon, El Asador, and La Terraza will recreate some of Kahlo's recipes for foodies longing for an authentic taste of Mexico.
The chefs will be guided by a book called Frida's Fiestas: Recipes and Reminiscences of Life with Frida Kahlo (Clarkston Potter/Publishers, $37.50). The book was written by Guadalupe Rivera, daughter of Diego Rivera, and Guadalupe Marin, a Mexico City-born author.
The tome is more than a cookbook (although it is one heck of a comprehensive cookbook). It's also filled with anecdotes about life with Rivera and Kahlo, drop-dead stunning photography, and vintage portraits and reproductions of some of Kahlo's paintings.
The "theme weekend" was the brainchild of Martina Guzman. Normally heard on WDET-FM in her role as a producer/feature reporter, she's been working as a consultant and liaison to metro Detroit's Latino community as the MOT developed their game plan for the Frida opera.
The idea is to help make "long-term inroads to bond the community and the opera house — and to introduce travelers from out of town as well as the suburbs to really experience the community," Guzman says.
"[The MOT] wanted local businesses to profit from the opera as much as possible," she says.
Frida is also being staged in several other metro Detroit locations. "We're trying to break the mold that you have to come to the opera house to see opera," Guzman adds.
Spreading the wealth also extended to getting the costuming for Frida done by women in Mexico to support them economically (see "Authentic Artisans").
The restaurants are planning special menus from the Fiestas book, and the chefs are mulling over the recipes.
"Luis Garza (El Asador), Norberto Garita (El Barzon), and Israel Rocha (La Terraza) are all very accomplished in the kitchen and have incredible and respected palettes," Guzman adds.
There's no word yet on the actual menus. According to El Barzon's Garita, he's going to "do my best on a few items from the cookbook," perhaps trying Kahlo's versions of red snapper or mole poblano. (Editor's note: It's hard to imagine improving on El Barzon's tantalizing mole, but we're hoping to get a place at the table to find out.)
---
For more information on the DIA exhibit, go to dia.org. For opera information, visit michiganopera.org. El Barzon: 3710 Junction Rd., Detroit; 313-894-2070. El Asador Steakhouse: 1312 Springwells St., Detroit; 313-297-2360. La Terraza, 8445 Vernor Hwy., Detroit; 313-843-1433.
Facebook Comments