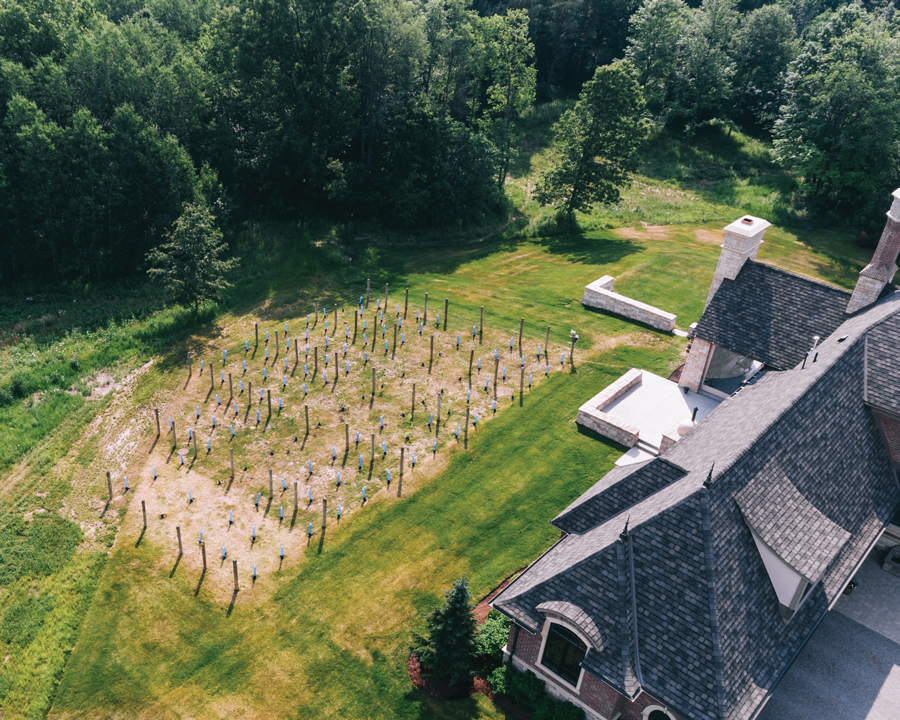 Imagine sitting on the back porch sipping a glass of wine made from your own label. The view isn't bad either. It's your own private vineyard that can produce hundreds of bottles of wine every year.
Metro Detroit may not be Napa or Sonoma or the south of France. But building a private vineyard is possible for those with the land and money.
Great Lakes Vineyards owner Tyler Kownacki has developed a model for property owners with as little as one-tenth of an open acre of land to have their own vineyards. It requires a minimum of 4,500 square feet, which is one-tenth of an acre of land. That will yield a roughly barrel of wine or about 20-25 cases per year. The minimum cost to design and set up a vineyard is $10,000.
Anthony Sereno plans to open the Metamora Dreams bed and breakfast in Oxford in 2018. The former restaurant owner and longtime wine enthusiast is having Kownacki build a vineyard on his property for both business and personal reasons.
"It brings out the charm in our property and gives us something that other [bed and breakfasts] don't have," Sereno says. "But honestly I just will enjoy looking at it myself when I'm walking around."
Addison Township resident Sebastian Lombardo grew grapes with his father at his childhood home in Romeo, but they could never find the right combination. With Kownacki's help, Lombardo built a half-acre vineyard on his residence.
"It's as simple as us wanting to produce quality wine from our own personal vineyard and share that wine with our friends and family members," Lombardo says.
Temperate weather, plenty of moisture, and airflow has made Michigan one of the fastest growing wine producers in the United States. There are more than 120 commercial wineries in the state. Vineyard owners can produce many different types of vinifera and hybrid grape varieties, and there is the ability to grow European grapes such as riesling, chardonnay, pinot noir, and cabernet franc as well, says Karel Bush, executive director of the Michigan Grape and Wine Industry Council.
"Those European grapes are more finicky and require specific temperatures and growing climates, but produce highly sought-after wines," she says.
Most often, Kownacki recommends his clients consider hybrids. The potentially harsh winters in Michigan can make it difficult to grow a chardonnay or other more sensitive grapes. "If you have the right grape and the weather cooperates, you can have as high a quality of wine right here in Michigan as anywhere in the world," he says.
Having his own wine label will allow Sereno to cater weddings and other events on-site at his bed and breakfast. He'll also bottle red and white wine for friends and family, and have a glass himself.
"I want to enjoy the fruits of my work and [the vineyard] has benefits for my family and for this new business," Sereno says. "Who wouldn't want to have a glass of wine a few nights a week from your own vineyard on your own property?"
Kownacki can actively manage the vineyard or let his clients run the entire operation. He provides consulting services for at least the first year after a vineyard is installed, but if clients wish, Great Lakes Vineyard can manage the vineyard and bottle the wine — leaving the homeowner with all the comforts and none of the maintenance.
"It really varies among our clients," Kownacki says. "Some want to work their own vineyard and have the whole experience while others let us run the operations. Others like a hybrid approach."
Lombardo is choosing to manage the vineyard and bottle his personal wine himself, but admits he likes to "get his hands dirty" as he also makes maple syrup on his property. For him, managing the vineyard is part of the fun.
"The ambiance is something you can't create any other way," he says. "We have an incredible view of the vineyard from virtually anywhere in our house. I'm humbled by it all."
---
For more information, visit greatlakesvineyards.com. You can also contact a Michigan State University Extension office.