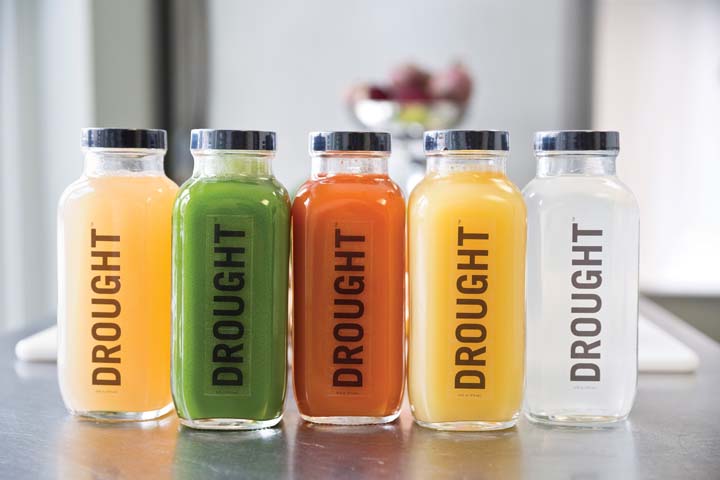 Norman W. Walker had a theory: Cooked foods — baked, fried, boiled, or roasted — are "dead" foods, unhealthful vices that merely sustain the human system. Starting in our digestive system, cooked foods eventually degenerate us, he posited, spreading sickness and chronic ailment over our entire body.
Raw, fresh, pure, plant-based foods, on the other hand, he thought, restored health, vitality, and energy. By opting for a "raw-over-rice" diet in his middle age, Walker transformed his own sickly health, living to be nearly 100.
In the 1930s, Walker invented the Norwalk Juicer, a cold-press system of juicing fruits and vegetables that applies two tons of hydraulic pressure to extract pure, live-enzyme-containing, pulp-free, 100-percent raw juice.
Today, Drought Juice in downtown Plymouth is a rare breed of juicing company that uses the Norwalk cold-press method. "It's a different product," says Drought's Caitlin James. "It can't sit on a shelf for very long; it must be consumed fresh."
Caitlin and sisters Jane, Julie, Jessie, and Jenny — whose ages range from 25 to 32 — are Drought's creators, owners, and main production artillery, along with a few staffers.
Most juice bars and home juicers use the centrifugal method, where heat is generated by a central spinning blade, consequently destroying natural enzymes in the process. In effect, the juice is no longer considered "raw."
"Juice like ours is [commercially] 'new,' even though it's age-old," Caitlin says. "But I think it's here to stay." She defends Drought's arguably "outdated" process. "Some people think that there are other, better ways to do it," she says with a chuckle, "but this is the best way to produce juice."
Raw juice maintains a "nutraceutical" quality and is different from health smoothies in this way. With raw juice, nutrients are efficiently absorbed into the bloodstream, giving the digestive system a break. "It's a way of ingesting micronutrients that you would otherwise not get," says Jessie.
Each 16-ounce bottle of Drought juice contains three pounds of raw produce. You could try to eat three pounds of raw veggies in a day, but it wouldn't be easy.
The James sisters wash, prepare, juice, bottle, and even write and place labels, by hand. They waste very little. "Simplicity" is their business model, and every aspect resonates with a "nostalgia for the archaic" — a line from a Terence McKenna podcast that Caitlin says she and her sisters love.
The product isn't cheap — about $10 per bottle — but it's a "pay now or pay later" deal, says Jenny. "It's real food."
Drought offers cleanse — not "fast" — programs that include six juices at $63 per day. The driving principle behind the system is nutrition — not weight loss — as a counterpoint to the "standard American diet" of processed, hydrogenated, refined, enriched, and pasteurized foods.
Last year, the sisters obtained a vegan commercial kitchen license, producing their juice and cleansing packages on a made-to-order basis at their tiny storefront. A cash register, iPad, refrigerators, and the shoulder-height industrial juicer are the only indicators that their space is a commercial kitchen, and not someone's living room. With its beige walls, Tiffany lamp, and world-map wall décor, Drought's storefront maintains a homespun feel. But that might also have something to do with the familial bond between the co-owners.
Last February, Drought made a big investment: a 9-ton hydraulic cold-press juicer capable of extracting gallons of juice per session (compared to the ounces of output on their two, 2-ton Norwalk Juicers). Caitlin says that 2013 is the year that Drought beverages will hit local supermarkets and even be available for national delivery.
"Accessibility," Jenny says, "is always on our minds."
Drought Juice, 470 Forest Ave. No. 11, Plymouth; 734-459-6383; droughtjuice.com.