It all began with just a dozen scones, "six for Gayle, six for me," Elwin Greenwald says. When the first 12 sold, he made another dozen. Now a crew of bakers makes the triangular Scottish quick breads in an array of sweet and savory flavors, and they're sold by the hundreds throughout metro Detroit and beyond.
Greenwald's first location was in downtown Royal Oak in 1990, just around the corner from Gayle's Chocolates. At the time, what has since become Elwin & Co. was called Elwin's Tu-Go and it offered gourmet prepared dishes on a carryout basis. Greenwald, a French-trained chef, was fresh from his experience as the first executive chef at the Van Dyke Place, then one of the city's top restaurants, in a vintage townhouse on the edge of Indian Village.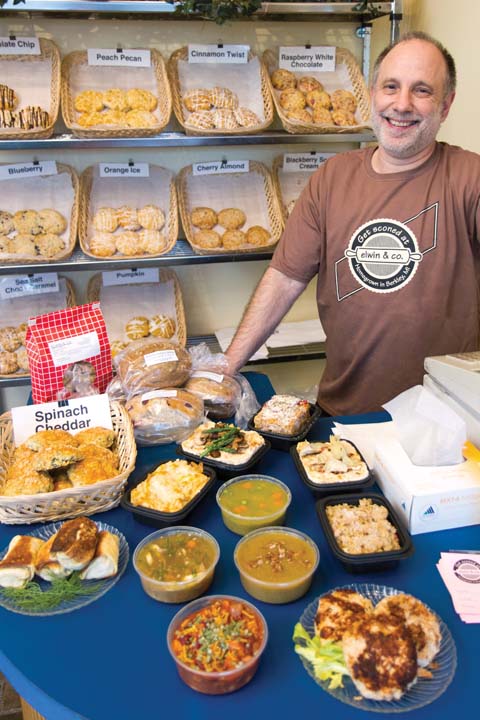 As more coffeehouses began to spring up, scones, which until then were a fairly obscure item, started to become the coffee accompaniment of choice, and their preparation soon began to take over the small kitchen at Elwin's. That pushed him to relocate after a couple of years. He found and bought a building on Coolidge in Berkley. He says he fell in love with the quiet suburb, and in fact, also purchased the house behind the building, a house where his mother still lives.
In the early days, Coolidge was pretty quiet, with not much happening in the way of foot traffic, Greenwald says. Now there are more stores and more activity on the stretch near 12 Mile Road, and that spurred him to expand the menu, or more aptly, take it back to where it was when it all started, with dinners to go.
He missed cooking, and so he started adding prepared dishes to his menu, this time with an American rather than a French spin. Offerings include soups: what he calls Bubbie's Famous Chicken Soup with farfel, from his mother's recipe; as well as Hungarian vegetable barley; tomato rice; and split pea. Entrees, including macaroni and cheese, and tuna casserole in 14-ounce portions, are flash-frozen in a blast freezer. Salmon patties and mushroom and cheddar blintzes come in multiples of six. Three desserts — peach cobbler, apple-raisin crisp, and rice pudding — have joined scones on the sweets list.
While his prepared-foods menu is perhaps a little more mundane than his earlier Tu-Go approach, he still uses French techniques and quality ingredients.
Although most of the space in the building is devoted to the kitchen and bakery, there's a tiny retail area up front. Greenwald says he likes to be there so he can interact with his customers, some of whom bring in their own dishes for him to fill.
Scones are now offered in a dizzying array of flavors, 63 in all — from cherry almond and sour-cream chive to bacon cheddar and garlic basil. Still available, however, are the two original flavors: lemon poppy seed and currant.
2971 Coolidge, Berkley; 248-547-8846, elwinandco.com. Retail hours: 7:30 a.m.-3 p.m. Mon.-Fri., 8:30 a.m.-2 p.m. Sat.