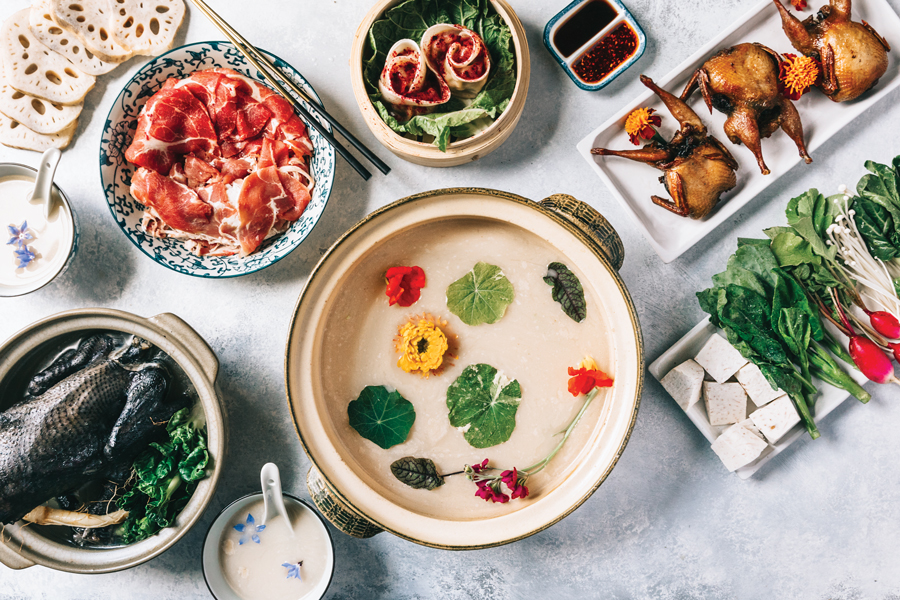 I hate eating alone.
This fear stems from what I'm sure is a genetic predisposition as a Filipino-American. If you are spotted dining solo, Filipinos will immediately assume there's something wrong with you; they rarely eat (or do anything) alone. For me, the prospect of having the awkward "party of one" conversation with the hostess at a restaurant brings a feeling of dread, like when I open my mailbox and find a letter from the IRS or see an ex and I'm wearing yoga pants.
So I was crippled with fear after my dining companions bailed on attending Jonathan Kung's dumpling-making class and hot pot dinner at his Market Studio in Eastern Market with me. As a bonafide introvert, (according to the highly scientific free online quiz I took, I am 97 percent introverted), this is my worst nightmare. As the date drew closer, my inner monologue was dominated by questions like: "Will I be the third wheel? Will I stress eat all the dumplings because I have no one to talk to? Should I just cancel?"
Unfortunately I couldn't do the latter because I was on the hook for this article.
It's a beautiful June evening when I arrive at the loft, the last of the seven people signed up for the class to show. Simmering pots of broth perfume the air. The dining table is impeccably set with stylish white plates and bowls. And thankfully, since the Chinese hot pot, like Korean barbecue or Japanese shabu shabu, is a communal experience, no table for one for me.
Jenise, one of the diners, introduces herself right away along with her husband, Stu. They're on a double date with their friends, Ashley and Andrew, who found out about the dinner on airbnb.com. Andrew from Dearborn, not to be confused with the other Andrew, is there with his wife, Dawn, for whom he bought the class as a present. The tsunami of anxiety that had washed over me before I walked in weakened to a small wave.
We start with making dumplings. Kung shows us how to make the filling, which begins with ground pork. He seasons the meat with soy sauce, Chinese wine ("never for drinking," he says), and Kung's own five spice blend. He then adds a cornstarch and water mixture, which is the secret to a juicy dumpling.
A crucial component to any hot pot meal is the dipping sauce. At Kung's family meals, there was a buffet of ingredients for people to make their own dipping sauces. His creation consisted of raw egg, toasted sesame paste, soy sauce, sugar, and a touch of pepper.
Throughout the dumpling demo and meal, we get to know the L.A.-born Kung who came to Michigan by way of Toronto and Hong Kong. While his family helped foster an early love of cooking, it wasn't until he went to law school when he turned to food as a creative outlet. He began blogging and started doing pop-up dinners around Detroit around 2008 and helping chefs launch their restaurants. These collaborations and dinners around town helped him elevate a hobby to the professional level.
After he finishes making the filling, we move to "the gallery," a room adjacent to the kitchen and dining area, to make the dumplings. He shows us four methods: wontons, boats, flowers, and an elaborate rose shape that requires a lot of meat and several wrappers. Someone makes a comment that all the shapes resemble butts and we all laugh; there's something about dumplings that breaks down barriers. Dawn outdoes all of us with her expertly folded dumplings, which are the ones Kung selects for our meal because most of ours look like a hot mess.
As we finish making dumplings, Kung goes back to the dining area to finish setting the table. When we return, it's overflowing with food: two different kinds of broth (one herbaceous mushroom-based broth, the other a fiery, mouth-tingling Szechuan concoction with an "unapologetic" amount of chilies) on two portable burners; a large bowl filled with colorful produce such as bok choy, taro root, and corn; a platter of thinly sliced lamb, beef, and pork; and a plate of meatballs and fish balls. Each place setting has a plate, soup spoon, a bowl full of dipping sauce, a mini strainer, and chopsticks.
It's our turn to cook. Cooking a hot pot meal is easier than making boxed macaroni and cheese; you take your desired ingredient, plop it into the hot broth, and wait eagerly with chopsticks or strainer at the ready, sometimes 15 seconds or several minutes, before fishing out the goods (sometimes it's what you dropped in, other times it's whoever gets to it first). He directs us to start with the meatballs (those take the longest to cook) before moving on to the vegetables, dumplings, and finally meat.
Several people haven't had taro root and are eager to try it, while the brave souls who partake in the Szechuan broth battle the spicy meat sweats. Conversation spans a wide variety of topics, such as travel, job wages, and Dan Gilbert.
Kung is a generous and hospitable host. He keeps the two pots of broth full by adding more hot water (the longer you eat, the better hot pot gets, he says). He also keeps the wine flowing; toward the end of the meal, Kung treats all of us to a bottle of bubbly to celebrate his boyfriend's mom's new home purchase.
Nearly two hours later after eating as much as our stomachs would allow, we all bid farewell, appreciative and thankful for each other's company.
A few days later I reach out to Jenise Parkhurst, the guest who first introduced herself to me as I walked in the day of the dinner, to get her thoughts on the experience.
The arrangement of the table and Kung's hospitality helped ease some of her concern that "the class would be a bit awkward since I did not know the other couple, but everyone was very nice and sociable," she tells me in an email.
It's good to know I wasn't alone. But with hot pot, you never are.
---
For more information about the hot pot meal, go to airbnb.com/s/detroit/experiences. Find out more about Jonathan Kung's Market Studio at kungfood.kitchen.