Gastropubs have become customary in Detroit, all touting craft cocktails and beer, not to mention high-priced burgers.
Rusted Crow's second distillery location (the original one is in Dearborn Heights) sets itself apart from the pack with well-executed dishes that complement the aesthetic and feel of the gastropub, which has an interior unlike any seen in the city.
The meticulous work Rusted Crow put into their spirits and original distillery is clearly seen in the new location. Like the brand's well-known vodka, the decor is steampunk-themed with faux valves and piping emerging from metal booths. Warm filament bulbs create a "rusty" glow, highlighting every surface.
Massive murals featuring crows are painted high along refurbished wood, exposed brick, and metal paneling. Electro-funk music plays lightly in the background, adding to the cool, gothic aesthetic.
The fare matches the setting. Although the location serves up traditional pub fare, like sandwiches and burgers, it is done exceptionally well.
Refined appetizers like mussels marinated in white wine and lemon and a caprese salad sit along side of typical selections like spinach artichoke dip and chicken wings.
The portobello fries, made with thick slices of deep-fried mushrooms and served with a garlic and scallion dipping sauce, were surprisingly light and tasty. Even as someone who adamantly hates mushrooms, I enjoyed every bite.
For our main courses, I opted for one of their signature burgers — made with 1/2 pound of chuck, short rib, and brisket and topped with a deep-fried mac and cheese patty and bacon. It's as hefty as it sounds, but it's surprisingly not greasy. The meaty burger maintains its flavors against the cheesy mac and salty bacon.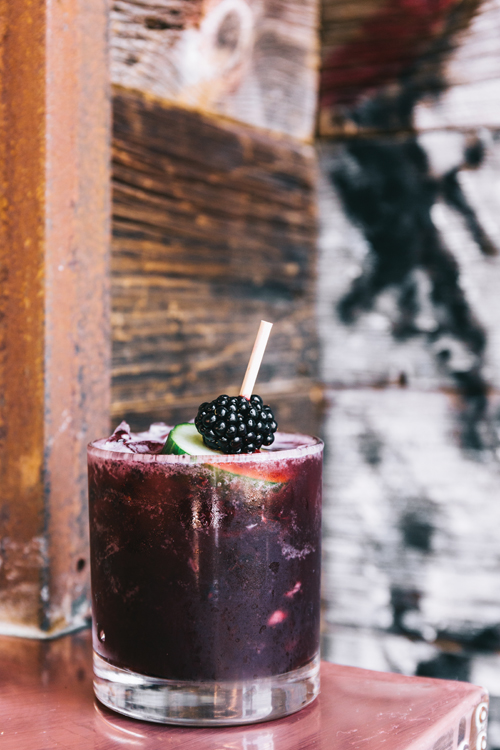 On the lighter of the spectrum were the fish tacos, made with cornmeal-crusted cod and served with tangy pico de gallo coleslaw. The fish was fresh and delicate, despite being breaded and fried. Even though they were petite, they were filling. Both entrees were served up with literal buckets of shoestring french fries — much appreciated after trying just one.
Heavier entrees like filets, salmon, and Shootie on a Shingle — a flat iron steak served on Texas toast and smothered in gravy — are also available, albeit a bit pricier.
Of course, the venue features a craft cocktail menu utilizing the house spirits. The Rosemary's Baby, made with Detroit Steam vodka, grapefruit and lime juice, rosemary syrup, and ginger beer was delightfully sweet, a bit bitter, and overall refreshing. A margarita made with moonshine was surprisingly smooth and the right kind of sour, pairing well with the fish tacos.
At press time, the venue was still new and quiet around dinnertime. On a Sunday night, the friendly and attentive staff served food up quickly and were happy to make suggestions and small talk.
With their spirits, they aspire to be "more than just another mediocre brand on the shelf," and with such high ambitions, Rusted Crow's downtown location flies higher than other gastropubs in the area.
---
 76 W. Adams Ave., Detroit; 313-782-4751. L Tues.-Sun & D daily.
Facebook Comments