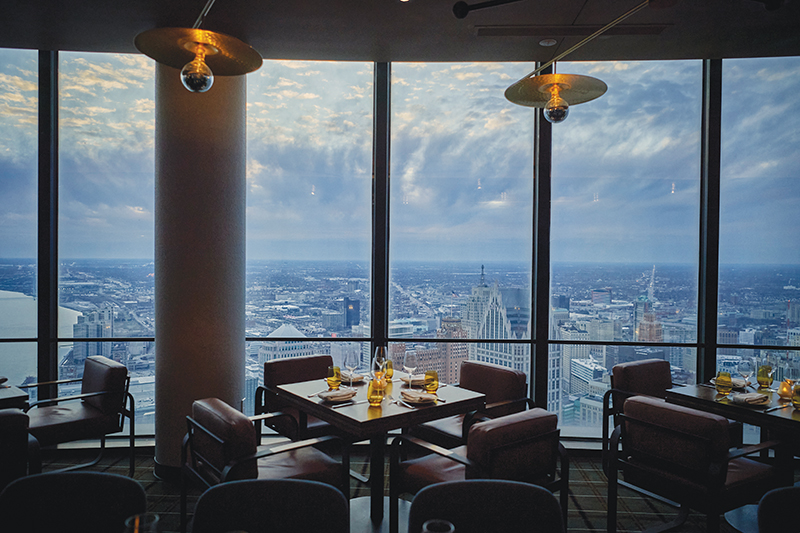 ---
COVID-19 UPDATE: The May issue of Hour Detroit, which features this review on Highlands, went to press in early April, when the Stay Home, Stay Safe order was in full effect. In compliance with these guidelines, all restaurants have stopped dine-in services, many offering carryout and delivery options only, others closing altogether — possibly for good. Please call ahead for the most up-to-date information about Highlands, and click here for more news on the coronavirus crisis in metro Detroit.
---
My introduction to fine dining came on my 13th birthday. While I would have been perfectly content just to flaunt the Tiffany bracelet my mother had gifted me earlier in the afternoon, she was set on expanding my horizons even further with reservations for two at The View. That my mother saw the rotating restaurant atop Times Square's Marriott Marquis as the culinary equivalent of the signature Tiffany heart, and an appropriate venue to open my eyes to the finer things in life, speaks volumes to the restaurant's level of prestige.
To reach The View, which then-Mayor Ed Koch declared the "center of the City of New York," we ascended escalators in the Marriott Marquis and eventually reached the elevators that would ferry us to the 48th-floor restaurant and lounge. The dining room, with its white linen tablecloths and contemporary finishes, was unlike any eatery I'd experienced. But the true showstopper was the venue. It placed me at the top of The Big Apple, and as we rotated gradually, I got a 360-degree view of the city's bright lights twinkling below the dark sky.
As I shoot up to the 72nd floor of the GMRenCen to reach Highlands, Detroit's swanky new restaurant by James Beard Award-winning chef Shawn McClain, I'm jolted back to that January day in my teens. And from the rounded elevator — like something out of The Jetsons — I begin counting the ways in which Highlands draws similarities to the New York City landmark where I received my earliest education in high-end dining. 
For starters, the space was once occupied by The Summit, a fine dining restaurant that revolved to offer 360-degree views of the city. And the three eateries that make up this multi-concept destination — Highlands, Hearth 71, and High Bar — are also situated atop a Marriott branch, the Detroit Marriott at the Renaissance Center. Occupying the 71st and 72nd floors of the RenCen and wrapped in floor-to-ceiling windows, Highlands overlooks downtown Detroit and beyond from any seat in the space — without the carousel effect. It's a handsome place, where wooden details are met with gilded accents and velvety furniture in poppy colors for a midcentury modern harmony. Around the circular space, there are semiprivate seating areas for larger parties, as well as private dining rooms concealed behind double doors anchored with brass handles.
Much of the menu is designed to feature a balance of classic dishes with simple accoutrements and elevated plates served with audacious delicacies for more sophisticated palates. The Charred Spanish Octopus, a dish among the restaurant's Small Plates portion of the menu, falls somewhere between the Dutch Onion Soup with bubbly Gouda cheese and the Hudson Valley Foie Gras on the scale of low- to high-end small plates. Long curls of Spanish octopus are tender, their charred exterior lending a smoky complement to merguez sausage and Fresno chili peppers. Plump mussels and creamy white beans mute the spicy bite.
Among the Large Plates, or entrees, there's delicata squash served with fresh linguine tossed in brown butter and topped with shredded goat cheese as white as snow. There are also chubby sea scallops pan-seared and served atop crispy charred broccoli, meaty maitake mushrooms, and braised beef so delicate and buttery that some pieces might be mistaken for mushrooms.
Steak, the star that typifies the meats at Highlands, is plentiful. A Japanese Kobe beef, served with beets and osetra caviar, is meant to be shared by the table, and other steaks of various cuts range from 8-35 ounces. That 35-ounce steak? It's a slow-roasted, bone-in short rib and a menu standout. From the cut to the preparation, everything about this rib is designed for maximum flavor. Marbling so perfect it's almost artful lends a rich butteriness in flavor and texture. A sweet-spicy chili rub nestles into the nooks of the meat, caramelizing into a chutney-like paste. Served with beef fat-poached blistering grape tomatoes and a portion of foie gras, this dish is more decadent than most.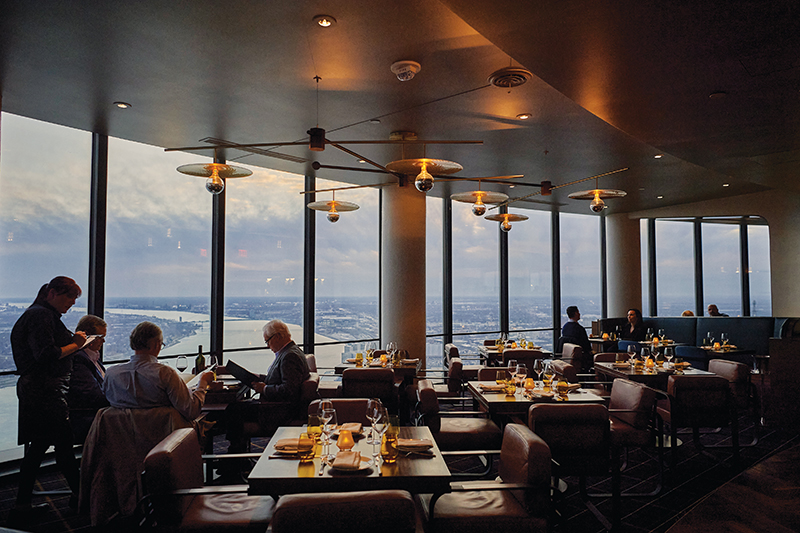 The Gooey Butter Cake, however, lacks the, well, gooeyness it promises. Though stunning in presentation — topped with a dusting of confectioners' sugar and warm pear compote and a dollop of fresh whipped cream on the side — the cake is outshined by its garnishes. Since my visit, the cake has been more aptly renamed the Pear Butter Cake — a gesture I take to signify a chef with a keen eye and honest approach to menu curation.   
And though Highlands' wine menu is extensive, there's room for improvement within the wine program. Our server, admittedly, was not well-versed in the world of wine. She did, however, kindly (and patiently) stage somewhat of a mini tasting of several wines that piqued our interest, making up for her lack of familiarity with the restaurant's vast foreign and domestic varietals. I landed on a meaty 2016 French Syrah, which paired well with the decadent short rib.
Whereas my memory of the experience at The View all those years ago conjures vivid visuals of a pristine dining room, the breathtaking setting at Highlands is just a fragment of my takeaway from the experience. Despite all its beauty and all its class, at Highlands, it's McClain's fine food that leaves the lasting impression
Highlands, 400 Renaissance Center, floors 71 & 72, Detroit; 313-877-9090; highlandsdetroit.com 
---
Highlands Chef Shawn McClain on the Fate of a New Restaurant Amid the Coronavirus Crisis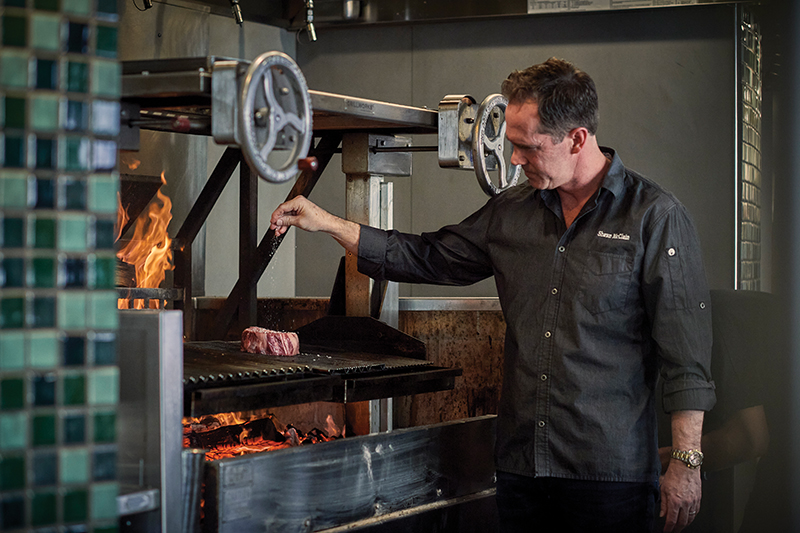 Hour Detroit:

What is Highlands' current status?
Shawn Mcclain: Highlands closed to the public on March 15. Our location on the 71st floor of RenCen doesn't lend itself to a takeaway model. We are, however, selling gift cards and working on virtual tours, online cocktail-making classes, and time-lapse videos of daily sunset and sunrise from Highlands.
Opened just late last November, what does this mean for a new food business like Highlands?
We're investing heavily in refining our operation, thinking through the guest experience and keeping our people inspired. We want to use this time to do all the things we might not typically have time to do to ensure we're working better and smarter when we're back in full swing.
What are the measures you are taking exactly?
We're taking this opportunity to invest in our team's personal and professional growth, develop our business in a thoughtful way, and look ahead to what's next. For example, our guest-facing team is reading Culture Hacker [Wiley, 2017] by organizational culture coach Shane Green, and doing Zoom chats to evaluate our hospitality approach and discuss ideas for optimizing the guest experience when we reopen. Our culinary team is staying connected through a virtual cooking club — they're currently cooking their way through Michael Solomonov's cookbook Zahav: A World of Israeli Cuisine [Rux Martin/Houghton Mifflin Harcourt, 2015] and sharing creative techniques and key learnings with each other. Our incredibly talented sommelier, Alexandra Martin, is doing video conferences with our servers, giving them an in-depth understanding of our wine list and teaching them about all of the various wine regions encompassed on Highlands' massive wine list.
How can the general public support Highlands?
Follow us and engage with us on Instagram and Facebook @highlandsdet. Share your positive experience at Highlands on Resy and Yelp. Support the Detroit restaurant community at large by ordering delivery and takeout from restaurants and bars that are open. Stay safe, practice social distancing, and follow all precautions recommended by health officials. What's carrying us through this time are our roots. We know that Detroiters have mastered the comeback and are truly their finest when facing hardship. This spirit will guide our re-opening. As we always do, Detroit will come back stronger and more vibrant than ever, and Highlands can't wait to welcome guests back with open arms — and a whole lot of steak, whiskey, and wine.
Facebook Comments