Best Craftsmanship
Romulus and Remus. Amidst a vicious struggle for power with the incumbent emperor, the two were abandoned on the banks of the Tiber River, and saved by none other than a female wolf. In many ways, the restaurant's namesake is as primordial as the food it serves. Executive Chef Anthony Lombardo, who spent weeks researching pasta factories in Rome before opening SheWolf, mills all of the flour for his pastas, which includes whole wheat extruded pasta and durum and egg pasta. But everything here, from the focaccia to the seasonal fish, is painstakingly underivative. 438 Selden St., Detroit; 313-315-3992; D Tues.-Sun. $$$
---
Best Concept Restaurant
Just to show how passionate sheis about meat, owner Ping Ho designed Marrow so that diners must walk through an in-house butcher shop before entering the restaurant's dining room. The quick stroll offers patrons a chance to see much of what is on the menu — such as corned tongue with carrot mochi or dry-aged house beef with local sunchoke — before ordering. Marrow is certainly all about meat, but don't hesitate to bring your vegetarian friends who won't feel left out with delicious plates like charred cauliflower served with romesco-almond sauce. 8044 Kercheval Ave., 1B, Detroit; 313-652-0200; Shop open Mon.-Sat. 9 a.m.-8 p.m., Sun. 9 a.m.-4 p.m. Restaurant open Mon., Weds., Thurs. 5 p.m.-10 p.m.; Fri. and Sat. 5 p.m.-11 p.m.; Sun. 5 p.m.- 9 p.m.; Closed Tues. $$$
---
Best Take on a Detroit Classic
Brush Park newcomer Chili Mustard Onions is the city's first Coney Island with a menu that is entirely plant-based. Somewhat of an act of protest in a city that holds the original, Greek-style Coney Island as one of its culinary hallmarks,  but CMO — as it's colloquially called — does not disappoint. Choose from a selection of nachos (on fries not chips), Coney dogs, and sandwiches like the Chickun Parmesan or Beetball Sub, made with the owner Pete LaCombe's secret recipes. 411 Brush St., Detroit; 313-462-4949; L & D Mon.-Sat. $
---
Best Way to Travel Without Leaving the City
Culantro is not a misspelling of cilantro, but actually a different herb from the same botanical family — little known, pungent, and delicious. Culantro the restaurant is similar. Last year, native Peruvian Betty Schuell, decided it was time for metro Detroit to have a taste of the food she grew up eating, and it's one of the only restaurants in the area serving the cuisine. Think grilled steak topped with a spicy Chimichurri and fried egg or shredded chicken doused in a yellow cream sauce made from walnuts and Amarillo peppers. 22939 Woodward Ave., Ferndale; 248-632-1055; B, L & D Daily. $
---
Best Farm-to-Breakfast Table
Kiki Louya and Rohani Foulkes, both accomplished chefs and culinary activists in their own right, opened The Farmer's Hand back in 2016. It was a gourmet grocery store that prided itself on ethical food practices, and was a natural antecedent to Folk, a breakfast and lunch café and coffee shop the duo opened in April 2018. Folk serves wholesome, nutritious, seasonal dishes that cater to omnivores, vegetarians, and vegans alike along with a rotating selection of artfully prepared lattes and flavored milks. 1701 Trumbull Ave., Detroit; 313-290-5849; B & L Wed.-Mon. $$
---
Best Place to See and Be Seen
Buzzy is the word for this Japanese-inspired restaurant that took over the historical Ford-Peabody mansion late last summer. It's Michael Schlow's first Michigan outpost. The chef and restaurateur who's been at the helm of places like The Riggsby in Washington, D.C. and Cavatina in Los Angeles, has brought his signature panache to Birmingham. Adachi serves a range of fish and artisan sushi like the truffled mushroom, cucumber, and miracle sauce maki roll. Don't miss out on the drinks, which include a variety of spirits and craft cocktails. 325 S. Old Woodward Ave., Birmingham; 248-540-5900; L&D Daily. $$$
---
Best Comfort Food Go-To
From Eli Boyer, the restaurateurbehind the nationally recognized Voyager, comes Lovers Only: a classic burger spot upgraded with delicious regional nods. Take the Burlington, named after Burlington, Wisconsin which is a 6oz. beef patty topped with Wisconsin cheddar sauce, twice-cooked onions, pickle relish, and lettuce (pictured above).
Or The Extern, a sandwich stuffed with Southern fried chicken, white barbecue sauce, and jalepeño slaw. Of course, the burgers are all made with 100 percent pasture-raised Michigan beef. The pastel interiors, cowboy motif wallpaper, and soft lighting keep the place true to its name. 34 E. Grand River Ave., Detroit; 313-986-1174; L & D Daily. $
---
Best Detroit Chain
Ima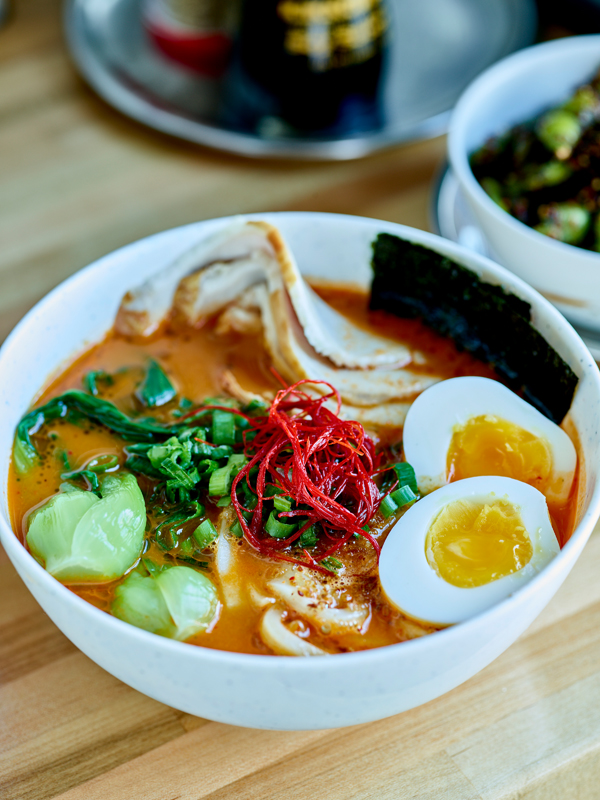 Ima has been making waves since the original Corktown location arrived in 2016, but the opening of the Madison Heights branch late last year cemented this spot as a homegrown franchise. Chef Mike Ransom serves Japanese-inspired dishes with a hearty Midwestern flair, which means steaming bowls of udon noodles ladled with broths such as silky curry, toasted chili, and lobster yuzu. 2015 Michigan Ave., Detroit; 313-502-5959; L & D Daily. 32203 John R Rd., Madison Heights; 248-781-0131; L & D Daily. $$
---
Best One-Stop-Shop
Food halls — the no-nonsense hybrid of the food court and the public market — were an unexplored concept in the city until this past year, when Detroit Shipping Company opened. The 10,000-square foot structure, constructed from repurposed shipping containers, features a variety of vendors specializing in cuisines from around the world. Head to Brujo Tacos & Tapas for a lamb chorizo taco, Bangkok 96 for a Thai pizza, or COOP Caribbean Chicken for jerk wings. There are also spots for coffee, ice cream, and drinks. 474 Peterboro St., Detroit; 313-462-4973; L & D Daily. $
---
Best Pop-Up Turned Full-Service Restaurant
In 2016, Palestinian-American chef George Azar,
a product of Alinea in Chicago and Bouchon Bistro in Las Vegas, began hosting weekend pop-up dinners in his father's Mexicantown Coney Island kitchen. The food was Vietnamese, partly inspired by Azar's travels, and partly just by "what he wanted to eat." For several years, it was one of Detroit's best-kept culinary secrets. That was until the crunchy-sweet caramel chicken wings and thick egg cream coffee caught the eyes of glossy publications like GQ and skyrocketed the pop-up to national fame. After closing for renovations in 2017, Flowers of Vietnam reopened in January 2018 as a permanent, full-service restaurant, with the spicy, salty, delicious food and original interiors intact. 4430 Vernor Hwy, Detroit; 313-554-2085; D Wed.-Sun. $$$
---
Best Coffee Shops
The Commons: A bright modern-industrial half-coffee-shop-half-laundromat. LUCKY
Lucky Detroit Coffee: Artfully prepared espresso drinks and pastries
in a cozy, wood-and-brick space above Detroit Barbers.
Bikes and Coffee: A full-service bicycle repair shop that also serves coffee, food, and snacks.
---
Best Place for a Loaded Deli Sandwich
Rocco's Deli: Bright, Midtown deli with salads, sandwiches, and coffee, as well as specialty wines and beer.
Spread Deli: Artsy deli that serves sandwiches, pastries, and uniquely flavored espresso drinks.
---
Best Pop-Up Experience
Clementina: This summer pop-up served fun Mexican dishes and Instagrammable views.
Street Beet: A female-owned business serving you-won't-miss-the-meat vegan street food.
Dream Café: A collaboration of Detroit's urban farmers, local food companies, and chefs of color that served breakfast, lunch, and dinner. 
Facebook Comments