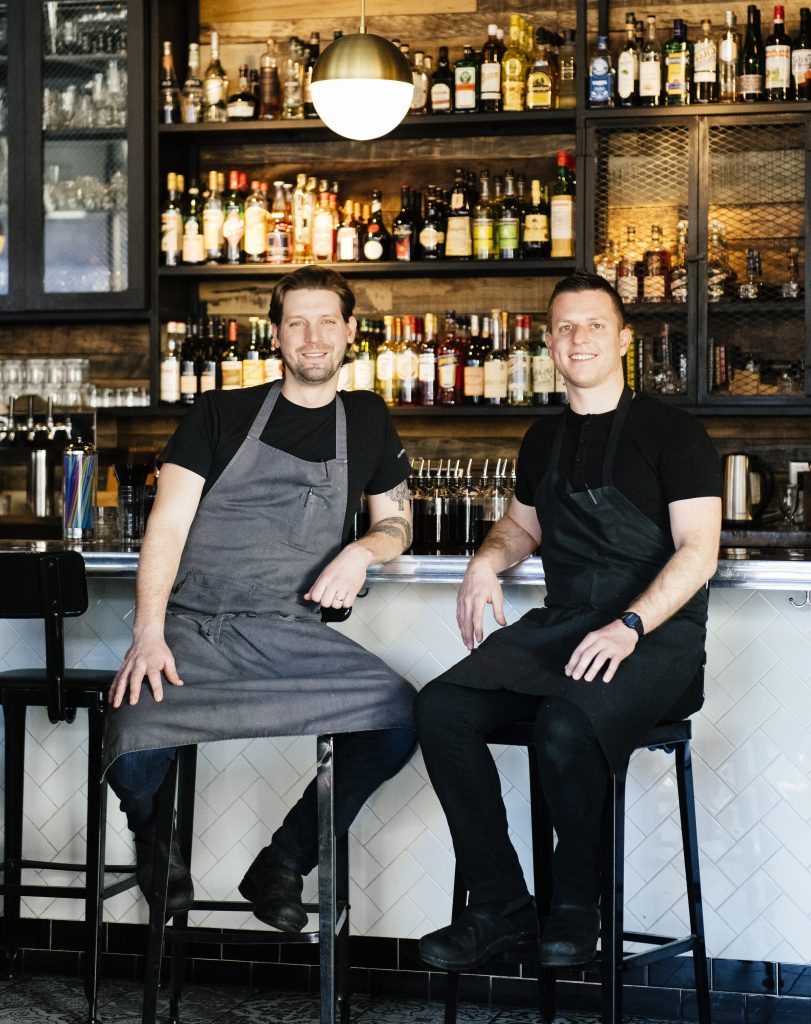 Grit, as a noun, has two definitions. The first is small particles of stone or sand. The second is strength of character. As a verb, it means to move with or make a grating sound. Somehow these usages all feel related, as maybe the natural words of a language of wanting things, working for things, and actually getting those things.
Grit, in all its iterations, is part of the framework of Grey Ghost — a hip, meat-forward, eatery, with an impressive bar, that opened in July 2016 in Brush Park. It's manned by chefs John Vermiglio, 34, and Joe Giacomino, 31, who opened another bar directly across the street from Grey Ghost last August called Second Best, intentionally named. 
Both chefs worked their way up from humble beginnings. Vermiglio, a Clinton Township native, began his culinary career at age 14 washing dishes and cleaning restrooms at local fast-food chains near his home. "I remember being very frustrated," he says. It wasn't really until Vermiglio's senior year of high school, after compulsively watching the entire first season of Food Network's Cooking School Stories, that he decided to pursue a career in the food industry.
Upon graduating from Johnson & Wales University in Providence, Rhode Island, Vermiglio took a job in the famed, and feared, kitchen of Charlie Trotter — nine-time recipient of the James Beard Foundation Award. Vermiglio worked his way up to becoming executive chef of Trotter's catering company, Trotters-to-Go, and eventually joined the culinary team at Trotter's namesake, the renowned Charlie Trotter's. "My time there was a game-changer for me," Vermiglio says. "If I hadn't made that move, Grey Ghost wouldn't have happened."  
Giacomino, who hails from Poynette, Wisconsin remembers washing plates at a bar in nearby Middleton while still in high school. At one point the bar's general manager asked him if he could make an omelet, which turned out surprisingly well. "Because I was kind of good at it, I guess I thought I could cook," he says. At 18, Giacomino moved to Chicago to study culinary arts at the now defunct, Le Cordon Bleu before becoming sous chef at Table Fifty-Two, the Windy City Southern restaurant established by Art Smith. It was here that Giacomino briefly met future co-chef Vermiglio, unaware that they would later cross paths while working for Matthias Mergers, Charlie Trotter's executive chef. 
Heading someone else's kitchen, however, is entirely different than heading your own. And by the time Vermiglio and Giacomino regrouped in 2008 and began drafting the initial business plans for Grey Ghost, they realized the climb ahead would be steep. "John, his twin brother, and I scheduled a meeting to write our business plan," Giacomino says. "But when we all got together, notebooks out, the first question was, 'Who knows how to write a business plan?' We all just stared at one another," he laughs. 
But they did it. Grey Ghost is the product of years grinding through the kitchens, perfecting recipes, market research, and working on getting media attention. In some sense, it's a public offering of all that Vermiglio and Giacomino have to give. Not as big-time entries from Chicago, but as Detroiters, through and through. That's actually one of the reasons the two prioritized working on getting press coverage, because they wanted to make sure they branded themselves correctly from the start. "We weren't just coming here to be like, 'we're going to show you how it's done,' " Vermiglio says. 
The Lamb Shank on the Grey Ghost menu is served on a coconut curry bone broth and rice cakes and Giacomino cites it as a current favorite. As naturally balanced as the dish's flavors may be, and as effortlessly elegant as its plating might appear, it is a fastidiously curated and hard-earned product — just like the restaurant it's served in.
That's not to say Grey Ghost is fussy. "Joe and I grew up in the Midwest, so with our restaurant, we wanted to hearken back to whenever we would go to a friend's house," Vermiglio says. "The instant response to us walking through the front door would be, 'What can I feed you?' You always felt comfortable right away, so I think that sentiment is what our core values are for Grey Ghost."
 And as outward facing as Grey Ghost is, Second Best is as inward. It was built from Vermiglio and Giacomino's want for a neighborhood bar. One that's right around the corner, not a destination, but has become your place because it's right there. "Does that sound, lazy?" Giacomino asks. 
Second Best isn't lazy, though, it's personal. The food — pizza puffs and shrimp rolls — and the drinks — draft beers and bubble gum vodka bombs — are unvarnished but hit all the right spots. They're what you order when you want to feel satiated. Which, to Vermiglio and Giacomino, is exactly the point. 
---
Grey Ghost, 47 Watson St., Detroit; 313-290-5849. D Daily. Second Best,
42 Watson St., Detroit; 313-315-3077. D Daily.