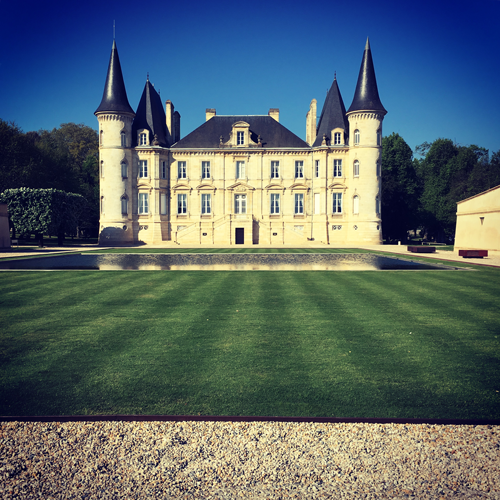 Sipping cabernet franc in Antoine Jamet's dim, barrel-lined cellar at Les Vallettes, we could have been standing in the cellar of any winery in Michigan.
For a moment, I almost forgot we were thousands of miles from home. The hospitality, the topics discussed (as we peppered our affable host with wine geeky questions), the grape itself — it all felt so familiar.
But when Antoine seamlessly switched from flawless English to rapid-fire French to address his brother, I was quickly reminded that this wasn't Michigan. This was Saint-Nicolas-de-Bourgueil, in the famed Loire Valley of France.
It was our final stop on a weeklong French adventure — primarily centered in Bordeaux, with a side dish of Loire Valley — with Lorenzo Lizarralde, owner/winemaker at Jackson-based Château Aeronautique, and his girlfriend/marketing director, Angela Maroney.
A commercial pilot, Lorenzo is no stranger to going overseas. The last several years, he's spearheaded a springtime trip to different regions of France to learn directly from his French counterparts and inform his winemaking. He's brought fellow winemakers, grape growers, wine journalists, and other industry folks along for the ride, and we felt fortunate to be included both this year and last.
Last year, we visited Champagne, a trip marked by fascinatingly moldy underground caves and plenty of bubbly. This year, Lorenzo suggested Bordeaux and arranged a schedule that included appointments at a mind-boggling 20-plus wineries, along with a handful of stops in Loire.
Besides the fact that, well, of course we wanted to return to France and drink French wine — who would turn down that opportunity? — Shannon and I both felt that last year's journey had been the equivalent of a hundred textbooks' worth of wine knowledge.
Michigan wine doesn't exist in a vacuum, and for as long as I've been a wine enthusiast, I've believed that the best way to learn about and appreciate our local wine is to experience wines from around the world from which Americans have drawn inspiration. (It also gives me a great excuse to consume more wine.)
In Bordeaux, I visited places we'd only read about in books, including Château Lafite Rothschild, Château Pavie, Château Cheval Blanc, and Château Haut-Brion. I ate cheese and charcuterie and asparagus (asparagus is ubiquitous in Bordeaux in April) and chocolate cake in the owners' personal kitchen at Château Tournefeuille. I snapped photos of temple-like cellars, grand, winding staircases, and centuries-old, castle-like châteaux. I tried famous wine I never thought I'd be able to taste and likely never will experience again. I stood on the roof of Château La Dominique and gazed out over endless vineyards and, as the sun sunk behind them, briefly considered never leaving France.
Something Old, Something New
As an Old World-wine region, Bordeaux is different from Michigan in many not-so-surprising ways, which is, comparatively, an infant in the world of wine.
A Bordeaux red includes only specific grapes: Merlot, Cabernet Franc, Cabernet Sauvignon, Malbec, Petit Verdot, and/or Carménère. Generally speaking — though we did encounter exceptions — blends from "Left Bank" wineries, on the west side of the Gironde estuary, are Cabernet Sauvignon-heavy blends. "Right Bank" blends, on the east side of the Gironde, are Merlot-dominated.
At several wineries, Lorenzo presented the winemakers with a bottle of Aviatrix Crimson, his own Bordeaux-style blend, which they received with enthusiasm. When he told them about planting vineyards on his new property in the Irish Hills and ticked off a long and disparate list of grapes — riesling, gewürztraminer, vidal blanc, cabernet franc — they looked perplexed, or occasionally expressed wistfulness at his freedom in a New World winemaking region. To be a jack of all trades is simply not done there. Over thousands of years, the French have figured out which grapes prosper, which grapes fail, and which areas make the best wine, and they've incorporated those factors into their wine industry and wine law. (I won't even get into their classification system for ranking the region's wineries, since that could fill a book.)
That leads us to the sheer age difference: To say the French have been producing wine for longer than Michigan or even the United States have existed is to put it mildly. This point was hammered home repeatedly as our tour guides casually informed us that their château had been built in the 1500s, or as we traipsed through cobblestone streets of towns described without exaggeration as "medieval." Antoine told us that he and his brother were the eighth generation of winemakers in his family.
And with that storied history comes prestige — and priciness. Wines from the most famous châteaux in Bordeaux sell for more per bottle than many Michiganders probably spend in a year on wine purchases. At Château Pavie, our Brazilian tour guide, Luciana, said the winery's "first" wine (most premium wine) garners $300-1,000 per bottle.
Yet, as with Champagne last year, I still saw many parallels to the Michigan wine industry in Bordeaux and Loire.
At Château La Dominique, the 18th century original château gives way to one of the most modern structures we glimpsed while in Bordeaux. Added within the last few years, the boxy addition — designed by famed architect Jean Nouvel and done up in reflective red ombre hues — houses new winemaking facilities inside. But atop, it accommodates outdoor seating for La Terrasse Rouge, the winery's restaurant, and boasts an artsy "swimming pool" of shimmering scarlet stones. The decorative feature is meant to symbolize the grapes, our guide informed us.
Château La Dominique opened to tourists just within the last few years, amid the changing landscape of Bordeaux oenotourism, the guide explained, and the restaurant was added to attract and retain more visitors.
Many other wineries in Bordeaux had similar tales, albeit on a smaller scale, of just recently opening their doors to the public after years of hosting industry-only in an attempt to capitalize on the wine tourism market.
While Michigan wineries generally have always been open to the public, they too have been evolving in the face of swelling wine tourism. More and more wineries have been adding patios, event spaces, and food to entice visitors to linger in lieu of rushing through a tasting and moving on to the next stop.
Concrete is all the rage right now in Bordeaux. It was surprising to us at first, but soon became expected, to step into a very traditional winery and see rows of modern-looking concrete vats for fermentation. We've been seeing more concrete popping up around Michigan, too — primarily in the form of oval "eggs" — at places like Brengman Brothers and Forty-Five North.
In Loire, Antoine at Les Vallettes and Valérie at Château de Minière expressed concern about the weather, a predicament with which Michigan winemakers are all too familiar. During our visit, sunshine was abundant but the weather was chilly, and the winemakers were fretting about the threat of late spring frosts. Both Valérie and Antoine reported losing about 90 percent of their crops last year to frost. The day we visited, Antoine's crews had been up all night, using a new sprinkler system to try to combat the damage.
Mid-trip, we visited Lorenzo's friend, Hélène Fenouillet, winemaker at Domaine de Montalon. As we milled around her vineyard in Saint-André-de-Cubzac, watching the sunset, she told us about a 45th Parallel marker on the property. Intrigued, we picked our way across high grass to a square stone marker bearing an "X," situated at the base of an ancient windmill. It caused us to think fondly of another 45th parallel marker thousands of miles away — in Northern Michigan wine country.
A few other interesting random tidbits from the adventure:
Time and again, we encountered French oak barrels with chestnut "head hoops" encircling the outer rims. While this is merely a tradition now, our tour guides informed us, it once had a practical purpose: Mites in the cellars were attracted to the chestnut, which kept them away from the all-important French oak staves. Oak aging is a crucial part of Bordeaux production; some of the wineries even have their own coopers (barrel makers) on-site. Lafite, for instance, employs five coopers who produce 2,000-plus barrels annually.
At Château de Minière, the château — part of which was constructed in 1436; the other in the late 18th century — included narrow windows from which the inhabitants could shoot arrows at intruders.
The bottling line at Château La Dominique can fill 4,000 bottles an hour.
The interior of Château La Conseillante in Pomerol is bathed in a purple light and embellished with abundant purple accents. Our tour guide, Vy, said the color was chosen to represent the dominant violet aromas in the wine.
None of the smaller wineries seemed to harbor ill will toward their more famous neighbors; in fact, there was an attitude of deference and respect. Vy proudly pointed out the distant roof of adjacent Château Pétrus; our guide at Château La Dominique gestured to next-door neighbor Château Cheval Blanc with similar pride.
The oldest bottle in the library at Château Lafite Rothschild is from 1797.
In Bordeaux, terroir is considered crucial. Many of the most famous wineries — including Lafite Rothschild, Mouton Rothschild, and Haut-Brion — take their names from the words for "mound," "little hill," and other geographical features that make the area suitable for growing high-quality wine grapes, according to our guide at Haut-Brion.
At the organic/biodynamic Château Ferrière, the vines average 45-50 years old.
At Château Haut-Brion's sister winery, Château La Mission Haut-Brion, there is a tiny chapel built in the 17th century. Above stained glass windows handmade in Champagne, the ceiling is ringed with a list of the great vintages over the last several centuries.
From late September to the beginning of November, workers at Château d'Yquem in Graves hand-pick individual Sémillon and Sauvignon Blanc berries, selecting only ones ideally inflicted with botrytis cinerea, a fungus known as "noble rot." The condition desiccates the grapes, concentrating the sugars and making them perfect for creating the region's famous Sauternes wine: a luscious, rich dessert wine with notes of honey and apricot. (Fun fact: Some Michigan wineries also make wines from botrytized grapes.)
If you were traveling to Bordeaux or the Loire Valley, which wineries would you want to visit? Comment below!
---
Cortney Casey is a certified sommelier and co-founder of MichiganByTheBottle.com, a website and online community that promotes the entire Michigan wine industry. She's also co-owner of Michigan By The Bottle Tasting Room, tasting rooms operated in partnership with multiple Michigan wineries, located in Shelby Township, Royal Oak, and Auburn Hills. Contact her at cort@michiganbythebottle.com.