Pizza -The word stirs up more differences of opinion — at least among rabid fans — than just about any other in the English language. From the classic Neapolitan style to variations on the Sicilian method, pizza preferences are passionate and profound.
Even the definition of pizza tends to be subject to debate. The encyclopedia of gastronomy, Larousse Gastronomique, defines it simply as "a thin slab of bread dough spread with thick tomato puree and Parmesan or Mozzarella cheese, seasoned with herbs and garlic, then baked in an oven."
Motor City or Detroit-style pizza consists of a thick crust made from wet and sticky dough topped with pepperoni, covered with cheese, then smothered in thick Sicilian sauce. If you like your pizza with additional ingredients, they're on top of the cheese but under the sauce. Detroit-style pizzas have the cheese actually touching the pan sides and in the corners of the deep blue steel pan. Not only are the ingredients key, but the way the pizza is constructed is critical.
From left: Pizzas at Loui's, Buddy's, and Cloverleaf.
While the precise origin of Detroit pizza is debatable, its heritage is definitely Sicilian. Sfinciuni (ZFIN-chewn), translated as an "old woman's face," is flat, soft, rectangular bread with or without tomato sauce and few toppings. The hardworking people of Palermo traditionally bought this pizza-like flatbread from street vendors. This bread is the predecessor of our cherished Detroit-style pizza.
After World War II, returning GIs craved European foods — especially pizza. In 1946, Gus Guerra, owner of Buddy's Rendezvous, a former blind pig and then a struggling tavern, began offering Sicilian-style pizza to his patrons. Various versions of Guerra's original recipe exist today and are the subject of enthusiastic debate among aficionados. One version is that Guerra asked his wife, Anna, to make pizza dough based on her mother's recipe from Sicily. Some say an old Sicilian guy named Dominic taught Guerra how to make the pies.
According to Robert Jacobs, current owner of Buddy's, a Sicilian woman named Connie Piccanato instructed Guerra that pressing the pepperoni into the dough would maximize the flavor penetration of the pepperoni.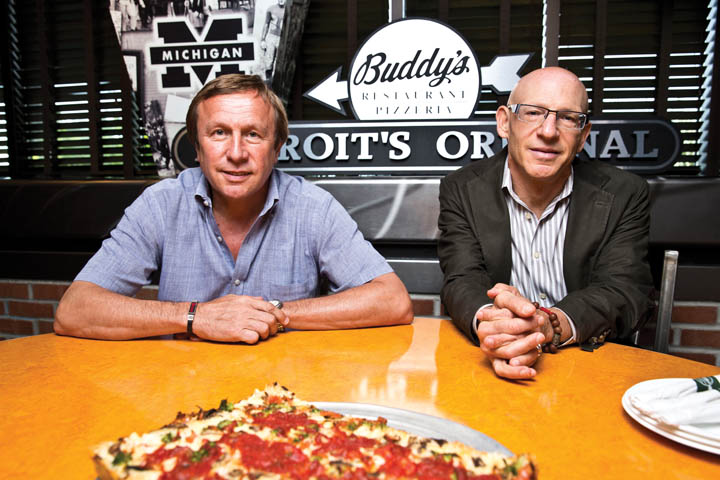 The singular fact agreed on by everyone in metro Detroit is that our style of pizza made its debut at the original Buddy's at the corner of Six Mile and Conant.
Shield's bar was originally located on the corner of Davison and Shield, not far from Buddy's. The owners couldn't help but notice Buddy's was packed with customers. They added pizza to their menu after hiring a Frenchman, Loui Tourtois Sr., who had previously made the pies at Buddy's. Business boomed as Detroiters discovered this new rectangular style of pizza. In 1992, Constantine "Deano" Moraitis sold his Shield's locations to his nephews, Paul and Peter Andoni. Shield's has since expanded its menu to focus on ribs, as well as pizza.
In 1953, Guerra sold Buddy's to two Jimmys. "Little" Jimmy Valenti and "Big" Jimmy Bonacorse were patrons of Buddy's and loved the deep-dish pizza now competing with the thin-crust pizzas offered at other Italian restaurants. Guerra moved out to an Irish area, East Detroit (now Eastpointe), and bought the Cloverleaf Bar on Gratiot Avenue. This East Side institution, which Guerra describes as "a little white farmhouse," has been going strong ever since. Now operated by Guerra's children, Jack and Marie, the Cloverleaf continues the proud tradition of serving Detroit-style pizza.
After 16 successful years, "the Jimmys" sold Buddy's to the husband-and-wife team of Billy and Shirlee Jacobs in 1970. They then passed on the Buddy's name to their son, Robert Jacobs.
Loui Tourtois Sr. opened Loui's on Dequindre in Hazel Park in 1977 after working at both Shield's and Buddy's. His son Loui Tourtois Jr. had bused tables at the original Buddy's, worked at Shield's, and later helped his father establish the now-classic Loui's.
Today, the new kid on the block is Shawn Randazzo. Truly the Motor City's pizza evangelist, he and his mother, Linda Michaels, recently opened their first dine-in location in Roseville. Randazzo's credentials are stellar. After learning the ropes at Cloverleaf, first as a delivery driver and eventually owning two Cloverleaf locations, Randazzo lit out on his own. He's out to make his Detroit Style Pizza Co. a major player in the world of pizza.
As with any beloved food tradition, each purveyor stakes his claim as the best in the business. With nine locations, Buddy's is the "Godfather" of Detroit-style pizza. To Robert Jacobs, being the biggest also means being the best. As he says, "consistency is key. The crunchiness of our crust combined with the finest ingredients makes Buddy's the original and still the best." Wesley Pikula, Jacobs' right-hand man, agrees: "Constant improvement and putting the customer first is our priority."
Paul Andoni of Shield's is convinced the sauce is the crucial component of their pizza. "It's just a bit sweeter than our competition, and that makes all the difference in the taste," he says.
Precision is paramount. "Cooking the pizza for precisely 13 minutes at 440 degrees ensures our quality," Andoni says. With three locations in the metro area, Shield's continues its history of first-rate, Detroit-style pizza-making.
Loui's is a one-of-a-kind in every sense of the word. Operated by Loui Tourtois Jr., this retro restaurant is as unforgettable as its pizza. Loui's is the cheesiest Detroit style pizza on the planet. As "Junior" puts it, "I tell my employees our guests need to taste every ingredient on their pizza in each and every bite. We have our reputation to keep up!" And 36 years of quality keeps that reputation intact.
Randazzo, meanwhile, is on a mission to promote Detroit-style pizza so that it's "as recognized as New York style or Chicago style in eight to 10 years, at the longest." As the International Pizza Expo's 2012 World Champion Pizza Maker, Randazzo has launched a training and certification program to fulfill his mission and to help others tell the Detroit story, as well. "We have a regional culinary masterpiece here," he says. "We need to share our good fortune and wonderful pizza with the world."
The story behind Detroit-style pizza is a classic example of American ingenuity, perseverance, and family: a unique food from humble Old World beginnings, modified by immigrants in the New World, to provide countless memorable meals for generations of Detroiters. Here's to your next bite!
---
Michael Schafer (aka the Wine Counselor) is a sommelier and an instructor at the International Culinary Schools at the Art Institute of Michigan.