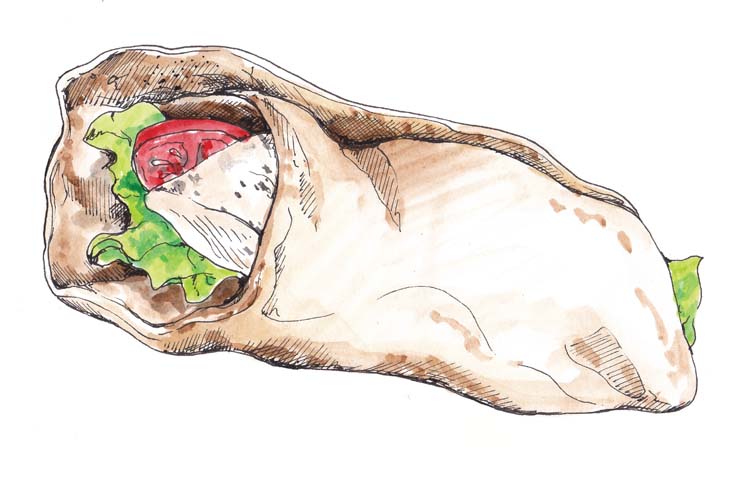 In the beginning, there was the coney, then came Detroit-style pizza, and then there was the chicken shawarma from Bucharest Grill. Today, this is the holy trinity of Detroit foods. Here's how I know this to be true:
Once, before a Tigers game, some friends and I ordered a six-pack of chicken shawarmas from Bucharest Grill. We devoured them all there at the Park Bar…all, that is, except for one, which I carried, swaddled in its foil wrapper and cardboard carrier into Comerica Park.
A few innings into the game, a steady rain forced us all onto the concourse where I stood, shoulder to shoulder with hundreds of hungry Detroiters in their orange and blue, holding a foil-wrapped gift from the shawarma gods.
Within the next hour, I became acquainted with the feeling of celebrity…the attention, the idolatry, the simultaneous love, hate, adoration, and envy.
The jealous looked at me and my shawarma with nothing but scorn. The drunks buddied-up to me, trying to earn my shawarma with kindness. And then there were those who passed by, saw the Bucharest logo on the side of the six-pack, and simply nodded in approval.
I left that den of hungry Tigers fans with shawarma still in hand, though once home safely, one of my friends got to it before I could.
This is to say that the Bucharest's chicken shawarma truly is the shawarma of shawarmas. The one that feeds not merely a handful of devoted followers but the multitudes.
At first glance, Bucharest's most popular item appears to be your standard chicken shawarma: white pita, lettuce, tomato, pickle, chicken, garlic, and mayo. But if the coney has taught us anything in the world of Detroit food, it's that looks aren't everything.
The Bucharest chicken shawarma's secrets are twofold: There's the mayo, which holds a salty, garlicky mystique of its own, and then there's the chicken. The tender, mouthwatering, grilled chicken is marinated in a secret concoction of "Russian sauce" and more garlic.
One could classify the chicken shawarma as comfort food, but it's more sophisticated than, say, a grilled cheese or chicken soup. That said, the shawarma does not discriminate. Black, white, Middle Eastern, young, old, rich, poor — we've all jockeyed for position in the alcove of the Park Bar. But alas…
I learned this January that Bucharest Grill would be vacating the Park Bar — not closing, but relocating — to the Rivertown Warehouse District on East Jefferson Avenue where free parking abounds. Of course, when one door closes, another opens, or vice versa, as Bucharest's third location opened last December.
The future is bright for Bucharest Grill. I believe in the shawarma. And I sincerely believe that perhaps, years from now, Bucharest Grills may be as ubiquitous in these parts as coney islands. Blasphemy? Maybe. But with Bucharest, all things are possible.
Bucharest Grill's newest location is 2690 E. Jefferson Ave.; Detroit; 313-965-3111; bucharestgrill.com
Facebook Comments