Having twice circled Campus Martius and its side streets looking for a place to park in the heart of the re-energized downtown Detroit, I came upon one good reason I couldn't find a spot.
A line of what must be more than 100 people, mostly a hip younger crowd, is patiently waiting all the way up Woodward Avenue to Monroe Avenue, less than a half block from my destination.
The crowd is there for the grand opening of Detroit's first Shake Shack, the hamburger sensation that started in New York City and is spreading nationwide and overseas.
But I'm headed to dinner at Parc, a delightful restaurant right in the center of the park that is in Campus Martius Park. It's been under new management since last fall, and has been collecting heaps of praise for its food.
I settle for parking in the only surface lot nearby with an open spot, overpay the cheerful guy, and walk over to Parc.
It is an unseasonably warm February night; the thermometer hit 42 degrees earlier in the day. The ice rink is jammed with skaters all circling to the music in the same direction, some a little more agile and faster than others. Another reason parking is scarce, no doubt.
Other people are sitting around the splashing fountain, just out of range of the spray, enjoying a glorious almost no-coat-needed evening. The sun is beginning to dip behind tall buildings.
Is this how winter is supposed to be in Detroit? It is a scene of urban relaxation, a total delight, and a snapshot of why people choose to live in cities.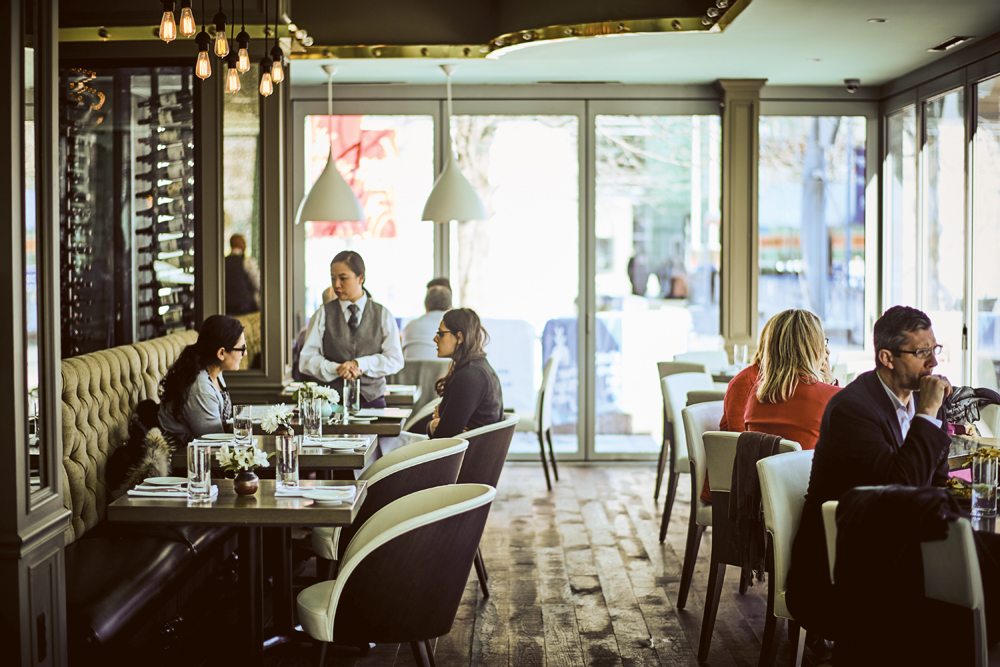 A few feet farther, I go to grab the handle of the glass door at Parc, but a host in a suit and tie sees me coming and beats me to it.
"Good evening, and welcome to Parc," he says.
A good evening is indeed about to get underway.
I join my guests at a corner table with a great view of the scene through which I have just passed.
Parc is a charming, graceful, calm restaurant with terrific food, polished service, and a casual urban "pizzazz-light" that sends you home with a smile on your face and a spring in your step. It sits right across the Campus Martius square and the intersection where  Monroe, West Fort Street, Michigan Avenue, and Cadillac Square converge on Woodward.
Parc is the idea of its two principal partners, Matthew Shiffman and Zaid Elia. Elia is also a partner in Birmingham's 220 Merrill restaurant. In February 2016, the two men had the opportunity to take over the shuttered Fountain Bistro restaurant in the square.
"We took it right down to the studs and started over," says Theodore Oresky, who joined as an operating partner and is the director of day-to-day operations at Parc.
Despite the atmospherics that go with dining, and the energy and vibe of downtown, it all eventually comes down to the menu and the kitchen's culinary skill. In this case, it is the very smart upscale American bistro offerings of another operating partner, executive chef Jordan Hoffman.
The menu has two very distinct personalities: Italian and American steak house. It's as if someone decided that the route to success is to have a menu with everybody's two top choices for dining. And, in an odd way it works well.
While many of Hoffman's Italian pasta dishes may be familiar to almost anyone, it's the way he does them that offers something new and different here. And it's what makes Parc well worth the visit.
Overall, Hoffman's food has zest and energy, accompanied by a surprising little bump of flavor here, an aromatic there, all of which makes his food pleasant and engaging.
Take oysters on the half shell for example. Simple enough, but other than lemon, what could you expect without messing up their delicacy? Hoffman adds a mint gremolata and lemon chili oil for a zippy extra touch.
Another first course was a dish of oysters grilled over a wood fire with seaweed butter, served with cubed bacon, crisped fried kale, and pickled shallots.
Another starter that passed muster at our table was a mini-rack of wood-grilled baby back ribs that had been dry-rubbed, then honey-glazed, and served with shaved apple and Brussels sprouts.
The absolute winner among the first courses we ordered was a small plate of short ribs braised in red wine, sitting on a thin slice of rustic grilled bread and topped with a poached egg surrounded by a emulsified parsley and a little ragout of porcini mushrooms.
The main courses at Parc are an interesting blend of mostly Italian food and a large selection of dry-aged gourmet steaks. The restaurant has an arrangement with Fairway Packing in Eastern Market to provide an array of hand-selected beef products, including wagyu-style cuts. There are also several fish dishes and a few vegetarian pasta options.
Among the dishes we tried and enjoyed were a pleasant, wild boar Bolognese on rigatoni pasta; a juicy, pink, thick-cut bone-in veal chop; and a 16-ounce "Imperial" steak, a true carnivore's delight. The steak came with a grill-fired sliced beef bone with a tiny spoon for extracting the warmed marrow. All side dishes are a la carte, including a very tasty but slightly soupy pureed potato dish.
Our table also enjoyed Hoffman's kale and arugula Caesar salad, made with baby kale, wild arugula, pecorino cheese, and a coddled egg vinaigrette. The egg, somewhat to our surprise but perhaps by design, restrained the natural pungency of the dressing and allowed the other greens and cheese to show more.
The breads and pastries are also worth trying, produced daily by onsite baker and pastry chef, Tori Parnell. Try her butternut Napoleon. It's divine.
And Dennis Payne, the assistant manager and sommelier, has been building an impressive and price-diverse wine selection. You can spend a lot, but there are also good choices at reasonable prices scattered around the list.
As we enjoy our dessert course, we notice something that you don't see all that much in restaurants: Hoffman is making the rounds of every table, stopping to ask the guests how they enjoyed their food. Now, this is a chef who cares.
Parc has garnered a lot of attention, especially due to its location at the physical epicenter of Detroit, the same spot that Judge Augustus Woodward established as the "point of origin" for his street plan after the fire of 1805.
There's a natural urge to take this as symbolism for the rebirth of Detroit. And while such enthusiasm is terrific, the rebirth thing is already here, and has been for some time.
That doesn't in any way deny Parc its due. It's absolutely terrific.
---
800 Woodward Ave., Detroit; 313-922-7272. L & D Daily.
Christopher Cook is Hour Detroit's chief restaurant critic. Email: editorial@hour-media.com
Facebook Comments