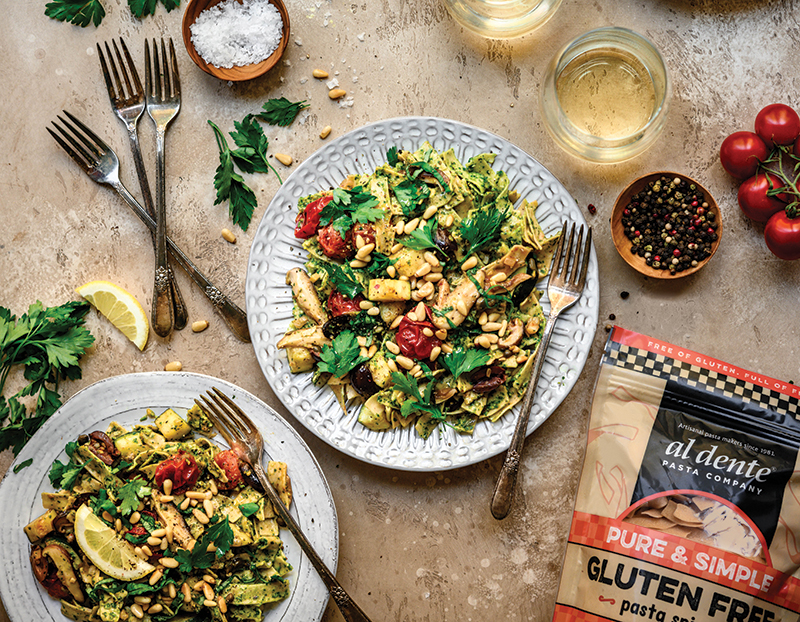 The mother-daughter team behind recipe development site, Crowded Kitchen, cooks up plant-based dishes starring ingredients from local makers. As summer comes to a bittersweet close, try their White Bean Pesto Pasta with Blistered Vegetables. This quick and easy dish, which features Pure & Simple Gluten Free Pasta Spirals from Whitmore Lake-based Al Dente Pasta Co. ($3.50, aldentepasta.com), is a great way to make the most of this season's produce.
Ingredients
Vegan Pesto
3 cups basil
1/2 cup pine nuts
2 cloves garlic
2 Tbsp. nutritional yeast
1/2 tsp. salt and pepper to taste
1/2 cup olive oil
Freshly squeezed juice from
1/2 of a medium-sized lemon
Pasta
1 package Al Dente Pasta Co. Pure & Simple Gluten Free Pasta Spirals
¹/3 cup olive oil
2 cups sliced mushrooms
1/2 cup shallots, finely chopped
2 cups small cherry tomatoes
3 cloves garlic, minced
2 cups zucchini, diced
1/4 cup kalamata olives, quartered
2 1/2 Tbsp. capers
1 1/4 tsp. kosher salt
¾ tsp. pepper
Pine nuts for garnish (optional)
Directions
To make the pesto, place all the listed ingredients into the food processor and blend until smooth. Slowly stream in the 1/2 cup olive oil. Stream in more if you prefer a thinner pesto.
Bring water to a boil for pasta and add a pinch of salt.
Heat olive oil in a large skillet. Add shallots and garlic, and sauté the medley for 5-7 minutes, stirring often. Add mushrooms, tomatoes, and zucchini, and cook for an additional 5 minutes, stirring often. Once vegetables are tender, add the remaining ingredients and stir well. Cook until all veggies are fully tender.
Meanwhile, cook pasta and drain. Add pasta and pesto directly to skillet, stir well, and garnish with toasted pine nuts and fresh herbs. Serve and enjoy.
---
For more recipes from Harrison and Sinclair, visit crowdedkitchen.com.
Content provided for Hour Detroit's ongoing Local Flavor series is not influenced by Harrison and Sinclair's business partnerships with local brands. 
Facebook Comments