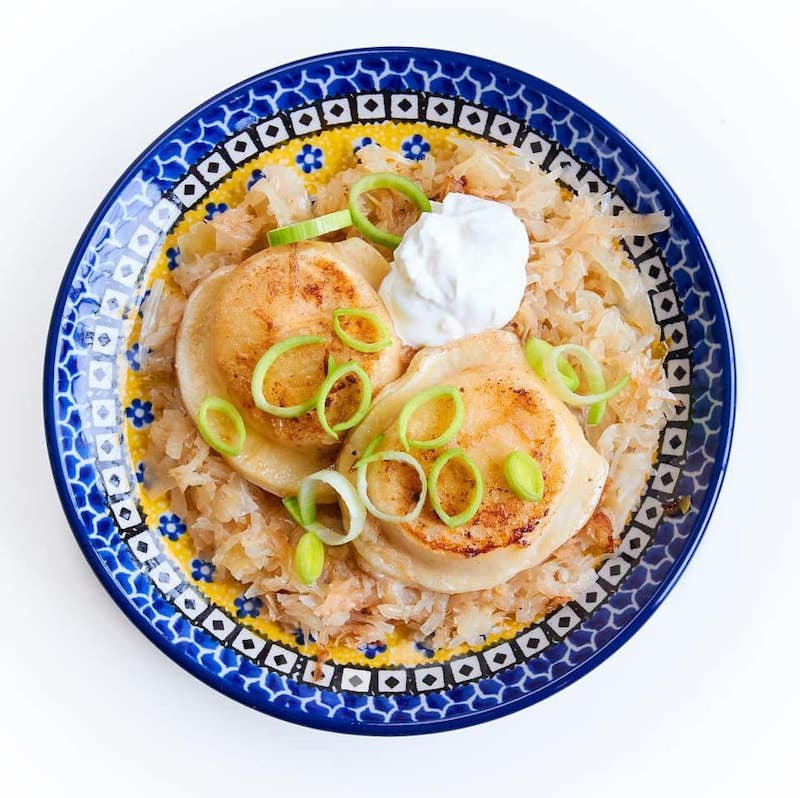 Pierogi — a dumpling that's filled with a savory or sweet filling like potato, sauerkraut, or sweet cheese before being boiled or pan-fried — are a staple of Polish culture. That culture was brought to metro Detroit when Polish people began immigrating to the area in the 1880s, and today the region is full of plenty of authentic pierogi options.
Here's 13 markets and restaurants worth checking out the next time you're looking to get your pierogi fix.   
Pietrzyk's Pierogi serves pierogi with a third-generation twist. Founder Erica Pietrzyk has accumulated over 90 pierogi filling recipes over the years, from classic fillings to more creative ones such as a pizza filling. The company's motto is "Make pierogi, eat love." Pietrzyk Pierogi, 1429 Gratiot Ave. Ste. 109, Detroit; 313-614-9393. pietrzykpierogi.com.
A long-time staple of authentic Polish food, Srodek's offers more than just delicious kielbasa. The business, located in downtown Hamtramck, has been family owned since 1981. Srodek's takes pride in their quality, home-made goods. They have a selection of over 30 different flavors of pierogi. Srodek's Campau Quality Sausage, 9601 Campau St., Hamtramck; 313-871-8080. srodek.com. 
The Polish Market's world-famous pierogi keeps customers and the local Polish community coming back for more. Started by a Polish immigrant named Marek Kolynicz, the Polish Market in Troy has been around for over 25 years. Polish Market, 2938 E. Maple Rd., Troy; 248-577-5334. gopolishmarket.com.
With two metro Detroit locations, family-owned Bozek's Market gives the area a taste of Polish tradition. The Bozek's take pride in expanding their customer's knowledge of Poland, carrying various books, magazines, and souvenirs from their culture. They have a vast selection of pierogi and other Polish delicacies, from sweets to breads. Bozek's Market, 3317 Caniff St., Hamtramck; 313-369-0600; and 42354 Van Dyke Ave., Sterling Heights; 586-991-0135. bozeksmarkets.com. 
This family-owned business gives customers the chance to try savory and sweet flavors of both crepes and pierogi. Customers can choose from savory pierogi flavors like loaded potato or sweet ones like cherry cheesecake. The Little Pierogi and Crepe Kitchen, 125 Elm St., Wyandotte; 734-639-0877. pierogicrepekitchen.com. 
Opened in summer 2019, Diana Wittwer decided to launch her pierogi shop after the success she saw at the Royal Oak and Birmingham farmer's markets. At Dobre Pierogi, she offers a wide variety of pierogi flavors, all of which are handmade. Dobre Pierogi, 48899 Hayes Rd., Shelby Twp.; 586-219-8739. dobrepierogi.com.
Located under an old hotel in Hamtramck, this restaurant offers all the Polish favorites and has been since the mid-1970s. Everything in the cafe is cooked carefully and with tradition, including the pierogi. Polish Village Cafe, 2990 Yemans St., Hamtramck; 313-874-5726; polishvillagecafe.us.  
The Ivanhoe Café was founded in 1909 by Stanaslauf Grendzinski, and over 100 years later the restaurant remains in the family. Tradition is what has kept this business open over the years, and their food is prepared fresh, including the pierogi. Ivanhoe Cafe, 5249 Joseph Campau Ave., Detroit; 313-925-5335; ivanhoecafe.com.
Polka Polish Cuisine
This restaurant, created by the owners of the Polish Market, offers a number of classic pierogi flavors, and other Polish classics like stuffed cabbage, kielbasa, and dill pickle soup. Polka Polish Cuisine also carries Polish beer, and now has a banquet hall for large events. Polka Polish Cuisine, 2908 E. Maple Rd., Troy; 248-817-2601; gopolka.com.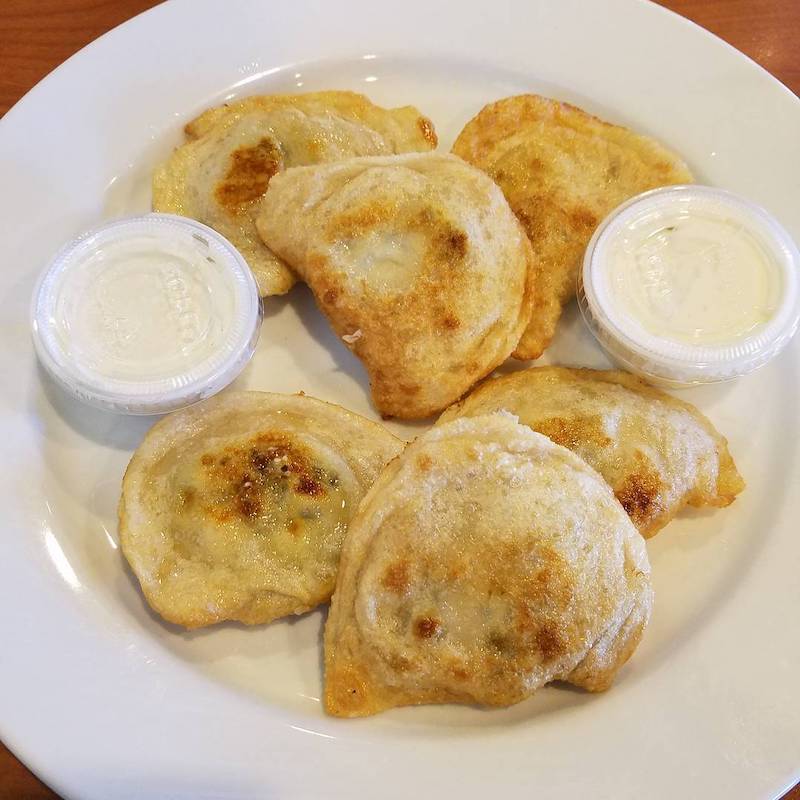 This American and Polish restaurant proudly serves home-style cooked meals for breakfast, lunch, and dinner. The large menu includes lots of sandwiches and American diner favorites, but the pierogi — listed under the "specials" section with potato pancakes, Hungarian goulash, kielbasa, and kraut — are a must-try item. Val's Polish Kitchen, 224 E. Auburn Rd., Rochester Hills; 248-293-2660; valspolishkitchen.com.
Polonia has been a staple of Hamtramck for 40 years. Famous for its old-world ambiance and traditional Polish flavors, the restaurant was even featured on an episode of Anthony Bourdain's No Reservations. Their pierogi honor the culinary traditions of Poland. Polonia Restaurant, 2934 Yemans St., Hamtramck; 313-873-8434; polonia-restaurant.net. 
Jennie opened her first restaurant in 1986, just a mile from her house. She passed her culinary skills on to her daughters, Mary and Terry, and they have since opened up new locations. Jennie's Pierogies has nearly 20 different pierogi flavors including mushroom and onion; Polish meatball; sweet potato; potato, cheese, and broccoli; and many more. Jennie's Pierogies, 31100 Hoover Rd., Warren; 586-983-5256; 6659 Middlebelt Rd., Garden City; 734-523-0911; jenniespierogies.com.
Located in Washington Township, this quaint restaurant offers many Polish classics, including sausage with sauerkraut and stuffed cabbage. Many of the specials are Polish dishes. They also have interesting takes on pierogi, such as a pierogi reuben slider. Anios Restaurant, 66603 Van Dyke, Washington; 586-785-3952. facebook.com/aniosrestaurant. 
This post was originally published in 2019 and has been updated for 2022.