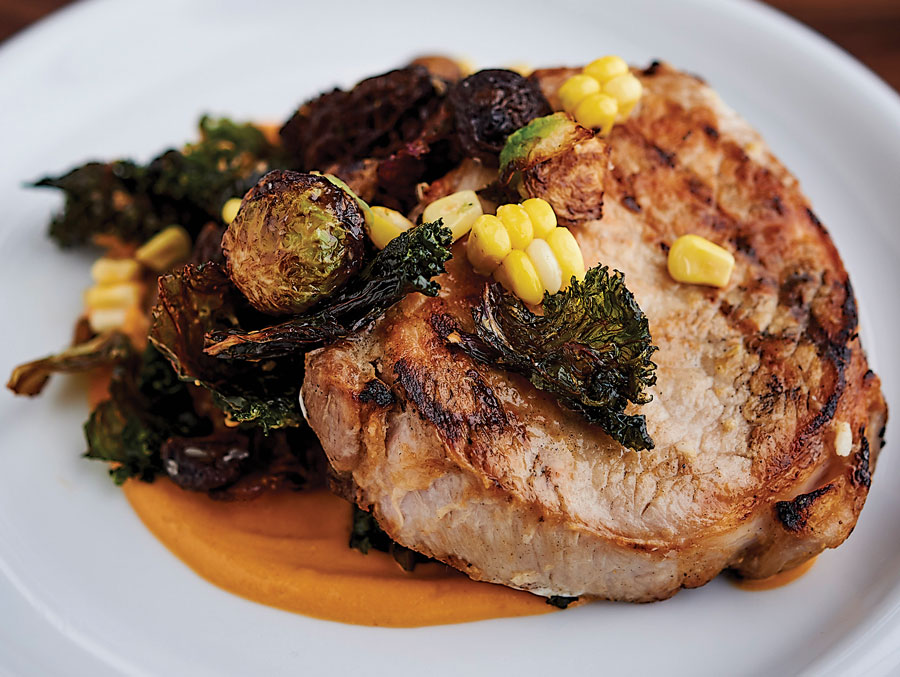 Sean Force, executive chef at Ocean Prime, has a couple of reasons for choosing this recipe. "For one, if I am off and the sun is shining, chances are I am grilling something," he says. "It is a diverse dish that will take well to almost all vegetables — no matter the season."
---
Ingredients for romesco
3 roasted red peppers
1 tomato
4 ounces blanched almonds
1 ounce chipotle
2 tablespoons minced garlic
2 tablespoons sherry vinegar
4 anchovies (optional, or add salt)
1 slice of toasted sourdough
½ cup extra-virgin olive oil
Directions
Remove as many seeds as you can from peppers and tomato. Toast almonds until golden brown. If you have thyme or rosemary, toss it in with the nuts as they roast. Let cool. Combine all ingredients except the oil in a blender. Blend on high for 3 minutes. Let rest for 10 minutes. Return speed to high and slowly drizzle in olive oil. Reserve for dinner.
Ingredients for vegetables
10 ounces mixed mushrooms
Olive oil
Salt
1 ear of corn, husk still on
½ head flowering kale
8 ounces Brussels sprouts
Directions
Saute mushrooms over high heat with oil deeply caramelized. Season with salt. Heat oven to 375 F, cut loose pieces off the outside of the corn, ensuring the husks stay closed. Roast 45 minutes and let cool. Cut corn off the cob. Tear pieces of kale and remove large stems. Toss with oil and salt. Roast for 3-5 minutes, until crispy. Cut stem end off Brussels sprouts, then cut in half. Toss with oil and salt and roast in oven for 12-15 minutes. Reserve all vegetables.
---
Ingredients for butter
¼ cup butter
1 teaspoon minced garlic
½ lemon, zest and juice
Directions
Set butter on counter for 1 ½ hours. Combine all ingredients and mix thoroughly.
Ingredients for pork
4 pork chops
Salt
Olive oil
Directions
Let chops sit a room temperature about an hour. Season with salt and rub with oil. Cook to desired temperature (Chef's note: I prefer medium or 140 degrees). Rub chops with lemon garlic butter and let rest on pan covered in foil for about 4-5 minutes.
Assembly
Melt remaining butter in a saute pan and toss in vegetables. Plate the romesco sauce, spoon vegetables on top, and crown with the chops.