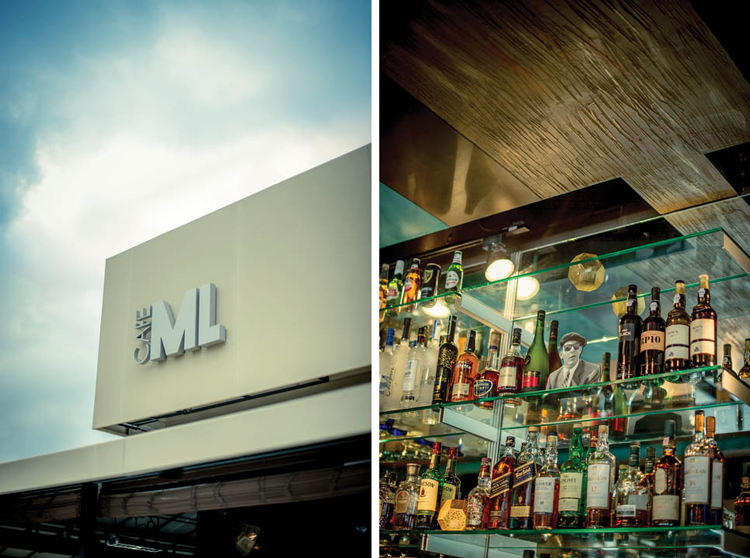 The contrasts are fun: a warm, modern interior with ladder-back barstools, large crinkled-glass globe chandeliers, and a robin's-egg-blue color scheme that goes all the way down to the waitstaff's neckties.
There's a friendly, energetic vibe to the place, accented by quotations etched into the ceiling trim from various luminaries of the sauté pan, such as American überchef Thomas Keller (Per Se in New York, the French Laundry in Napa) and others.
Café ML in Bloomfield Township is the newest venture of Birmingham-based Roberts Restaurant Group. And whenever Roberts opens a restaurant these days, it's worth a look because they run some of the most successful, trendy places in metro Detroit.
The eatery is another pleasant, modern, casual-dining restaurant with good American bistro-style food — a blend of traditional, plus various worldly influences and some upscale twists and tweaks.
In quality and style, Café ML falls in the same vein as other local Roberts ventures, such as Beverly Hills Grill, Streetside Seafood, Town Tavern, and Roadside B&G.
Café ML takes its name from its location, the corner of Maple and Lahser, where it adds some culinary oomph to the nearby Plum Market.
The upscale American bistro brasserie-style menu, deftly handled by the kitchen of Chef Shawn Wright, is almost jarringly brief.
For example, the menu has two soups — a featured soup and a traditional miso with shiitake and tofu — plus three salads, three choices of tacos, three burgers, and seven dinner "plates," which offer the most variety. That's it.
Instead of a traditional heading of appetizers, entrées, salads, and desserts, the menu is broken down by small, large, raw, cool, hot, burgers, plates, and tacos, and a daily selection of fresh fish on a slate board, a lightly refreshing innovation.
The effort here is to keep things short, simple, varied, and good. And in that, Café ML works for the most part.
The kitchen skill behind Café ML's menu shows in an excellent Singapore Street Noodle we tried, a dish of Asian bok choy, cabbage, tomato, cilantro, carrot, and cashews. Delicious and perfect.
Also outstanding was a Cuban sandwich, a pork burger with Serrano ham, swiss cheese, mojo sauce, and pickles. Likewise, a guacamole was lovely and chunky — and not overly beaten or spiced as to separate it from the delicate taste of avocado, which happens far too often.
We did have problems with two dishes: an otherwise bright, fresh, and excellent steak tartare was over-salted, as was the lobster risotto. Whenever I find over-salted dishes, I always wonder whether the chef or sous chef is a smoker with blunted taste buds. It happens more often than people might realize.
However, when we raised the issue with our server, it got immediate attention. A manager was at the table in no time and offered to replace the dishes with something else, which is what a good restaurant should indeed do.
Café ML is a reflection of the recent trend toward un-complicating restaurant dining and making it breezy. This kind of dining appeals to white-collar professionals who don't have the time or inclination to cook weeknights, but yet expect a modicum of affluence where they go and in what they eat.
And in this, Café ML has succeeded.
Yet compared to similar establishments in metro Detroit, there isn't much about Café ML that's particularly unique.
As a longtime observer of the Detroit restaurant scene, I'm bothered by an issue that is not exclusive to the Café ML and Roberts restaurants, but one that afflicts the industry overall.
It needs to be asked why, aside from design and appearance, is there such an overwhelming sameness of food in nearly every new restaurant in Detroit.
Where is the excitement around here for new and different ideas in American cuisine? I'm not talking about our Arabic, Mexican, Italian, Japanese, or Thai restaurants, which truly infuse a great and wonderful variety into our dining scene. I'm addressing the many newly opened fancy American grills that mostly surround the wealthier suburbs of Detroit, Café ML among them.
A large part of my work takes me outside the bubble of metro Detroit. So, for better or worse, I get to see what we're missing here and, at the same time, the breadth of what is elsewhere.
In some ways, my travel is fairly typical of other professionals. I'm in California five or six times a year, New York three or four, Europe once or twice, and mostly for work. I eat there for several days, sometime for weeks a year, dining in the same kind of casual, upscale places as Café ML.
When I return, I'm constantly struck by how little diversity there is between the menus at Detroit's newer bistros, grills, and upper-end brasseries. And I hear many complaints about our lack of variety.
By contrast, in April, May, and June, I made five trips to California, where I ate in one American cuisine restaurant after another — not in Los Angeles or San Francisco, but in smaller cities such as Temecula, Riverside, and San Diego. And in each place, without any effort to seek them out, I found the menus and chefs consistently loaded with new ideas and flavors, styles, and interpretations of traditional dishes and unusual new cuisine ideas; some heavier, some lighter, but all very different.
I also spent two weeks in Barcelona this year, and meal after meal — beyond the traditional Spanish tapas — I encountered a stunning array of dishes and experiments in flavor. There was, in effect, an imagination at work and a willingness — a pride even — to put something very different and unusual on a plate, dishes and preparations that we just don't see here.
But despite Detroit's overall lack of menu variety, Café ML is off to a nice start, and it's firmly headed in the right direction. It likely won't be too long before it equals or exceeds the other restaurants in the Roberts group.
3607 W. Maple Rd., Bloomfield; 248-642-4000. D daily.
Cook is Hour Detroit's chief restaurant critic. Email: editorial@hour-media.com
Facebook Comments