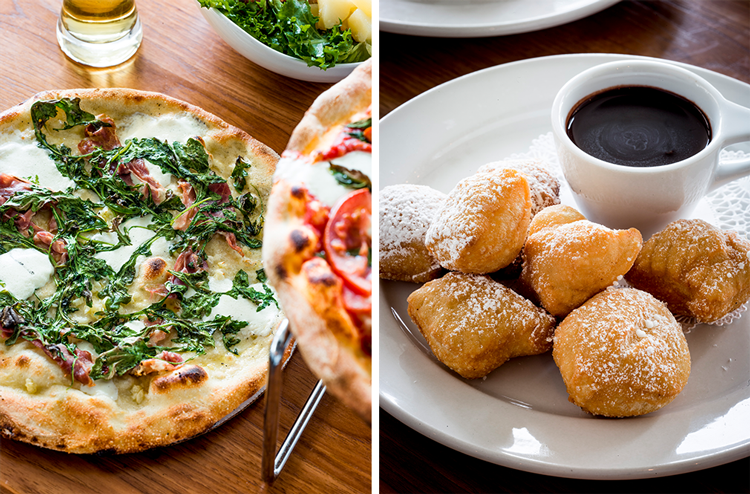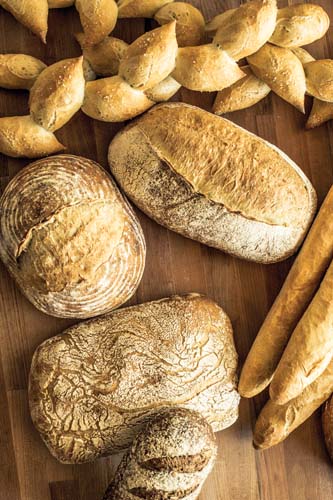 History and life are replete with great "aha!" pronouncements.
The ancient Greek mathematician Archimedes gave us perhaps the most famous. While getting into his bathtub, he discovered the relationship between mass and volume, his body displacing the water, and ran naked through the streets of Syracuse shouting: "Eureka, Eureka (I have found it! I found it!)"
Another big aha! moment happened in 1974, when music critic Jon Landau, writing in The Real Paper about an unknown New Jersey rocker stated: "I saw rock and roll's future and its name is Bruce Springsteen" — words that launched The Boss.
On a totally punier scale, and with apologies to Archimedes and Landau, I have seen the future of dining in Detroit and its name is Crispelli's.
(I ran by the restaurant naked last night. Sorry you missed it.)
Once you've been to Crispelli's Bakery & Pizzeria, you, too, will surely have an aha! moment that may leave you musing: "This is so simple and obvious, why didn't anyone think of it before now?"
Crispelli's is Food Channel dining on the IKEA model, with rock-bottom prices.
It's an important new arrival in the realm of casual, inexpensive restaurants, and it threatens to change the paradigm of midweek dining and feeding a family reasonably while offering new types of food in a different ambience and dining-room design.

Crispelli's has taken up residence on Woodward near 12 Mile Road in Berkley, with a touch of irony, in a former and completely redone Denny's.
Crispelli's works because its interior design and layout are energetic and wonderfully inviting. It also offers a fairly wide array of food on a brief menu and a model of service that eliminates tipping, which means an instant savings of about 20 percent.
Food prices are the biggest eye-opener. Our dinner tab for three was $36, including wine. Yes, that's correct. Essentially, you're paying retail and take-out prices, even for wine by the bottle, but eating and drinking in a restaurant setting. We had a terrific eight-slice pizza with prosciutto, mozzarella, and arugula that was freshly made in a wood-oven; a large, extremely fresh green Michigan Salad with Gorgonzola, walnuts, apple, and dried cherries; two glasses of white wine, and a soda. There was no tip, because everything is served over-the-counter. There are no waiters, only busing staff.
"The customer gets a good price, but he has to work a little for it,'' says co-owner Glen Willson. "You've got to get your own food. But it's an unpretentious place to eat. You're in and out. And you're not waiting on a waitress, so to speak. "As much as I'd like to claim credit for the idea, this really originates in southern Europe. There is also one like this in Long Island, N.Y., and one on the West Coast," Willson says.
We left Crispelli's feeling that we had been well and pleasantly fed, carrying our ample leftovers in a bag: three slices of pizza and at least half the salad, enough for lunch the next day. You could say that we got two meals for $36, which is pretty extraordinary.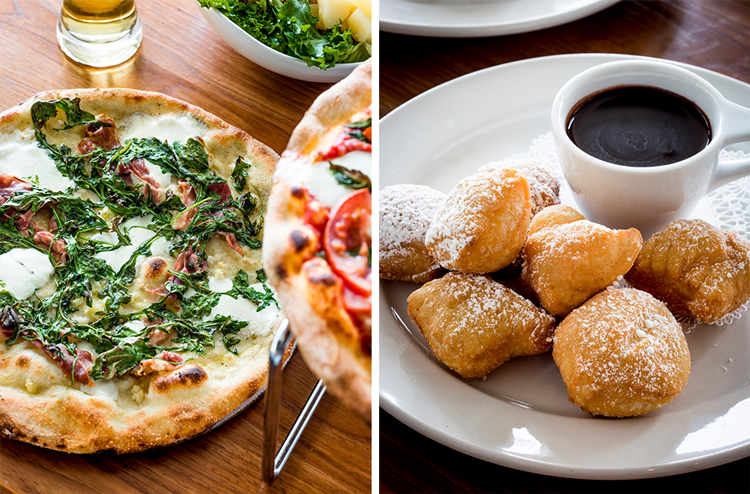 Crispelli's has the feel of a culinary IKEA, the Swedish home-goods giant, which opened in Canton Township six years ago to mobs hungering for its amazing prices and wide array of offerings. There are parallels at Crispelli's, which offers menu items similar to New Italian-style eateries, but with good, fast service. Like IKEA, Crispelli's has been mobbed since it opened in March.
Here's how it works: Check in at the host stand and you're led to a table in the bright interior with huge windows. The décor includes a mix of white industrial tile, white brick, and a tile and terrazzo floor, granite counters, and wood tables.
When you're seated, the host places a "reserved" sign at your table and encourages you to drop your coats and begin wandering the various food stations where chalkboards list your options.
Restaurant designer Ron Rea has placed the stations side by side in an S-shaped line: bakery, hot food, salad and soups, sandwiches, beverages, and pizzas, from which you select your dinner items.
The focal point of the restaurant is the open kitchen, where pizza makers prepare their dough and take your order over the glass divider. In addition to the five pizza varieties on the menu, you can choose your own ingredients and have either the small round thin crust for $7.50, or a large pie for $12. Deep-dish versions are also offered.
When you make your choice at each station, you're handed a sales slip.
Wines by the bottle are shelved in one area and beer and wines by the glass have their own station. The hot-food line recently offered a cedar-planked grilled salmon, flank steak, roasted vegetables, spaghetti and meatballs, and lasagna. The salad station offers six choices, including a house salad, a Cobb, and a Caesar.
The soups include tomato bisque made with quality Roma tomatoes; clam chowder with bacon bits, chopped clams, and potatoes; and a chunky chicken-noodle soup with carrots and tarragon.
When your order is ready, your name is announced and you pick up your selections from the counter. After dining, guests take their slips to a central cashier, where they pay.
In the summer months, there's a covered outdoor patio off the main room where the din is less.
Proprietors Joe and Ken Morelli and partners Mark Artinian, owner of Bosco's Pizza Co. in Warren, and Glen Willson, who owns Willson's Pub 'n' Grill in Commerce Township, bring a wealth of combined business and restaurant business experience to their establishment.
The Crispelli's model is not entirely new here. Something similar has been successfully tried at Toasted Oak in Novi. But mostly, this style of dining has evolved in other large urban areas on the East and West coasts.
The difference with Crispelli's is that the formula seems more finely tuned and thought out. That process includes expansion plans. "In fall, we'll start looking at other possible locations," Willson says.
Crispelli's joins a big shift that Americans increasingly want. Call it a breath of fresh air.
28939 Woodward, Berkley; 248-591-3300, crispellis.com. L & D daily.
Cook is Hour Detroit's chief restaurant critic. Email: editorial@hourdetroit.com.
---
If you enjoy the monthly content in Hour Detroit, "Like" us on Facebook and/or follow us on Twitter for more frequent updates.

Facebook Comments