Northern Italy is famous for its truffle hunts each autumn, but at this time of year, Michigan's woods are about to fill with booted hunters on another kind of quest. Next month starts the season for that fresh, elusive, wild mushroom delicacy: the delightful Michigan morel.
And nowhere will the season be greeted with more enthusiasm than at Morels in Farmington Hills, the creation of one of Detroit's super-chefs, Matt Prentice. The restaurant takes its name from the mushroom species and offers a morel-loaded menu. For example, on a recent appetizers menu, Morels offered a Mushroom Tasting for Two: mushroom pâté, mushroom strudel, grilled shiitakes, and a morel bisque shooter.
This is actually Prentice's second version of Morels. The widely known original restaurant, which closed in 2006, was located on Telegraph in the Bingham Farms area. The new Morels opened last year on Northwestern Highway in Farmington Hills.
Prentice's road to a new Morels was anything but smooth: This was a story of struggle, huge success, unraveled partnerships, financial indignities, and, finally, redemption.
Redemption for Prentice comes in the form of a charming, warm, casual restaurant with whimsical design touches, and a contemporary American menu of understated, well-thought-out dishes that are a bit on the hefty side, but rich and flavorful.
Morels is darling, its décor an odd combination: Mediterranean meets Alice-in-Wonderland. If you've ever fantasized about giant, fiberglass mushrooms as big as you, this place is a trip.
As for the food, this might be Prentice's best restaurant to date. It's excellent, and the service is top-notch. The blend between kitchen, service, and ambience has great pitch. And the wine list runs harmoniously in parallel with the menu's items.
It's certainly worth the visit.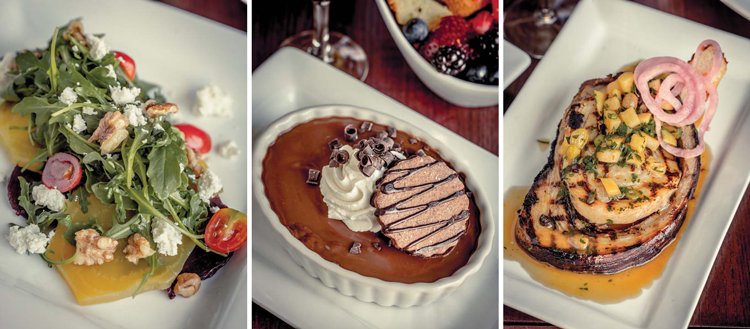 For almost two decades, the original Morels was one of metro Detroit's top 10 dining spots. Prentice says that, at its height, it grossed $50,000 weekly in pharmaceutical company lunches and dinners alone.
It eventually grew from Morels into sister operations that included Coach Insignia, Shiraz, Tavern on 13, Northern Lakes Seafood, Deli Unique, No. VI Chop House, and a few others that came and went over the years. The Matt Prentice Restaurant Group hummed along smoothly, until about 2006, when the company's struggles began to show.
In 2007, the recession rocked the local real-estate market and slammed Prentice's businesses hard. Morels closed, and key staffers left the fold — among them, Madeline Triffon, who'd risen to fame at the old London Chop House as the first American woman internationally certified as a Master Sommelier. Triffon was the inspiration behind the marvelous, always fresh, always eclectic wine lists and an innovative wine program for the restaurant group.
Prentice sold his controlling interest to keep his remaining restaurants afloat, and in 2012 (in a public spat with his partner), he quit as president. The Matt Prentice Restaurant Group became the Epicurean Group, and Prentice filed for personal bankruptcy.
Last year, in a turn of good fortune, Prentice was approached by a friend in real estate who had a partially completed building. It had been readied as an upscale Greek restaurant with a rustic, azure, Aegean look, but the project was scrubbed.
Prentice got it at a bargain. Save for some new kitchen equipment, it had everything he needed.
Soon it began to take shape as the new Morels. With a design that employs faux cut sandstone arches and columns blended with rich, reddish wood trim and lots of natural light, the restaurant became very engaging; today, it boasts an ambience that is both casual and elegant.
The resurrection of Morels "has been a lot of fun," Prentice said soon after it opened. "Restaurants are like people: They are born, they learn how to walk, and eventually to run. But this is when they are fun." And run it does.
The new Morels picks up largely where old one left off — a return to Prentice's roots, with the eponymous mushroom at the heart of the menu. This one uses as much locally grown produce as is available during the year, and the kitchen is overseen by the talented John Breeland.
"The first Morels was 1990s food," says Prentice. "I did not want this to be 1990s. It's more farm-to-table products, which I can get more readily today than we could in 1990, when it was a rarity. Now, one of the servers is doing our herb garden. We can step right outside to find some of our products."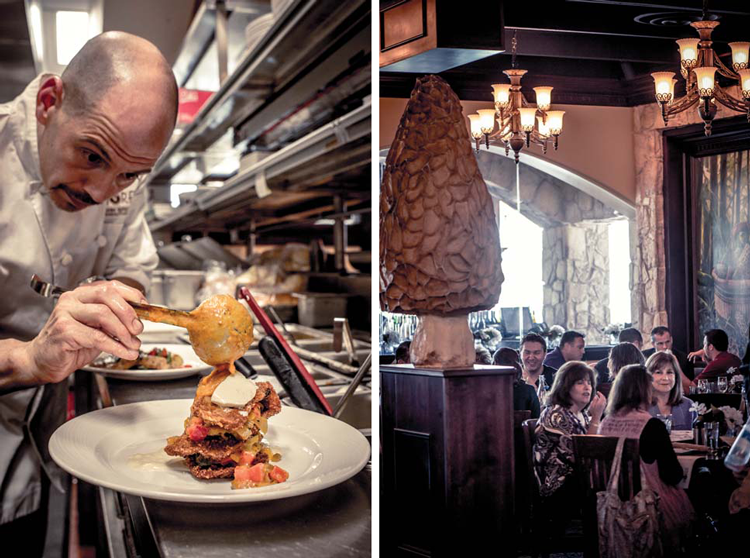 The lunch menu is fairly brief: four starters, two soups, six salads, a half-dozen sandwiches, three flatbread pizza-like choices, and six entrees.
The dinner menu changes regularly. Last summer, it included braised pork belly, which, under the watchful eye of Chef Breeland, is a cube of braised meat served pan-fried with white cheddar grits and pickled assorted wild mushrooms, finished in an apple-cider reduction.
The standout dish at one dinner was a delicate gnocchi made with ricotta. It exuded a slightly pungent morel aroma, each bite diminutive and light, and so flavorful you couldn't help but savor it in your mouth. Sweet baby English peas, morels (of course), radish, dry sherry butter, and shaved Parmesan cheese merged nicely to complete the dish.
On a more recent visit, we discovered a lamb tasting: a combination of marinated baby lamb chops and a shepherd's pie of lamb shank meat, creamed spinach, and pureed potatoes with goat cheese.
Other main courses, should they reappear on current menus, are highly recommended: the vegetarian crispy eggplant tower — thin slices of crunchy, breaded eggplant interlaced with slices of mozzarella and roasted vegetables, surrounded by stewed tomatoes and topped with a parmesan velouté — and a delightful duck confit ragout on light tagliatelle pasta. The pasta, made on-site, is so thin, it's translucent.
In January, the menu included a grilled duck confit with red cabbage, spaetzle, and an apple-raisin demi-glace that was delicious and well-prepared.
The wine list is one of the best around. Assembled by Diane Smalley, formerly of Five Lakes Grill, it covers a wide spread of American wines without falling into the trap of "bring-on-the-usual-suspects."
Most impressive is a large selection of the best Michigan wines, ones that have been taking top honors in major national competitions — wineries such as Left Foot Charley, Forty Five North, 2 Lads, Arcturos, L. Mawby, Bel Lago, and Verterra, a new one in Leelanau Peninsula. They're all in keeping with Prentice's local product theme. Morels also offers an excellent selection of Michigan's best beers, including Bell's, Short's, Dark Horse, Atwater, and Founders.
Over the years, I haven't always been kind to Prentice restaurants. I've been critical of his top dog, Coach Insignia, and didn't always like the old Morels. But I always loved Shiraz, his little Bingham Farms gem, now gone. It was solid and among my favorites.
This Morels is solid, too. And it puts Prentice once again among the restaurant front-runners — and back on his own terms.
Morels, 32729 Northwestern Hwy., Farmington Hills; 248-254-3840. L Mon.-Fri. D Daily
Cook is Hour Detroit's chief restaurant critic. Email: editorial@hour-media.com.
Facebook Comments