Driving along the rural two-track roads northwest of Plymouth in early spring, the rolling bucolic scenery of horsecountry — stables, boarding, riding schools, and horsebreeding farms — gives way to a mix of commercial and industrial properties.
At North Territorial and Gotfredson, you stumble onto a parking lot so overflowing with cars that some are parked all the way up to the edge of the highway.
You might expect a flea market or possibly a 1930s-style tent revival meeting, but the traffic is all about Karl's Cabin, a throwback to the old Michigan highway country diner, with terrific food and a lot more to recommend it.
A recent Karl's Cabin menu reflects innovation high up the dining scale from Michigan roadhouse food: a smoked venison brisket, served on a house made crostini with Swiss chard, venison jus, and wafer-thin crispy deep-fried onion strings. Or there is a meatloaf made with a blend of yak meat and Angus sirloin beef (from locally raised animals, of course), with a deep smoky house-made ketchup and mashed potatoes with Grandma-style pan gravy.
And, here's my ultimate test. I'm not particularly fond of liver and onion, and rarely eat it. Still, cooking liver does take a skill. It needs to be young liver, so no old cow, sheep, or pig.
At Karl's Cabin, the liver and onion is from delicate Provimi veal, therefore a calf. It is served lightly pinkish in the middle, with none of the metallic harshness that many people dislike in liver. Reluctantly, I plunged in. It was utterly delicious, the best — and possibly just one of two or three — I've had in maybe a decade.
Karl's Cabin is doing high-quality American comfort food, not too far off what Zingerman's Roadhouse has done in Ann Arbor. Although the owners say that wasn't what they intended, they don't dispute that's how it turned out.
One dish after another that might sound ho-hum on the menu turned out luscious.
"For four or five years ago," says co-owner Louis Poulos, "we began a concentrated effort to improve and upgrade the quality of what we offer. We decided we wanted people to
walk away saying 'I've never had anything that good.' "
Karl's Cabin is an eye opener with a colorful past. It has been around under various names at the same spot for 70 years, and claims a touch of fame. Johnny Cash once stopped by before he became famous. It was also home to many bar-clearing brawls.
Today, it is distinctly on the radar of a sizeable crowd of loyal well-behaved locals circling its parking lot looking for a spot.
According to a brief history on Karl's Cabin website and back flap of the menu, the building itself went up in 1945, erected by a local farmer named Alex Rusceak and his wife, Katie. They operated it as Rusceak's Rustic Tavern.
"It catered to the local farmers on horseback, curious travelers, and local town-folk heading west on scenic North Territorial Road," the history states. "But soon after its completion, Alex passed away, leaving Katie to run the roadhouse. The tavern earned somewhat of a hard-nosed reputation. It had become home to rowdy patrons who would drink and dance into the night, and arguments were routinely settled by bar clearing brawls."
Katie Rusceak sold the place in the late 1960s. "It became Hefner's Hideaway. But things got worse. It served up a raucous brand of rock and roll, billiards and fisticuffs. Notorious for its after-hours operations, illegal gambling and disorderly clientele," the history states. Authorities shut it down as a public nuisance.
Karl Poulos bought it in 1982.
My previous visit to Karl's was at least 20 years ago, and like most people, I saw it as just another beer-and-a-fast-bite place.
"That's right," says Louis Poulos, who with his brother, Peter, took the restaurant off their parents' hands in 1997 and quit their professional jobs. Louis was a civil engineer and Peter was in corporate insurance in Chicago. Today, Louis is in charge of the "back of the house," and Peter takes care of the dining rooms, as well as the marketing.
Karl's Cabin is big and bustling. In style, age, look, name, and décor, it harkens back to the era of the Michigan roadhouses. But the brothers have made changes — the back was basically blown out in November 2014, and a huge new kitchen was added.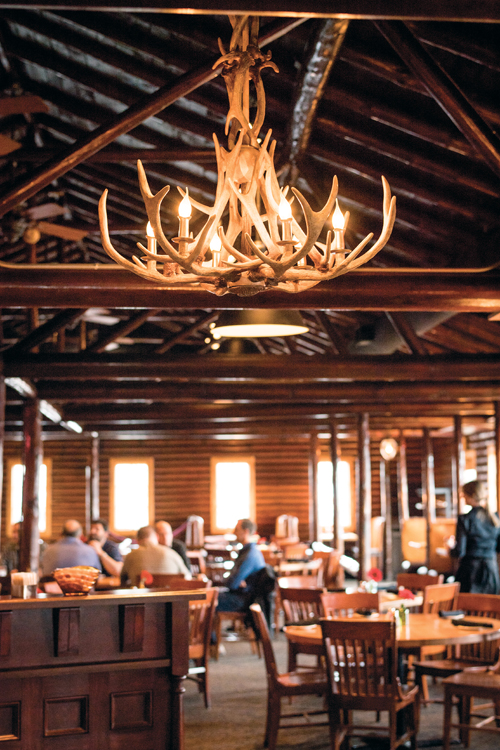 The original varnished log cabin dining room and bar are still the same. A banquet room seats 100 guests, in addition to the 200 seats in the main room and a patio that seats 60.
In the banquet area, they are offering monthly, preselected six-course gourmet chef's tasting menus, not with wine, but with Michigan craft beers.
"The beer dinners have opened our minds up," says Poulos. "We typically do a six-course pairing, and have had beers of all kinds. We do (a lot) of braising, and plate it all in that right in from of the customers. It has been unbelievably popular."
Unintentionally, Karl's Cabin has wandered into its own version of the New American cuisine foods that is so much the trend at new upper-end restaurants around downtown Detroit and other places.
Poulos likes to keep it all simple. While he calls what he does comfort food, it is in fact just as much nostalgia or roots cuisine, a cooking form that reaches back to Grandma's pantry and "the good old days" recipes that are showing up on many trendy menus.
The difference at Karl's Cabin is that the Poulos brothers started with the same menu of their father had — Grecian pork chops, ribs, chicken noodle soup and saganaki (flaming cheese) — then dropped and added some. When they took over from their parents "…neither of us had been to hospitality management school," says Poulos, and neither had culinary school experience.
As they moved carefully and gradually toward improving the food, they found chef Bill Johnson, who had worked at the long-closed Tribute in Farmington Hills under superstar chef Takashi Yagihashi, now famous for his Slurping Turtle noodle shops in Chicago and Ann Arbor.
Louis, who calls himself the kitchen team leader, credits Johnson and sisters Tabi and Pro Iascurchi with being the talent pool that has guided the food to where it is now.
During our visits, one dish after another that seemed ho-hum on the menu turned up luscious, each with depth and separation of flavors, and a cooking not usually associated with a roadhouse.
Take the ale and onion soup, served in a crock. It follows a traditional recipe for French onion soup, but instead of red wine, white, or sherry, Karl's is made with a deep brown ale that pumps back richness and savory flavors.
Other dishes include Maryland crabcakes, beer steamed mussels, and Southwest potato skins loaded with chorizo, cheddar, avocado, and scallion. Main dishes include and assortment of beef cuts, including a flank steak marinated in bourbon, rosemary, and olive oil, and a pork tenderloin glazed with apple compote and served with mashed sweet potatoes.
There is a uniqueness and originality to Karl's Cabin. It is also easy to think of it as part of the new dining trend. Ironically, it is anything but that.
While just trying to make better what their father started, the Poulos brothers ran right into a new trend in restaurant dining. Sometimes, timing is everything. And sometimes it's our good luck, too.
6005 Gotfredson Rd., Plymouth; 734-455-8450. L & D daily.
---
Christopher Cook is Hour Detroit's chief restaurant critic. Email: editorial@hour-media.com