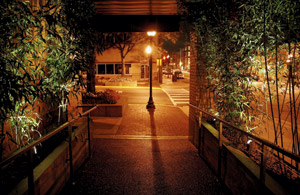 Sushi chefs from downtown's Oslo have turned up in Royal Oak at Ronin, in a room broken into sections by cedar columns and live bamboo trees under arrangements of willow-reed twigs.
Kaku Usui, Keith Cha, and their fellow chefs prepare spicy tuna rolls, yellowtail, salmon roll, freshwater eel, salmon eggs, and beyond at the sushi bar, while chef Matthew Dalton combines East and West in the kitchen.
Entrees include salmon with sweet cherry barbecue sauce atop rice cakes, diver scallops with black rice risotto, organic chicken teriyaki, and some irresistible shoestring fries.

326 W. Fourth St., Royal Oak; 248-546-0888. Note: Average entrée price is $16, handicapped accessible.