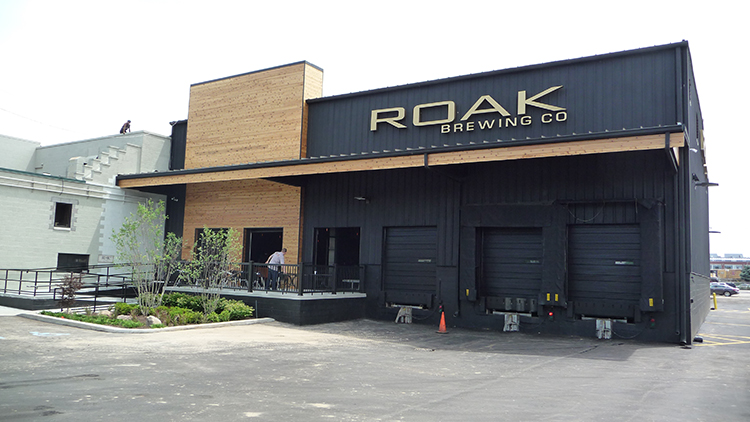 Owners John Leone, Chuck Mascari, and Chuck Mascari Jr. decided to open ROAK Brewing Co. after a discussion about their love of craft beer. They tried to find a good reason to not open a brewery, but kept coming up with the same answer – they should do it.
The 18,000 square foot facility opened in early June and has been brewing beer for distribution while the finishing touches were being added to the 70 seat, 1,400 square-foot tap room.
ROAK beer is getting increasing shelf space at retailers and sending kegs to restaurants and bars. Initial sales have exceeded expectations and beer originally targeted for keg distribution has been diverted to the bottling line to meet demand at retailers.
"It's a good problem to have," says Leone. "We are just getting rolling and starting to get our feet under us. It's a learning process that every new business has to go through. We're very collaborative, which has made the process very rewarding."
ROAK already employs more than 25 people, plus management, marketing, and administrative positions.
The Brewery
Manning the custom-built 30-barrel brew system is head brewer Brandon MacClaren, who gained his experience over the previous seven years at Mountain Town Brewing (while it was still called Mount Pleasant Brewing), New Holland, and Founders.
MacClaren strives to make a wide variety of beer styles, and hopes to be able to include more Michigan-grown ingredients as they refine their styles and seasonal offerings.
"We use hops from Hop Head Farms, but are looking to expand to more Michigan hops and grain providers as soon as we can," MacClaren says.
Joining MacClaren in the brew house is brewer and quality control lead Trace Redmond.
Redmond oversees all the beer at ROAK puts out and also brews whenever he can. "We have a lemon drop fermenting in the 3.5-barrel pilot system, which should be available in the tap room in a few weeks."
Leone is already looking forward to increasing the brewery staff (it's currently at 10 people). Upgrading the bottling line will be a necessity as production and distribution increase.
"We're trying to hit 13,500 barrels of beer produced in our first year, but are already eyeing the 20,000 barrel mark as the next goal," says Leone.
"We're still trying to figure out the logistics, but we will be offering brewery tours as well. We haven't yet decided whether we'll do them on a particular day of the week, or offer them to interested parties on an individual basis," states Leone.
The Taproom
The taproom has 16 handles, nine of which are already in use.
A full kitchen, headed up by chef Ralph Leone, is in operation, serving pizza (both round and Detroit-style deep dish), salads, sandwiches, charcuterie boards, soft pretzels, other small plates, and desserts.
Artist/sculptor Mark Bommarito designed the interior space as a combination of industrial chic and glasswork, with additional sculptural features and flourishes throughout.
An additional 28-seat patio adjoins the taproom and is accessible through rolling glass bay doors.
Look for entertainment to be added to the mix over the next few months. The taproom will initially start with DJ sets, and as acoustic issues are addressed, live bands will most likely be added.
The Beer
The first nine beers on tap reflect the desired diversity of MacClaren and Redmond.
"We make beers we like, and hope everyone else will like them, too," says Leone.
Leone also expressed his need to have a nice mix of beer, including session varietals. "You don't need to have high-alcohol beer all the time. I like a rich, full stout a lot, but a nice Belgian wit is my next favorite thing to drink."
Currently available in the tap room:
Devil Dog – Oatmeal Stout (8.5% ABV)
Live Wire – India Pale Ale (7.5% ABV)
Kashmir – Belgian Dark Strong (9.5% ABV)
Powerboat – Belgian Wit (5.2% ABV)
Around the Clock – Session IPA (4.7% ABV)
Mean Street – American Amber (5.5%)
Blood Orange Pale – Pale Ole (6.5% ABV)
OG Pale Ale – Pale Ale (6.5% ABV)
Azacca – Pale Ale (6.5% ABV)
Initial favorites of customers after a soft opening event: Powerboat, Kashmir, and Around the Clock seem to be favorites. Devil Dog, Powerboat, and Live Wire round out the employee/owner picks.
ROAK also gives back to the men and women of the armed forces. Devil Dog, the oatmeal stout, is not only a tribute to Leone's dog, but also the Marine Corps; a portion of proceeds is donated to the John D. Dingell VA Medical Center in Detroit.
Contact and Connect
ROAK Brewing Co.
330 E. Lincoln
Royal Oak, MI 48067
248-268-8799
www.roakbrewing.com
Facebook: www.facebook.com/RoakBrewing
Twitter: twitter.com/roakbrewing
Instagram: instagram.com/roakbrewing/
Untappd: untappd.com/RoakBrewingCo