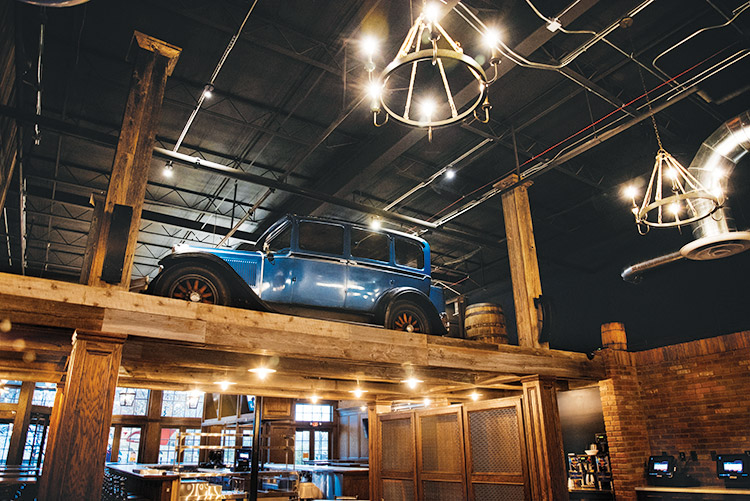 The Whiskey Six. It may sound like a hockey team that likes to party, but it's Grosse Pointe's newest gathering place, a restaurant/bar with a name that refers to the six-cylinder automobiles that were used during Prohibition to bring illegal booze across the frozen river and Lake St. Clair from Canada to Michigan when the boats used during the warmer months couldn't get through.
Legend has it that many of the Whiskey Sixes ended up on the bottom of the Detroit River. To emphasize the theme, a fully restored 1928 Studebaker is the focal point of the décor, and it looks as if it could easily drive off from its perch on a reclaimed barnwood platform set just below ceiling height above the white marble-topped bar and spacious dining room.
And it could, say the proprietors who collaborated on the handsome spot with its highly detailed brick, wood, and glass façade at 646 St. Clair Ave.
They wanted their classic American pub to have a local tie, and since the Grosse Pointe shoreline was one of the major places where whiskey was smuggled in from Canada, the iconic six-cylinder car, found in northern Minnesota after a search, was apropos.
It's not known whether this particular handsome deep blue '28 Studebaker at the Whiskey Six ever sped across the frozen river carrying its illegal golden treasure. But there's no harm in imagining that it did.
One of the co-proprietors, Mike Bileti, manages the Whiskey Six on a daily basis for the group that includes James Bellanca III, John Frohlich, Tony Galbo, and Dan Francis — all local businessmen with Grosse Pointe ties.
The high-ceilinged restaurant is in a completely rebuilt space just off Kercheval Avenue in the Village, as the business section of Grosse Pointe is known. In the spring, its 176-seat indoor capacity will be increased with another 45 outdoors on the large tree-shaded patio surrounded by a decorative wrought-iron enclosure.
The Whiskey Six is Grosse Pointe's largest restaurant by far. And despite the rather formal-looking façade with its paned windows and copper carriage lamps flanking the entrance, it has a casual atmosphere emphasized by a number of 55-inch television screens and menu of "classic American pub food."
The menu relies on as many Michigan-sourced products as possible, all prepared in house. Burgers made from a house blend, artisan pizzas, sandwiches, steaks, and local fish are augmented — appropriately enough — with "a vast selection of whiskeys," Bellanca adds.
---
The Whiskey Six, 646 St. Clair Ave., Grosse Pointe; 313-939-2403. Open 3 p.m.-2 a.m. daily. Lunch is planned, as well.
Facebook Comments