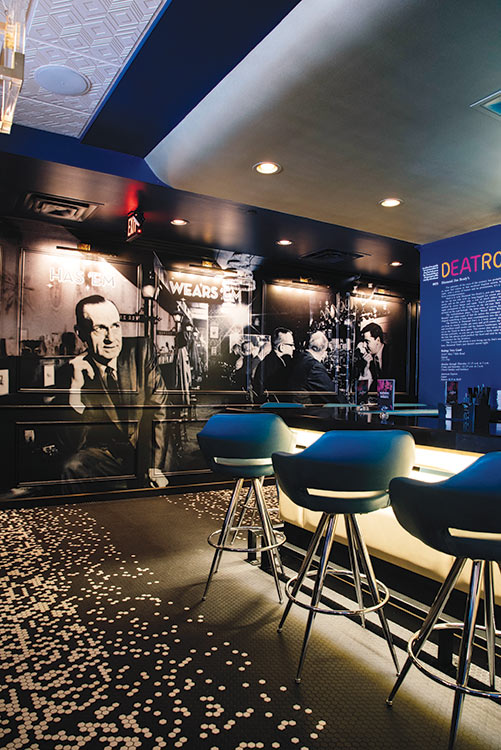 Tom Brady doesn't remember much about his grandfather, who died when he was 2 years old. But now he knows as much about him as anyone lucky enough to spend time with a beloved grandfather.
"Diamond Jim" founded Diamond Jim Brady's on Detroit's Seven Mile Road in 1954. The turn-of-the-century style saloon became locally famous for its hand-patted burgers, chili, steaks, and Irish coffee.
Bars at the time weren't always family-friendly, but Diamond Jim was adamant about making women feel welcome. He had a pay phone installed in the ladies room so they would be able to make a private call if their dates gave them problems.
After Diamond Jim died in 1970, Brady's father (also named Tom) took over what had been fondly referred to as a saloon.
As a little boy, Brady spent time there. "My mother would take me to the barbershop … then drop me off. I would play restaurant," he recalls. "Dad would let me drop bottles into the chute — there weren't returnables then — and I would split a Charlie Brown hamburger with him." (It was named for a regular who liked Swiss cheese and bacon on his burger. In Diamond Jim's world, customers were king.)
Brady's dad opened a second location in Southfield in 1979. But something was lost in translation; it never captured the original's aura. Both closed in 1990.
His stepmother, Mary — a certified executive chef — opened and still runs a Novi spot called Diamond Jim Brady's Bistro.
It was always in the back of Brady's mind to try to revive the spirit of the original. It began to crystalize in 2014 when he showed an old photo of his grandfather to Darin Dingman, a friend since seventh grade.
"It was an 'a-ha' moment," says Brady.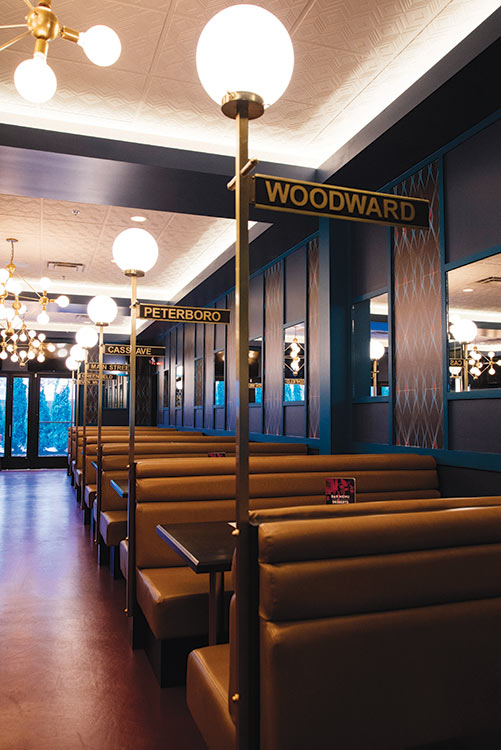 He and Dingman decided to form a partnership, opting not to replicate the setting, but to try to recreate its feeling in the former Oxford Inn in Royal Oak. "If my grandfather were to open today, what would it look like?" says Brady.
They spent hours picking out furnishings. "We must have sat on 25 bar stools," Brady says.
They also sampled 20 grinds of hamburger along with chef Dave Ogren before finding free-range beef from a family-owned meat processing company. The burgers are served on the same sesame seed-style buns from Brown's Bakery used at the original.
Brady canvassed aunts and uncles and came up with a number of black and white photographs, including one of the six-member original staff, and another of the exterior. Newspaper clippings and original swizzle sticks, shot glasses, and Irish coffee mugs also provided inspiration.
Kelly Deines of the Rossetti architectural design and planning firm incorporated subtle, vintage touches into the 184-seat space (with an extra 40 seats on the seasonal patio). There are deep-red floors in one area for Diamond Jim's red carpeting and signs of local roads — Woodward Avenue, Seven Mile, etc. — substitute for the original's New York street names.
Vintage photos grace the bar menus and coasters. Swizzle sticks like the originals stir the drinks. And although the word Diamond does not appear, diamond shapes are used subtly through the rooms.
There is another special touch. They've found a working pink pay phone — it's in the ladies room.
Jim Brady's Detroit was unveiled on Nov. 30. But the partners are far from finished. An Ann Arbor version will open this summer, and another is scheduled for 2017 in Detroit's old Chinatown.
---
1214 S. Main St., Royal Oak; 248-306-1954.
Facebook Comments