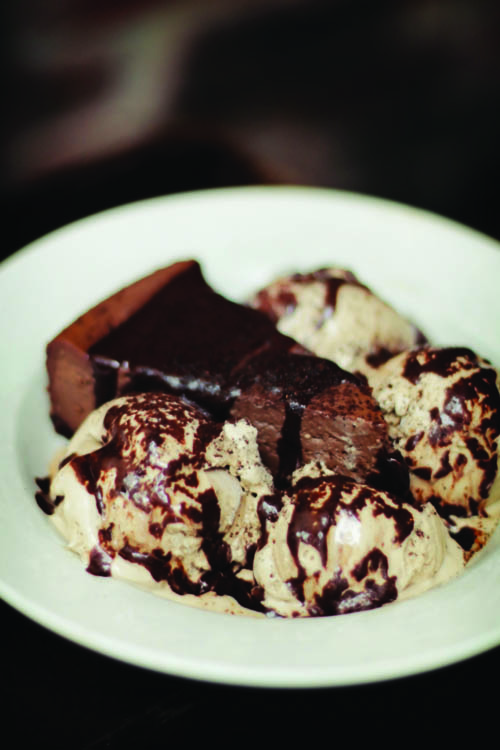 In 1965, Detroit was already a decade into its city-to-suburb exodus, a national trend, and was just two years from the riots that would hasten its half-century decline. So it was a dreadful time, it would seem, to open a restaurant. And yet, that's what Richard Vincent and Ben Edwards did. And they did it in classic Detroit style: They took over a dive bar, the Doghouse Saloon, which sat next to an eyesore of an old pizza takeout joint, which sat next to a Victorian-era home that looked like most of Detroit's Victorian-era homes in 1965, as in rough.
In other words, these men took on something that had little chance of success, in a city that seemed past its prime, and turned it into the very model of success. How?
"It's the Detroit can-do attitude. We feel we can do anything here, that we will be successful, that we will continue to evolve, continue to be welcoming to all walks of life, and everyone who comes here will always feel comfortable."
So says not Vincent (retired) or Edwards (now deceased) — but Carolyn Howard, who in 1999, with her husband, Scott Lowell, bought the restaurant in Midtown at the corner of Second Avenue and Canfield Street, when Vincent and Edwards retired.
Its name in 1965, in 1999, and today is Traffic Jam & Snug — T.J.'s for short. And T.J.'s certainly has survived. It also has grown and evolved, especially under the entrepreneurial prowess of Howard and Lowell, Detroit natives now living with their four children in Grosse Pointe Park.
And yet, in important ways, the place remains the same. Soooo Detroit, right?
No Midlife Crisis
To celebrate all of this, in January Howard and Lowell will kick off a year's worth of honoring the restaurant's 50th anniversary.
"It'll be a year of thank-yous to the people that have let us survive that long," says Howard, 48.
They're thinking of lots of "50s" things such as gift certificate giveaways, 50 percent discounts, 50th anniversary beers and cheeses — both items made from scratch, like just about everything on T.J.'s incredibly diverse menu.
The restaurant property, some 20,000 square feet, (not counting the parking lot) now encompasses that old bar, pizza joint, and a few brick walls, wood-trimmed doorways, and rooms from the old Victorian home.
Staying true to their roots back in '65, Vincent and Edwards shirked that "Oh, let's just tear all this down and put up a nice, gleaming new place that's actually easy to heat and air condition" option for what most describe a distinctly "Bohemian" look and feel. More on that later. T.J.'s is open seven days a week and serves 130,000 customers a year — 2,000 on a good weekend, Howard says.
Ambience notwithstanding, it is the food that fuels T.J.'s success. It retains longtime favorites — the vegetarian spinach lasagna, the meatloaf, the fish and chips, the chocolate ice cream cheesecake, which one reviewer called "a slice of heaven." Mess with these, says Lowell, 47, and "you get death threats."
But it also has a plethora of new offerings and daily specials that blow your palate away: Yekik We't Ethiopian Platter; T.J.'s Own Cheese Platter; Bourbon Street (a surf and turf pasta/chipotle fettuccine dish); Pork Loin Kamatsu Salad; and Salmon Croquette Sandwich, to name a few.
Vincent and Edwards were pretty sharp entrepreneurs themselves. T.J.'s became the first licensed brewpub in Michigan. It took a change in Michigan law and, more crucial, a 10-year legal fight. But they did it. Today, their hand-crafted beers sport such names as Grand Theft Pilsner and Power Porter.
The from-scratch food includes just about everything, including award-winning cheese and baked goods as well as homemade mayonnaise (15 gallons a week, for the record). Many fresh ingredients come from the rooftop garden and greenhouse Howard and Lowell added several years ago. Among their 70 staff members is a gardener, Ashley Lake.
The kitchen bears top-notch professional equipment, which means "there's nothing we can't do," Howard says. "Our motto is: Get a recipe, perfect it, and then repeat it."
Kudos From Far and Near
Fifty years in Detroit, and the place still earns great reviews locally. Don't just take Howard and Lowell's word for it. T.J.'s has also received national attention. When the Food Network's Diners, Drive-Ins and Dives scouted local and area critics for the top 10 places in metro Detroit, T.J.'s was listed No. 1 by everyone — the first time that has happened in the show's history, Howard says.
T.J.'s also was featured on HGTV as the meeting place for the show House Hunters.
Long-standing customers bear equal testimony to the restaurant's longevity. After 50 years, a place becomes part of a city's history, its psyche. "This is multigenerational," Howard says. "This is more than just a restaurant. This is a meeting place."
Jack Lessenberry, head of the journalism faculty at Wayne State University and longtime local and national journalist, agrees. "T.J.'s is sort of the unofficial gathering place for Wayne State faculty," he says. "It is one of the few Midtown restaurants where the food is reliable if not spectacular; parking is convenient and safe, and the atmosphere is friendly, but quiet enough so that you can have a discussion."
"Traffic Jam was one of those places people took me to when I first moved here so I'd start to understand the city," says The Detroit News columnist Neal Rubin. "That was 1984, and it's amazing to think the restaurant was already old enough to be in college."
The Rev. Nicholas Hood III, well-known pastor of Plymouth United Church of Christ in Detroit, first dropped in around 1976, right after he married. He remembers going there after his wife gave birth to their first child after many hours of labor, and taking both of his children there when they were young. He is a regular, dropping in for his favorite soups and other dishes. He also goes there after he has presided over funerals, difficult times. "Traffic Jam is one of the places I go to lighten my mood," he says.
Defining 'Bohemian' Décor
Back to that Bohemian feel. It's hard to call the interior of T.J.'s "atmosphere," or call the items on the walls and in corners "décor." The phrase "state of mind" more accurately describes the feel of this space. It's a comfortable mix of museum, hangout, folksy tavern, and gourmet restaurant.
T.J.'s doorway alcove is tiny and a friendly mess full of fliers and newspaper racks, thus discouraging false airs of incoming diners. Indoors, to the left, is the beautiful bar, expanded somewhat by Howard and Lowell. Immediately visible are old posters and such: an old Bob-Lo sign and a poster of Inside Detroit, a 1956 movie starring Dennis O'Keefe and Pat O'Brien. An old street sign reads "Canfield W."
Two huge traffic lights sit in this lobby area, along with an antique stove and a big cloth giraffe head. There is also an 1800s-era Ojibwa canoe, a relatively new addition. "A woman donated it here to save it, in a sense," Howard says. "They always come in," in part "to see the canoe."
The multilevel dining area features 1880s-era bricks made in Corktown (Vincent and Edwards installed them). There are antique, wooden hand plows; cloth flour sacks; and all kinds of framed paintings and prints, many obviously very old and many donated, as was the canoe.
One framed item donated to T.J.'s is a class picture from the "Michigan Sovereign Consistory, Valley of Detroit." Its date is "Feb. 11, 12, 13, 14 - 1919." One very recognizable face among those ovals is that of Theodore Roosevelt. Howard and Lowell don't know where this came from, just that it always has been there. It is a class of Scottish Masons.
Right next to this item is a black-and-white cartoon of a soda fountain with a man resembling Richard Vincent serving a customer wearing a polka-dot bow tie. The caption reads, "Did you ever see anyone enjoy a double chocolate soda like that guy with the green polka dot tie?" A photo of Vincent and former Michigan Gov. G. Mennen Williams is tucked in the corner, and the cartoon is signed, "To Richard Vincent, our favorite supplier, with every good wish, G. Mennen Williams."
Toward the back are two 7-feet-tall, very well-endowed "ladies" made of papier mâché — former stage props, it's been said. Other favorites include a Vernors clock and an old, metal pocket-watch-shaped sign from a jewelry store.
"We call it, 'The Collection,' " Howard says of the restaurant's eclectic items. "People have a favorite," and part of why they keep coming year after year, decade after decade, "is to see their favorites.
"That's what 50 years of business means."
---
// So What Does 'Snug' Mean?
The somewhat odd name, Traffic Jam & Snug, has a part-legend, part-historic explanation. Howard says that when locals learned someone was opening a restaurant in the Doghouse Saloon, they said, "If it gets any business, there'll be a traffic jam!" The word "snug" is the old Irish word for little spaces attached to bars for women and children, who then were not allowed in drinking establishments. Early on, T.J.'s had a tiny ice cream parlor, a "snug," in a sense. In fact, a 1970 book, Detroit: A Young Guide to the City, edited by Sheldon Annis, refers to this, stating T.J.'s was "an attractive adults-only ice cream parlor." (The editor added, "Very often it is filled with tables of knock-out underage chicks considering the possibilities of a college man.") The ice cream parlor is gone; the name — and, we presume, knockout underage chicks — remain.
Facebook Comments