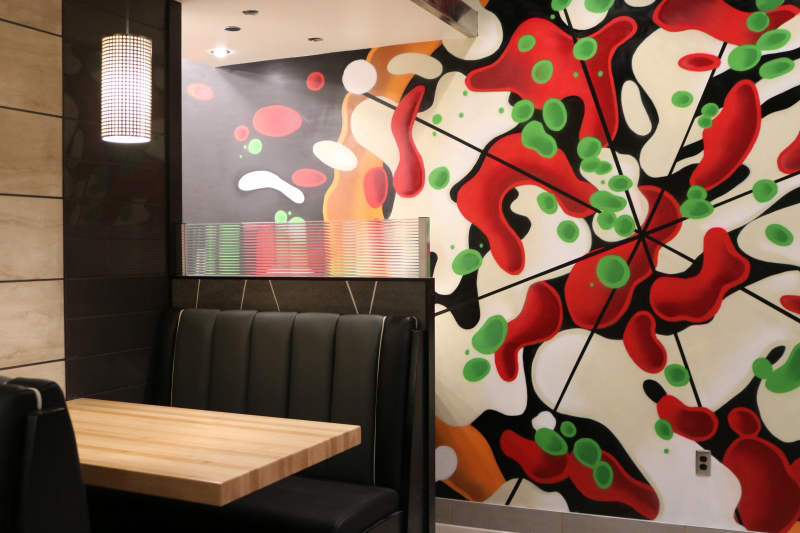 Prior to the opening of co-owners Tony and Nicholas Sacco, Dean and Lisa Walters, and Jason Pace's Mootz Pizzeria this January, Guinness World Records' "world's fastest pizza maker" Bruno DiFabio shares his mission to bring healthy, high-quality pizza to Detroit's growing food scene. DiFabio serves as a culinary consultant to the new 4,000-square-foot Library Street location, which will feature seating for 100 patrons, an 18-seat wrap-around bar offering craft cocktails and more than 20 beer taps, as well as a backdoor entrance off the Belt alleyway that leads bar-goers to their by-the-slice counter.
---
Hour Detroit: What led you to become a pizzamaker?   
Bruno DiFabio:  At 12 years old, I began stretching dough at my grandfather Angelo's restaurant, Tony's Italian Kitchen, on the Upper West Side of Manhattan, on the weekends and over my summers. The defining opportunity to initiate my career as an entrepreneur and chef came after I graduated from Stony Brook University, when the economy was heading in a downward spiral. I was able to establish my own pizzeria, Amore, in Scarsdale, New York, at only 23 years old for $13,000. It was wildly successful and from there I began opening restaurants left and right around the country.
As I expanded my empire, my success instilled an ego that blinded me from what I wanted to achieve as a pizzamaker. I wanted to grow and bake pies that were truly exceptional. Fifteen years ago, I began researching artisanal ingredients — how they were grown, packed, and shipped. It was an education that took me around the world, from South America, to Europe, and California. The passion of the produce growers that I met was absolutely infectious, and their consideration extends past their farms and into the restaurants they serve. I delved even deeper into this whole learning process, familiarizing myself with different ovens, like the brick dome hearths used in Mootz, and styles of pizza, like the Romana, which entails being baked at 900 degrees Fahrenheit, and the Napolitano, made out of wet dough. This experience eventually led me to compete in international culinary competitions, like the World Pizza Championships, the Naples Cup, and the Euro Pizza Cup, a few of which I was fortunate enough to win. From there, I appeared on Food Network's Chopped as a judge countless times, as well as morning segments on PBS, the Today Show, and Good Morning America.
How did you become involved in shaping Mootz's menu?
I have been friends with Tony Sacco, a co-owner of Detroit's Mootz, for quite a few years. He is truly the master of pizza in Detroit, and launched his own namesake pizzerias, Tony Sacco's Coal Oven Pizza, throughout the country. We decided that we wanted to bring New York pizza to Detroit; not New York style, but real New York pizza. When I heard that Detroit was an up-and-coming food destination, I knew wanted to be part of the revitalization.
What will Mootz bring to the Detroit food scene that it is currently lacking?
Currently, throughout the nation, there's a craze for Detroit pizza, which is commonly made in a blue steel pan with a caramelized crust. We use a specific kind of dough called Biga Mother, which sits out at room temperature for about 18 hours and then a cold-rise, placing dough in a cool environment to ferment, for about 48 hours. With this fermentation process, yeast is in the absence of oxygen and produces byproducts of alcohol and carbon dioxide gas, which makes the yeast live longer and the dough light, airy, and fluffy. It also creates an incredible flavor profile that produces a crunchy, yet soft and supple pizza. Biga Mother dough also breaks down complex starches in the flour, something your stomach would normally have to do with a pizza from, say, Domino's. Because we allow the enzymes in our dough to live long enough, they feed off the complex starches, and break them down to simple sugars, which leaves the yeast to feed off of these simple sugars. That allows us to put less sugar in our dough, which makes it healthier, and naturally lower in carbohydrates.
The ingredients used in Mootz pizzas could be found in the kitchen of a Michelin-star restaurant.
We use whole milk mozzarella from Brownsville, Wisconsin, that has earned a five-star rating from the National Dairy Council and is harvested daily. It's the best, most flavorful, and most expensive cheese on the market. Our tomato sauce is made from vine-ripened tomatoes that are grown in Modesto, California and picked, packaged, and sealed in a can within three hours, which guarantees high-quality, fresh sauce without any citric acid or preservatives.
Can you share what will be on the menu?
Yes, the Nuts and Bolts has chopped hot salami and pepperoni, cherry tomatoes, Peppadews, caramelized onions, and green cocktail olives, which, in my opinion, are under-utilized. You'll find a cocktail olive in a dirty martini, or a martini straight up, but put one on a pizza and it delivers this briny punch that pairs perfectly with the fresh pulled sausage. It's really our homage to Detroit.
Will you be visiting Mootz Pizzeria in Detroit for your next slice of za? Let us know in the comments!
---
Related: Joebar and Frame Whip Up Kevell-Worthy Noshes for Hanukkah