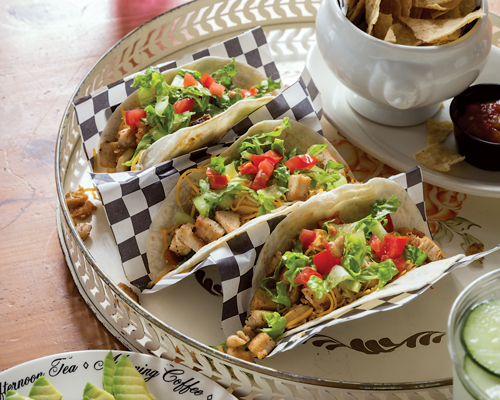 Hydrangea Kitchen has the quaint look of a cafe that might be found in a dusty country village, with its pale blue and white color palette, vintage wall décor, and collections of blue and white china plates and framed mirrors.
And in some ways, it is just that, with its menu of classic sandwiches and salads.
But wait. What's that intriguing aroma? It's cilantro, lime, and chipotle peppers. There's also flour tortillas warming and carnitas sizzling.
This Grosse Pointe spot, located strategically across the street from Grosse Pointe South High School, offers more than expected dishes such as chicken salad and tomato basil soup. The menu has a south of the border spin, and it isn't just in deference to the current trend.
The proprietor, Megan Villareal Kasprzycki, says she was influenced by the fact that her grandfather was from Spain, and also that she and her family lived in California for several years, where her father, Randall, continued a hotel career that began at the Holiday Inn in East Lansing.
The family made a few more career stops on their way back to Michigan, notably in both Florida and Texas, areas known for their Hispanic cuisine.
And the stay in Texas added to her taste for the spicy fare, which was in full flower when the senior Villareal settled back in Michigan in 2008, when he took over duties as a senior vice president of nongaming affairs at the MotorCity Casino Hotel in downtown Detroit.
Hydrangea, named after a favorite flower, opened in August 2011, taking over space that had been a coney island. But the sights were set a little higher.
Villareal Kasprzycki, who has an associate's degree in culinary arts from Macomb Community College, offers from-scratch cooking across the board. In addition to her street tacos, burritos, and quesadillas, other house specialties include Belgian fries, which are twice-fried hand-cut potatoes with fresh rosemary, chipotle, and curry aioli.
All dressings are house-made, notably the Maurice salad dressing made from the original J.L Hudson Co. recipe, and the creamy Caesar variety.
Villareal Kasprzycki is not the only chef in the family. Brother Justin, the chef at The Dearborn in Chicago, has a degree from the Culinary Institute of America. And although he isn't a trained chef, her brother Ryan is the general manager of Restaurant 701 in Washington, D.C. A third sibling, Jordan, works in the wine business in L.A.
---
371 Fisher Rd., Grosse Pointe; 313-469-9970. Summer hours: 8 a.m.-5 p.m. Mon.-Sat.