On a recent trip to Burgundy, France, my husband and I had hoped to learn extensively about the region's wine — and drink it extensively, too. Mission accomplished. Although, I hadn't expected that my most memorable experience would be entirely devoid of alcohol. When Gina Shay — a friend who works for the North American arm of Tonnellerie Cadus, a French cooperage — heard of our plans to travel to the region, she offered to arrange a tour of the Cadus facility in Ladoix-Serrigny.
The prospect of that was intriguing. We'd been in myriad cellars and caves, but never a cooperage, and though we arrived at Cadus prepared to learn about the art of crafting wine barrels from the company's president, Antoine de Thoury, we had no idea just how impressive the process would be. According to Shay, the average 225- or 228-liter French oak barrel can cost up to $1,200.
In the past, my husband and I would have marveled over how pricey that is. Leaving the cooperage, we were amazed they don't cost more, after learning the immense effort involved. Just how crucial are oak barrels to winemaking? "They're in almost every winery in the world," Shay says. "Oak can impart color stabilization, texture, and — if desired — aromas and flavors to wine that can't be exactly duplicated using the other aging methods. Plus, they're a heck of a lot sexier and more Instagrammable than a steel tank." Here's a look at how it's done.
The 5 Phases Of Making a Wine Barrel
The Genesis
It all begins in specific French forests, harvesting sessile and pedunculate oak. Once used for shipbuilding, the 150-year-old trees are carefully cultivated and selected, and managed to ensure the propagation of new trees, Shay says. At Cadus, the harvested wood is left outside in the elements to weather (known as seasoning) for around 30 months. About three dozen employees are involved in the subsequent manufacturing process.
Phase 1
Workers examine each piece of wood for significant knots or thin spots that might compromise barrel integrity. The approved wood is sorted onto racks that hold dozens of rows of staves, each row representing a single barrel.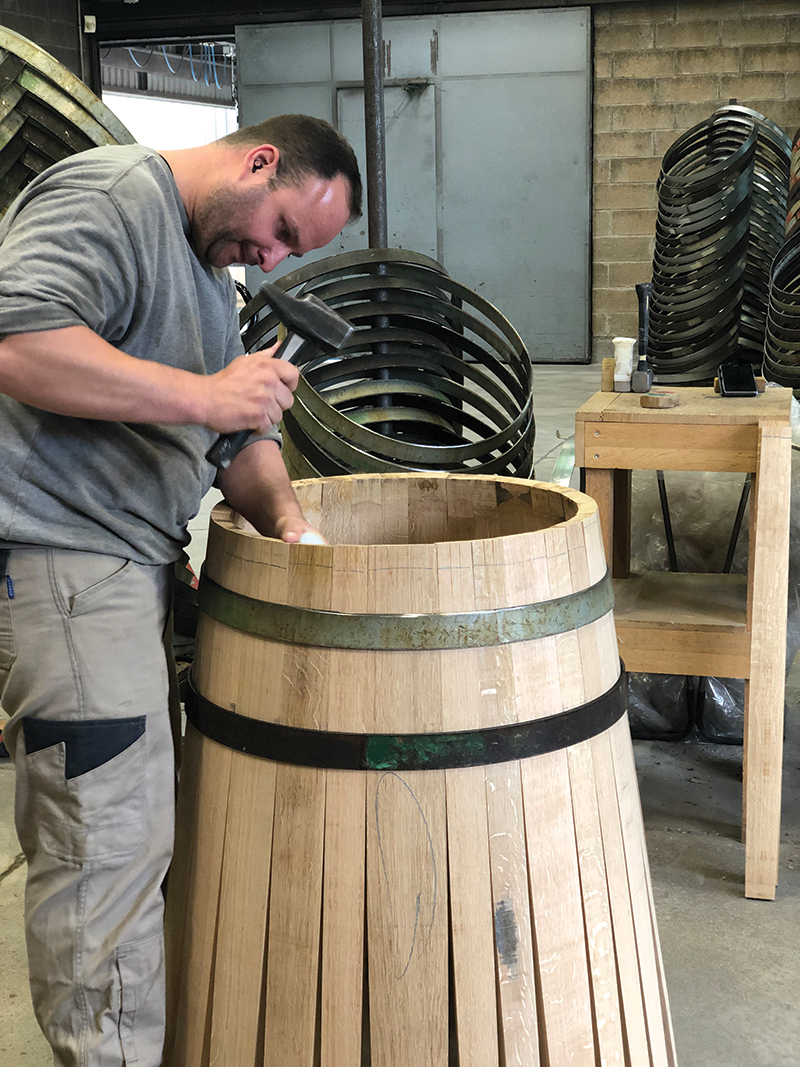 Phase 2
Workers shape the barrels with vigorous manual hammering and pressurized machines, securing them at the top with metal rings called hoops. Controlled fire makes the staves pliable, allowing them to bend and form the bottom of the barrel, also ultimately held in place by hoops.
Phase 3
Headless barrels are placed over small fires to be "toasted" on the inside; customers determine their desired level of toast. "Toasting is kind of like a spectrum for flavors and tannins," Shay explains. "The lighter the toast, the higher the tannin impact with lighter-tone flavors: amaretto, vanilla, pastry. As the toast is longer or at a higher temperature, the tannin impact is reduced and there are more lower-tone flavors: brown sugar, caramel, toffee — and as you get into a heavy toast, dark chocolate and coffee."
Phase 4
A machine spins water-filled barrels around and upside down, testing for leaks. Barrels that fail undergo repair with wooden wedges, spiles, or replaced staves. Once the barrel clears testing, a machine vigorously sands it down to remove markings and imperfections from
the exterior.
Phase 5
A worker crafts the heads, which are fitted onto the barrel and sealed in the groove — or the "croze" — with a natural or food-grade synthetic paste. With a final flourish, the Cadus logo is emblazoned onto the barrel head via laser etching.
---
Cortney Casey is a certified sommelier and co-founder of michiganbythebottle.com, which promotes the Michigan wine industry. She is also co-owner of Michigan by the Bottle Tasting Room located in Shelby Township, Royal Oak, and Auburn Hills.
Facebook Comments