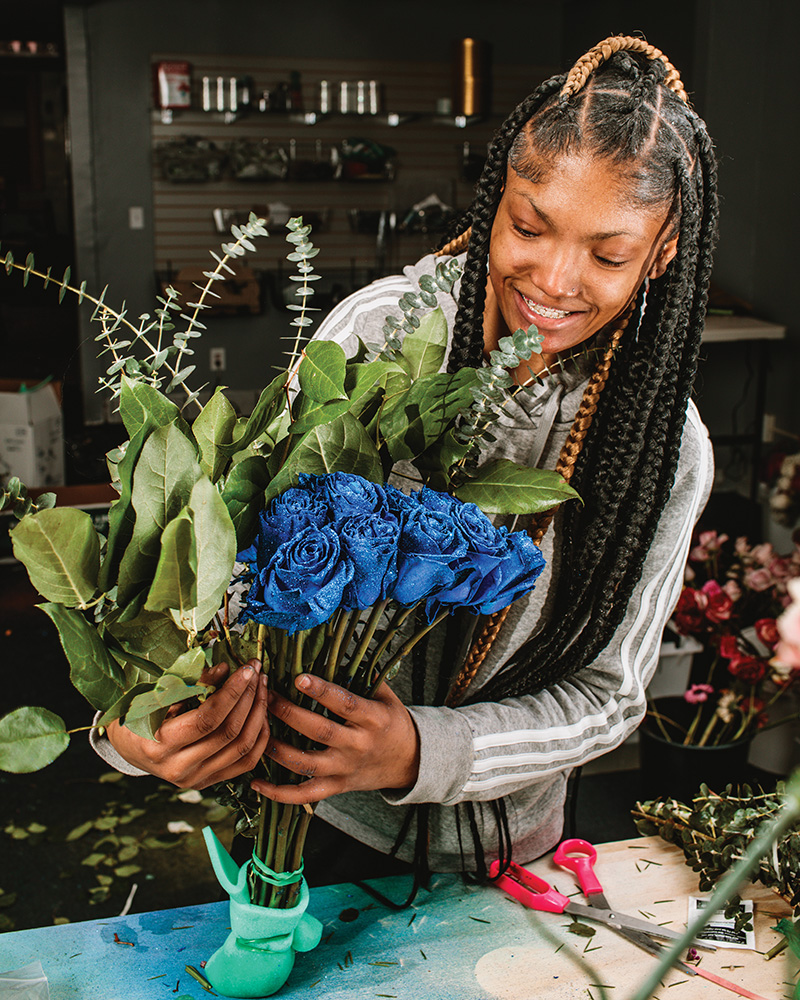 Ja'Nye Hampton never imagined she could turn her small floral business from a side gig into a full-time career — especially during a pandemic, and while also juggling six part-time jobs. But an influx of orders and a flood of admiration from her native Detroit and beyond allowed the 22-year-old to do just that. It's no surprise, then, that each of the colorful and sparkly arrangements Hampton sells through Detroit Flower Co. is a true labor of love. 
Detroit Flower Co. offers roses, sunflowers, and other fresh-cut flowers wrapped in burlap, arranged in vases, or presented in large envelopes. Hampton has gained fans, though, by taking her arrangements even further, presenting flowers spray-painted in various colors or in an ombre effect. Other unique offerings include preserved roses covered in glitter; flowers arranged into the shape of letters and numbers. She's even offered flowers arranged into the shape of a cake presented on a cake stand and topped with real candles.
Hampton opened up shop in 2018 after working at several floral shops and being encouraged by a friend to start her own. But she never imagined achieving the success she's seen. In the first months of the pandemic last year, Hampton's part-time jobs began falling off as the state went into shutdown mode. At the time, Hampton was still posting her floral arrangements on social media and receiving orders daily. She ultimately decided to leave her remaining part-time gigs to focus entirely on Detroit Flower Co. And the rest, she says, is history. 
Today, the business generates hundreds of orders each week. Hampton went from fulfilling orders from her home and delivering them and scheduling pickups herself to hiring an assistant, two florists, and a delivery driver by the end of 2020. At press time, Hampton was busy setting up a brick-and-mortar shop at 15643 W. McNichols Road in Detroit. 
"It's something that I just look at and I can't believe," she says of her success. "I'm still in that phase, because honestly, I'm just doing what I love."
Detroit Flower Co.'s social media presence has exploded over the past year as well. "I remember literally having 700 followers last January," Hampton says of Detroit Flower Co.'s Instagram audience. That number has grown to nearly 20,000. 
Hampton's personable social media presence no doubt contributes to her success — she frequently posts business updates, interacts with customers, and shows clips of herself preparing arrangements. She posts about the ups and downs of running a business, prompting followers to cheer her on through the bad and celebrate with her through the good. 
And if she notices online that someone nearby is having a bad day, she'll often send them free flowers to cheer them up. 
 "It's something that I'll never in my life take for granted," Hampton says of the love and support she's received from the community. "I just have to keep showing my appreciation; I just have to keep giving more flowers and working with more people and bring love to the city." 
Find out more at detroitflowercompany.com.
Facebook Comments