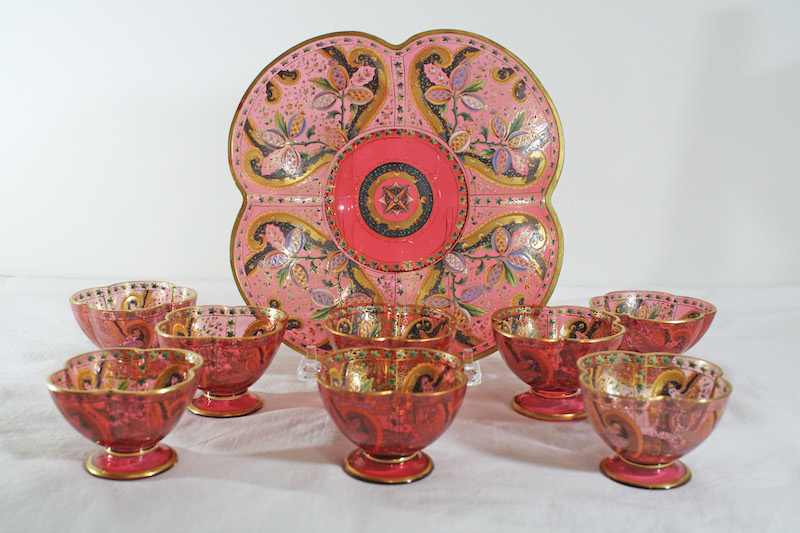 Calling all collectors — the 57th Bloomfield Charity Antiques and Collectibles Show returns Oct. 22 and 23. Presented by the Cross of Christ Lutheran Church, the event will feature more than 30 dealers from Michigan, Ohio, Illinois, and Wisconsin selling goods from the 18th, 19th, and 20th centuries.
The show takes place at the church, located at 1100 Lone Pine Road in Bloomfield Hills. Attendees can peruse items such as antique and estate jewelry, china, glassware, New England and English furniture, vintage clothing, figurines, hats and purses, silver, quilts, paintings, and more. They'll also get the chance to bid on a variety of pieces donated by dealers and individuals during the show's silent auction.  
Along with the shopping experience, the show will give locals the opportunity to have their heirlooms and other historical items appraised. Auctioneers from Detroit-based, family-owned auction house DuMouchelles will be on hand from 10 a.m. to 1 p.m. on Oct. 23 to review pieces. The cost is $10 per item, and each guest is limited to three items.   
The show's Country Café will also be open and selling homemade pies, chicken cherry salad, gourmet sandwiches, brats, homemade soups, and sloppy Joes. Meanwhile, the Country Store will sell items like made-from-scratch baked goods, jellies, pickles, and soup mixes.
 Since its inception, the show has raised more than $655,000 for local charities. Proceeds from this year's show will benefit Elli's House, a nonprofit that provides services to Detroit survivors of human trafficking.  
"The primary mission of the Bloomfield Charity Antiques and Collectibles Show is to support local charities and connect with our community," says Marilyn Nix, general show chairman, in a press release. "However, after nearly 60 years, our little show has grown significantly in both size and reputation, and we are now very proud to be a major, not-to-be-missed event on the local antique show circuit."  
The show is open from 10 a.m. to 6 p.m. on Friday and from 9 a.m. to 4 p.m. on Saturday. Tickets are $12 and are available for purchase at the door. 
For more information, visit bloomfieldcross.org/antiqueshow. 
Facebook Comments