Special Advertising Section
---
It's such an amazing time to be a foodie in Detroit. There are markets, restaurants, and shops that can satisfy every culinary desire, and this area has no shortage of innovation when it comes to the question of "What's cooking?"
Whether you're in the mood to try the latest trends, the most traditional tastes, or sample the coolest ice cream, metro Detroit chefs are ready to serve. It's such an amazing time to be a foodie in Detroit. There are markets, restaurants, and shops that can satisfy every culinary desire, and this area has no shortage of innovation when it comes to the question of "What's cooking?"
In this section, Hour Detroit introduces you to chefs and culinary entrepreneurs who have plenty of wisdom to impart. From how to set a stunning table to making spectacular sauces and marinades, getting the most out of your own shopping trips, and cooking the best seafood, these experts know how to make a dining experience special — in your kitchen or theirs.
---
Q: What's the most exciting culinary trend you see developing in the United States?
A: Over the next year, I believe an increased amount of attention will be brought to authentic ethnic cuisine, especially from parts of the world like Africa and the Middle East. As the dining experience moves further away from the classic "fine dining" regimen of white tablecloths, luxurious cuts, and so on, an acceptance of other "lesser" cuts is being brought to the forefront. While this is certainly not a new trend, we're using and seeing more and more of the cultural spice blends of other countries, particularly Africa and the Middle East. Some examples are Ras el hanout of Morocco, Berbere or Mitmita of Ethiopia, Harissa sauce from North Africa, and Muhammara sauce from the Middle East. If I had to pick my favorite ethnic spice blend, it would be Ras el hanout. We've used it in a number of different ways with vegetables, lamb, and chicken at both Bistro 82 and The Morrie.
Bistro 82, The Morrie
---
Q: What makes a superior ice cream experience?
A: The best ice cream is made from simple, basic ingredients such as cream, skim milk, cane sugar, and corn sugar, not corn syrup. The best ice cream experience is often made at an ice cream parlor, where the sights and sounds are those we associate with the carefree days of summer. At Ray's Ice Cream in Royal Oak, fresh scoops have 15 percent butterfat and not much added sugar. The delicious, creamy taste is what the body craves on hot summer nights. While flavors with added nuts, berries, and chocolate add up to 50 different varieties, Ray's most popular flavor is still vanilla. Going out for ice cream is a time-honored tradition that never goes out of style and, for almost 60 years, Ray's Ice Cream has been proud to serve you.
Ray's Ice Cream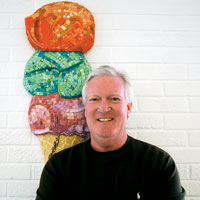 ---
Q: How do you properly season sauteÌed dishes?
A: First, you have to always season the protein (chicken, fish, beef ) generously, to bring out its natural flavor. Then you cook the protein and, as you add additional ingredients, you have to season the dish in layers. This means if you add some mushrooms, bell peppers, onions, and even some wine to the dish, then you have to add more seasoning to balance out the flavor profile that you're trying to achieve. The five flavors your taste buds can detect are salty, sweet, sour, bitter, and umani (savory, meaty). If you don't add more seasoning to the layers, it takes away the flavor from the finished product and will result in bland-tasting food. Always taste the dish every time you add another layer of seasoning to make sure you don't over-season. Following this technique will result in great-tasting food!
Antonio's Cucina Italiana
---
Q: It's summer and I want to eat lighter. How do I prepare fresh fish?
A: You've talked to your fish monger and you've chosen the freshest fish possible. Now what? For cooking skin-on fillets, season the skin liberally with salt and white pepper. (Black pepper can sometimes be too strong for a delicate piece of fish.) You can also add other herbs or seasonings, like oregano or even dried lemon peel. If you're feeling adventurous, add a dash of cayenne pepper. Pour a little oil into an oven-safe pan and get it very hot, then carefully lay the fish skin- side-down in the pan and let it cook undisturbed for several minutes. Don't try to move it around. You'll know it's nicely seared when it's crispy at the edges and you can get a spatula under the fish without ripping the skin. For fish without the skin, lightly dredge the fish with flour that's been seasoned with salt, pepper, and your seasoning mix, and flip it once in the hot pan so both sides get nice and brown. Once you're satisfied, place the pan in a 350-degree oven and finish cooking for approximately 7-10 minutes per inch of thickness. Follow these simple steps and you'll be cooking fish like a pro in no time!
MotorCity Casino Hotel
---
Q: What are options for spectacular food presentation?
A: It brings us great pleasure to help our clients find fabulous pieces on which to display their culinary specialties. Being foodies, we understand the relationship between food and its presentation. We know that presentation is everything! It makes simple food look more beautiful, and elevates a casual gathering into a memorable event. Whether a unique piece is resin, glass, porcelain, or ceramic, the possibilities are endless. We love to make your table look beautiful with art-quality pieces. We work with amazing artists from Detroit to Paris who design everything from elegant trays and bowls to hand-made beveled cutting boards and blocks; serving utensils of copper, steel, and 24-karat gold; and metal and alabaster serving sets destined to be conversation pieces at any gathering. Registry is available for weddings and other special occasions. Love to cook and entertain? You'll find many items to inspire you at Zieben-Mare.
Zieben-Mare
---
Q: What makes La Dolce Vita one of Detroit's gems?
A: For 23 years, we at La Dolce Vita have entertained our guests as if they were in our own homes. From our tucked-away location on Woodward just north of Six Mile, La Dolce Vita has been a destination for Sunday brunch with friends, showers of all kinds, intimate evenings for two, and formal corporate galas. With our beautiful floral patio porch, and stylish indoor venue, we can accommodate any event. Looks aside, the reason we've been in business so long is our commitment to quality food. As our owner, Enrico Rosselli, says, "I would not serve anything to my guests that I would not eat myself." We serve nothing but the best. Our products are all natural, our salmon is wild-caught, and the chicken is fresh, never frozen. We've been serving fresh, natural products since the day we opened, although we never felt the need to advertise it. It's just what we do. Our menu is eclectic regional Italian cuisine with continental influences. Customer favorites include homemade pastas, sauteÌed veal scaloppine, and cartoccio con darna di salmone — or salmon, calamari, clams, mussels, scallops, and shrimp in a spicy red sauce, wrapped in parchment. We invite you to savor it all.
La Dolce Vita
---
Q: What do you think home cooks should start doing — and stop doing — when they buy groceries?
A: Do you find yourself putting the same items on your grocery list every week? There are simple ways to break out of your shopping rut. 1) Make something you typically buy in a can from scratch. It may seem convenient to buy canned goods for their supposed ease, when in no time at all you can make a cream sauce with a few simple ingredients. Plus, even with cream, it's healthier since you're not getting the preservatives from a canned product. 2) Substitute a go-to for something new. For example, try quinoa instead of rice. It tastes great and cooks in about a third of the time. 3) Try a specialty or ethnic market. They carry different items than you would find in big box stores and it can be fun to try a new ingredient.
Joe's Produce Gourmet Market
---
Q: Why should I include seafood in my diet?
A: Fish is high in the nutrients that most people don't get enough of, such as high-quality protein, iodine, vitamins, and minerals. Fatty types of fish are the healthiest. They're high in omega 3 fatty acids, which are crucial for body and brain function and are linked to reducing many diseases. Fish is generally considered to be among the best foods you can eat for a healthy heart, and it contains nutrients that are essential for growth and development. Several studies have found that people who eat fish every week have less chance of memory loss with age, and are much less likely to become depressed. Fish can also reduce the risk of autoimmune disease and Type 1 diabetes. A single piece of salmon contains 100 percent of the recommended intake of vitamin D, and can even improve the quality of your sleep. Need any other reason to eat more seafood? How about this one — it's delicious, and at Joe Muer Seafood, we've spent years preparing it to perfection.
Joe Muer Seafood
---
Q: We're seeing a resurgence of veal in today's marketplace. Can you comment on that?
A: Veal consumption was at its peak in the 1970s and dipped in the 2000s. The stigma of the young animals and how they were being raised were contributing factors — when, in fact, they're one of the oldest, largest, and most mature animals that we consume. Our partner, Strauss Free Raised Veal, has an all-natural, free raised program where the veal is hormone and antibiotic free, and is never tethered, crated, confined, or force-fed. Serving veal that is pasture-raised provides a tender, rose-colored meat and flavor profile never experienced before in the U.S. We have a responsibility to do what's right not only for the environment, but to support ranchers who are taking a stand and humanely raising animals, taking less profits.
In a world where everyone is pushing for larger and cheaper everything, we focus our attention on quality, sustainability, and responsibility. When purchasing meat and fish, ask where it came from, how mature it was, what the mainstay of its diet was, when the vendor received it, and whether they have documentation to support these claims. All foods have a place in this world — you just need to be educated enough to know if it has a place in your world. I don't pass judgment on anyone or any food; I just pass on buying (something that's not up to my standards), period.
Andiamo
---
Q: How long should I marinate food before I cook it?
A: It depends on what type of food, what's in the marinade, and how the food will be cooked. For vegetables other than mushrooms, don't marinate for more than 10 minutes. The longer vegetables marinate, the soggier they become. Mushrooms like portabella, crimini, or shitake can be marinated for about 30 minutes. Beef, pork, and lamb depend on the cut of meat. For tougher cuts like flank, brisket, and most roasts, marinating overnight will not only give great flavor, but will tenderize the meat. As for steaks and chops, a few hours will add flavor. Chicken depends on what's in the marinade. If it's citrus-based, the chicken would only need an hour or two. Any longer, especially with chicken breast, and the marinade could "cook" the chicken and cause it to be rubbery. A buttermilk marinade, however, can sit overnight and bring out great flavor. With seafood, if you marinate it for too long you'll end up with ceviche. What I like to do with shrimp, scallops, and fish kabobs is to season the meat with salt and pepper, cook it, and toss it in the marinade after it's done cooking.
Vince and Joe's Gourmet Market
---
Q: How can I plan a family get-together for 25 people at home and make it fun and casual, and allow me time with my guests rather than locked in the kitchen?
A: The first thought that comes to mind is hosting a Mexican brunch. Many of the dishes can be prepared the night before, and using a station format keeps the meal casual while providing a variety of drinks and foods so everyone is happy. Depending on the layout and size of your home, a three- station brunch is a flexible plan that can be adjusted depending on budget and time. I would suggest the following stations: breakfast taco station, beverage station, and fruit/sweets station.
Have scrambled eggs fiesta style with peppers and onions for color and flavor, select two to three meat options, and include a chafing dish for the tortillas. You could also include a pan of fried hasbrowns or cubed potatoes. Remember to set out salt, pepper, and hot sauce. For the fruit/sweets station, include a large bowl of mixed seasonal fruit, yogurt, pastries, and sweets. Items for this station can be prepared the day before. The beverage station could include a Bloody Mary and Mimosa bar, or stay with the Mexican theme and provide a pitcher of pre-made Margaritas served on the rocks. Round out your beverage station with coffee, water, and juice.
Huerto Restaurant & Tequila Bar