SPECIAL ADVERTISING SECTION
If your waistline is expanding, your activity level is falling, your meals come from the drive-through, and you stress out about everything, it's time to take a deep breath and focus on your health. Men are more likely to skip regular medical checkups, use tobacco products, drink too much alcohol, and make other unhealthy or risky choices. Just a few lifestyle changes can significantly reduce the risk of heart disease, stroke, cancer, and chronic lower respiratory disease — the leading causes of death for men.
Where do you start? Make an appointment with your physician to talk about health concerns and to have preventive screenings and tests. Allow time for adequate sleep. Resolve to eliminate junk food and ease into a healthy diet that includes veggies, fruits, lean proteins, whole grains, and high-fiber foods.
You can maintain a healthy weight, lower your risk of disease, and get fit by moving. Choose different types of exercises or activities including aerobics, sports, strength training, and flexibility/stretching. Even household chores like mowing the lawn will make a difference.
Need a little help? Metro Detroit health professionals have a wide range of minimally invasive solutions to help you stay healthy, improve your health, and look as good as you feel.
---
Stem Cell Therapeutics
Q: My doctor said I need knee surgery. Is there an alternative treatment that doesn't require a painful and lengthy rehabilitation?
A: Stem cell therapy is a breakthrough treatment for people who have chronic degenerative knee pain. We remove stem cells from the patient's bone marrow and then inject those cells into the damaged knee joint to regrow articular cartilage that has worn down.
This brief outpatient procedure is safe, essentially pain-free, and requires little or no downtime. Patients have reported quick and progressive improvement. We were the first recipients of our treatment, and have personally experienced the benefits.
Stem cell therapy is a one-time procedure for potentially lifelong cartilage replacement. We are the first in Michigan to offer this therapy, and we're eager to begin treatment in other joints of the body.
Stem Cell Therapeutics
Ken Crawford, D.O., David Jankowski, D.O.
Stem Cell Injections
Address: 751 Chestnut, Suite 203, Birmingham, MI 48009
Phone: 248-712-4641
Website: www.stemcelltherpeutics.com
---
Mune Gowda, M.D., F.A.C.S.
Q: What is the treatment for enlarged breasts in men?
A: Gynecomastia, the enlargement of glandular breast tissue in men, can cause emotional stress in those who are afflicted. Dr. Mune Gowda, a board-certified plastic surgeon, has seen a significant increase in the number of young and older men who are seeking help.
"Enlargement of the breast can be the result of hormonal changes, medications, or underlying medical conditions. Estrogen-containing foods may be a risk factor. It's important to see a physician for a clinical diagnosis," Dr. Gowda says.
"There are several treatment options. For most men, we remove the fatty tissue and flatten the chest using laser-assisted liposuction, which provides excellent results. In some men, we remove all of the glandular tissue through a very small incision underneath the areola. The tiny scar is barely visible. We complete the procedure with laser-assisted liposuction to sculpt the chest and tighten loose skin. Downtime is minimal and the patient has a quick recovery."
---
Dr. Ellen Janetzke, M.D.
Q: Is there are a minimally invasive alternative to the "strip" method of hair replacement?
A: Neograft is the newest, most advanced technique for hair restoration, offering a more natural-looking result with little downtime and a quicker recovery.
"We use an automated, punch-like device to gently harvest individual hair follicles, typically from the back of the scalp. Using a needle, we make tiny holes where we want hair to grow and we plant the one-millimeter hair plugs into those holes," says Dr. Ellen Janetzke, a board-certified plastic surgeon. "The patient's hair grows around the tiny extraction scars, so no one will see them. That's unlike the old extraction method, where a strip of skin and hair is removed, leaving a noticeable linear scar on the back of your head."
Patients who receive FDA-cleared Neograft transplants experience little to no discomfort; have no scalpel incisions, stitches, or staples; and typically can go back to work the next day.
"Men are coming in for Neograft treatments because they want fuller hair, a better-looking hairline, or they want to fi ll in a bald spot. We've actually transplanted hair into a patient's thinning beard," Dr. Ellen says. "We're also treating women for thinning hair, receding hairlines, and thinning eyebrows. With Neograft hair restoration, patients are seeing life-changing results."
Learn more about hair restoration by Dr. Ellen and attend one of our upcoming fun and educational events. Go to: www.HairRestorationByDrEllen.com.
---
Pilates Fitness & Physical Therapy Center
Q: How can posture alignment improve my backache?
A: "Poor posture is the primary cause of neck and back problems," says physical therapist and Pilates instructor Ron Jegadeesh, the owner of Pilates Fitness & Physical Therapy Center.
"If you sit, stand, or walk without proper posture, one muscle group works harder and becomes stronger than another muscle group. The stronger muscle gets tighter and lacks flexibility, while the weaker muscle loses strength."
Posture alignment is an integral component of every Pilates exercise. In fact, many people achieve far better results with Pilates-based physical therapy than with traditional physical therapy.
"When you do Pilates you have a sense of power, grace, elegance of movement, and self-confidence," Jegadeesh explains. "The first thing people notice is that their posture and alignment have changed. They feel like they've grown an inch taller. As the sessions progress, they notice improved flexibility and strength."
Pilates includes mat work without equipment, and exercises using a reformer to assist and resist movement.
"At each session I also teach exercises that the client can do at home or at work," Jegadeesh adds. "I ask them to make a habit of keeping their body in good alignment as they go about with their daily activities. They learn to sit taller, stand taller, and walk taller."
---
Cutler Integrative Medicine
Q: Should I be concerned about environmental toxicants?
A: We live in a very toxic world — even in the womb, we're exposed to more than 200 different chemicals. Toxic metals, solvents, pesticides, herbicides, and other chemical contaminants are commonly found in our homes, at work, and in the outdoors. These toxicants contribute to serious chronic illness and disease. Dr. Doug Cutler, a naturopathic physician specializing in environmental medicine, says men are at higher risk because they're more likely to be exposed to toxicants on the job or with their hobbies.
"We do an environmental medicine intake and perform appropriate testing to determine what they're exposed to, and whether it's a cumulative lifetime exposure or a current problem. We want to eliminate their exposure and provide evidence-based therapies to bring down their overall toxic burden," Dr. Cutler explains. "Colon hydrotherapy is the most effective method for reducing environmental toxins and is performed in our one-of-a-kind detox facility. An adjunct treatment, constitutional hydrotherapy, is a hot/cold application to the body that helps to cleanse the body of impurities. Nutrients, supplements, and botanicals have also been shown to help the detoxification process."
---
Joseph R. Nemeth, D.D.S. & Associates
Q: What innovative techniques and technology are helping patients enjoy a healthier, more attractive smile?
A: Periodontist Dr. Joseph Nemeth uses the minimally invasive Chao Pinhole Gum Rejuvenation Technique® to lengthen unattractive receding gums — typically with no incisions, no stitches, and virtually no pain.
"We make a small pinhole in the gum above the teeth to be treated, and we gently bring the gum tissue down over the receded area. The Pinhole Technique improves the smile tremendously. It can be life-changing," says Dr. Nemeth, the first gum specialist in Michigan to be certified in this technique.
For patients who have a "horsey," gummy smile, Dr. Nemeth performs a minimally invasive lip-lowering procedure that not only prevents too much gum tissue from showing, but gives the patient a plumper, more attractive lip. Prior to drawing blood or giving intravenous sedation, Dr. Nemeth uses a near-infrared light technology, VeinViewer Flex®, to harmlessly locate the patient's veins to avoid multiple "sticks."
Dr. Nemeth was one of the first periodontists in the state to offer the All-On-Four™ procedure, which utilizes four strategically placed dental implants to securely hold in place a complete set of upper or lower teeth. "People come in with no teeth or unhealthy teeth that need to be removed, and they walk out the same day with a set of good-looking, functional, permanent teeth. It's miraculous."
---
Team Rehabilitation Physical Therapy
Q: How can physical therapy improve my golf game?
A: Strength, flexibility, and proper body mechanics all come into play if you're going to swing a golf club and swing it well. Physical therapists at Team Rehabilitation do an assessment for golfers and develop an exercise plan for improvement.
"We examine how you move and how you swing the club. We check your core stability — your back strength and your abdominal strength," says Scott Delcomyn, P.T., M.S., O.C.S., clinic director/ Team Rehab Southgate. "We assess what's tight and what's weak so we know what needs to be stretched and what needs to be strengthened to allow you to move the way you need to."
Delcomyn notes that many people don't stretch enough before they play a round of golf.
"We show our patients stretching exercises that can improve their flexibility. A 10- to 15-minute warmup can help a lot," he says. "It can be even more beneficial to stretch after your golf game, when your body is loose and limber.
"If you feel pain after a weekend of golf, don't ignore it," Delcomyn adds. "We can treat what's hurting and tell you what movements caused the pain to prevent future injuries and get you back on the course."
---
Dr. Myra N. Danish, M.D., F.A.C.S.
Q: How can I look younger, but not like I've had work done?
A: Each year, facial plastic surgeon Dr. Myra Danish sees more and more men who are coming in for rejuvenating treatments.
"My injectable Lunchtime Lift™ is really popular with men because they can look 10 years younger in less than an hour, with little or no downtime. I use fillers to put volume back in the cheeks, temples, laugh lines, marionette lines, and hollows underneath the eyes," Dr. Danish explains. "You look natural and masculine, like a younger version of yourself."
No-downtime laser facial treatments help to regenerate collagen, minimize fine lines, and correct discoloration — including redness. Men also are coming in for brow-lifts and upper and lower eyelid-lifts.
"My one-hour Lunchtime Lift™ is a mid-face lift that rejuvenates the lower eyelids, cheeks, laugh lines, and jowls. It produces immediate, long-term results," Dr. Danish says. "I customize the facelift depending on the patient's anatomy, skin type, and aging, so I need to see the gentleman for a consultation."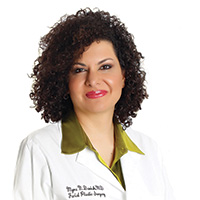 ---
Oakland MRI
Q: How can MRI technology help to get me back in the game?
A: If you run, ride a bike, swing a bat, or play soccer with the kids, you already know that staying active will keep you healthy. That is, until a torn muscle or thrown-out shoulder puts you on the sidelines.
The professionals at Oakland MRI understand that when you're dealing with pain from a sports injury or other mishap, the last thing you need is to wait for your diagnostics to come in. Utilizing the latest MRI and digital X-ray technology, Oakland MRI offers quick and easy scheduling, including same-day and next-day appointments and extended hours to accommodate your busy schedule.
Also, be assured that Oakland MRI's board-certified radiologists will promptly interpret your test results. Your physician can log onto a secure website for immediate access to your diagnostic images and detailed written reports. Using our system, physicians can put their patients at ease faster than ever before.
"We pride ourselves in providing the best possible experience for our patients. Each and every patient is given individualized care and attention," says Oakland MRI's CEO, Susan V. Swider. "You deserve an imaging and diagnostic center that will provide you with a comfortable environment, state-of-the-art equipment, and compassionate, highly trained professionals."
Choose Oakland MRI. Experience the difference.
---
Dr. Mindy Salzberg-Siegel
Q: "How does the health of your teeth affect the rest of your body?"
A: We learn more every day about how our oral health is directly related to systemic health. As a dental professional, I know the importance of partnering with medical physicians to ensure that my patients have an excellent quality of life.
Often, I recommend oral DNA testing because it not only provides a window into better treatments for gum disease, but this screening tool can also test for the presence of HPV (human papilloma virus), the fastest-growing form of oral cancer — especially among those aged 40 to 55.
Having this screening, and knowing whether or not you are a carrier of HPV, are invaluable tools in the early detection of oral cancer. Dentistry is constantly changing, and by utilizing the most advanced technology, such as a low-radiation digital X-ray system, I can precisely detect problem areas in their early stages. This enables me to provide the most conservative treatments for my patients.
---
Cosmetic Dentistry Institute
Q: I'm too young to look old! I want a great new smile, and I want it yesterday! How do I "shop" for my new smile?
A: To assure that your smile is picture-perfect, seek an exceptional dental practice. Drs. Craig and Marcy Goldin, of the award-winning Cosmetic Dentistry Institute, provide all phases of general, cosmetic, sedation, and implant dentistry, so you can have all of your dental problems conveniently treated in one office.
"Whatever your dental needs are, your visit will be comfortable and painless, as well as efficient and high-tech. With cosmetic dentistry, a beautiful new smile can change your life," says Dr. Marcy Goldin, an adjunct clinical lecturer at the University of Michigan School of Dentistry.
Dr. Craig Goldin is the only cosmetic dentist in Oakland and Macomb counties to be accredited by the American Academy of Cosmetic Dentistry. He is a Diplomate of the International Congress of Oral Implantologists, which allows him to both place and restore state-of-the-art dental implants.
"Beautiful, natural-looking implants can last a lifetime and allow you to smile, chew, and speak more confidently," says Dr. Craig Goldin, who also has advanced training and certification in IV sedation. "With sedation dentistry, patients who are anxious or busy can be totally relaxed and have multiple dental procedures done in as little as one visit."
"Everything we do," adds Dr. Marcy Goldin, "is driven by our pledge to go above and beyond for our patients."
---
Grosse Pointe Dermatology
Q: What types of cosmetic treatments will help me look like a younger version of myself?
A: Men are the fastest-growing demographic for cosmetic procedures, as they've recognized the personal and professional benefits of having a healthy, more youthful appearance. Dr. David Balle, a board-certified dermatologist, says men want to look natural and not like they've had a procedure done.
"Men want cosmetic treatments with little to no downtime or discomfort, and simple skin regimens. Using an anti-aging cleanser followed by a serum in the morning that contains anti-oxidants and growth factors, and applying a retinoid at night, is an easy routine for men to follow that will help their skin look better. For smoother, clearer skin, men are also having chemical peels," Dr. Balle says. "Botox is the most popular treatment men seek to relax facial muscles and to smooth the skin. Men are also more likely to choose noninvasive fillers rather than a surgical procedure to treat signs of aging."
Despite exercising and watching their diet, some men accumulate unwanted fat just above the waistline, especially in the lower abdomen and the "love handles."
"Rather than having liposuction, a lot of men like the simplicity of CoolSculpting," Dr. Balle says. "It's a noninvasive procedure that cools the area of fat and permanently eliminates fat cells without surgery, discomfort, or downtime."
---
Comfort Dental Spa
Q: The man in my life is a big baby when it comes to going to the dentist. What can I do to ease his mind before a visit?
A: As the field of dentistry evolves, so, too, does Dr. Aziza Askari. When she realized there were ways to care for patients suffering from anxiety or fear of dental pain, she introduced sedation dentistry to her office. "Sedation dentistry techniques are safe for anyone who experiences anxiety, worry, concern, or preoccupation related to dental appointments," she says.
Dr. Askari says that if you're someone who has trouble sleeping before a dental appointment, becomes nervous in the waiting room, cancels appointments out of fear, or feels ill at the thought of going to the dentist, then sedation dentistry may be the key.
Dr. Askari is concerned with every aspect of her patients' dental experience, including how they react to sight, sound, and touch. It's why she likes the Waterlase dental laser, which uses water and laser energy to remove decayed tooth portions without the need for noisy equipment that may produce anxiety. She also uses DentalVibe pulse technology, to minimize the discomfort associated with dental injections.
---
Chiropractic Works, PC
Q: I have had pain from the neck to the low back since I had an auto accident. Can chiropractic help me?
A: Yes. The key to treating any condition is to know the mechanism of injury. When someone is involved in an accident, vertebrae shift out of place — affecting the discs, ligaments, and muscles. This can lead to sprain or strain injuries, or nerves being pinched. Pain can come in the form of muscle spasms, tingling and numbness in the lower and upper extremities, or it can be felt as a dull ache or burning.
We use digital X-rays to accurately identify the cause of pain. Then we deliver an adjustment to help alleviate the pain by aligning the spine, which takes pressure off the nerves. While medications may temporarily relieve pain, chiropractic adjustments can correct the problem that causes the pain.
---
St. John Health Systems
Q: How can I prevent injuries when starting an exercise program?
A: Exercise can improve your health and fitness. It's best to start slow and progressively increase the intensity, duration, or distance of your activity. If you're new to exercise, you could start by walking 20 to 30 minutes three times a week for a couple of weeks, and then add some jogging. You might walk for four minutes, jog for 30 seconds, and repeat the cycle several times for a total of 30 minutes. Aim to gradually increase the amount of time that you're jogging and decrease the time you're walking.
Before you begin any exercise session, you'll want to do a warmup with dynamic stretching. Walk for two or three minutes and then do some walking lunges, or lift your knees up high while walking for a another couple of minutes. After a workout, we recommend a five-minute cooldown to gradually return your heart back to normal, followed by more traditional static stretching.
A healthy diet, hydration, appropriate footwear, and a properly fi t bike if you're a cyclist are important safeguards. If your goal is to run a marathon, there are online running programs with established training protocols that will help you progress slowly to avoid overuse injuries. The key for any exercise is to avoid doing too much, too soon, too fast.
---
Bogrow & Associates Dental Center for Sleep Apnea & Snoring
Q: Are you tired of being tired all day? You may have sleep apnea.
A: Excessive daytime sleepiness, loud snoring, gasping for breath, and frequently waking up during the night are signs that you may have obstructive sleep apnea, a condition that can lead to serious health complications including heart disease, diabetes, and stroke. Dr. Earl Bogrow, a Diplomate and certified member of the American Academy of Dental Sleep Medicine, says many people who have sleep apnea can still function during the day, just not at their best.
"They're totally sleep-deprived. No matter how many hours they stay in bed, they're not getting into the normal stages of sleep the body needs," says Dr. Bogrow, who himself was treated successfully for the condition.
Once someone has a medical diagnosis of sleep apnea, there are three treatment options: surgery, a Continuous Positive Airway Pressure (CPAP) machine to assist you in breathing at night, and an oral appliance worn in the mouth to maintain an unobstructed airway while sleeping.
"CPAP is the gold standard; however, the problem with it is compliance, and surgery is only recommended in severe cases. I have dedicated my practice to the treatment of sleep apnea and snoring with customized, adjustable oral appliances. Treating a medical problem with a dental appliance is covered by medical insurance. Don't wait another day to get a good night's sleep."
---
Jay Jagannathan, M.D.
Q: What are the benefits of minimally invasive techniques to treat neck and back pain?
A: When you have pain that races down your back and into your legs, you want rapid relief and a quick return to the activities you enjoy. Immediately after undergoing minimally invasive surgery performed by Dr. Jay Jagannathan, Jennifer Vincent was free of pain. "I went on a trip, I went for a Mackinac walk-around, things I couldn't do before," she says.
Dr. Jagannathan has a special interest in minimally invasive surgical techniques that generally have smaller incisions and involve less tissue retraction, often resulting in less post-operative discomfort, a shorter hospital stay, and a quicker return to function for patients. "It's ideal for people who have multiple medical problems and can't tolerate traditional open surgery," he says. "We have patients who return home the same day of surgery and do extremely well, and others who require only a few days in the hospital."
Dr. Jagannathan is one of the few neurosurgeons in Michigan who perform all-open and minimally invasive procedures related to complex spine, spinal oncology, and deformity, including kyphoplasty. "Kyphoplasty is a minimally invasive procedure for compression fractures of the spine. We use a balloon to restore vertebral height and inject a cement-like material into the vertebrae that hardens within the cavity. Multiple studies have demonstrated that it works very well for pain relief."
---
Pain Clinic of Michigan
Q: What are nonsurgical options for acute and chronic pain?
A: There are many nonsurgical options. However, first and foremost, I encourage patients to make sure their health care provider is board-certified in interventional pain management.
At the Pain Clinic of Michigan, we offer the most up-to-date, state-of-the art treatment options, including facet joint injections, rhizotomies, selective nerve blocks, epidural injections, and implantable pain pumps, in addition to many other services.
We work very closely with your primary physician to ensure you're getting the best possible care. Please call us today to schedule a consultation.
---
Skin & Vein Center
Q: What can I do about my underarm sweating and odor?
A: Deodorant is so 2014. Now you can toss out those messy roll-ons and sprays and find lasting relief from the embarrassment of sweat outbreaks, odor, and stained clothing with FDA-approved, nonsurgical miraDry.
"It's one of the most rewarding things we do. People come in in tears when they find out there's something that can permanently get rid of their underarm sweating," says board-certified dermatologist Dr. Eric Seiger, whose office is one of two in Michigan that offers the noninvasive treatment.
"The procedure takes about an hour and a half. We numb the patient's underarms so they don't feel a thing," he says. "The miraDry machine delivers controlled electromagnetic energy that heats the skin to the depth of one or two millimeters, where the sweat ducts lie, and it eliminates them."
People are sore and have some swelling afterward, but they can go back to work or return to their normal activities the next day. Patients experience a dramatic reduction of their underarm sweat, and no longer have to worry about excessive odor and wetness.
"We consistently get an 80 percent reduction in underarm sweat. It's fantastic," Dr. Seiger says. "After treatment with miraDry, patients experience greater self-confidence and joy. It's truly life-changing."
---
Arnold Gross, D.P.M., PC
Eric Foreman, D.P.M.
Q: What are the benefits of laser treatment for toenail infections?
A: In just one 30-minute office procedure, The PinPointe FootLaser can painlessly vaporize unsightly fungus under the nails with no complications.
"Toenail fungus is very common and there has never been a good treatment," says board-certified podiatrist Dr. Arnold Gross. "Your choice has been topical creams and liquids that rarely work, or a pill that has a long list of possible side effects."
Dr. Gross and his partner, Dr. Eric Foreman, are the first to offer the state-of-the-art, FDA-cleared, PinPointe laser system in Michigan. Within three months of treatment, patients start to see new growth of smooth, clear, fungus-free nails.
---
James Herman, D.C., D.A.B.C.O.
Core, core, core!
Q: If I strengthen my core, will it take care of my chronic lower back condition?
A: The truth is, there are many factors associated with back conditions. Strengthening the muscles that support your spine may help; however, the support muscles are only part of the core. More frequently, the situation is that there's an imbalance of the support muscles and a lack of tone of the controlling portion of the core. Most patients are only interested in what I call the vanity core (the 6- or 8-pack abs). The more beneficial group of core muscles are known as the multifidi and rotatores (posterior core), which control aberrant movement of the spine and help prevent reoccurring injuries.
Dr. James Herman
James Herman, D.C., D.A.B.C.O.
Chiropractic Orthopedics
Address: 6431 Inkster Road, Suite 220, Bloomfield Twp., MI 48301
Phone: 248-539-0100 Fax: 248-539-0110
---
Regiani Holistic Dental Center
Q: What is a holistic approach to dentistry?
A: Dentists are actually physicians of the stomatognathic system (mouth, jaws, associated structures), and Dr. David Regiani goes beyond traditional comprehensive dentistry and takes a whole-body approach to dental care.
"Rather than merely treating a patient's symptoms, we want to know the reason why a patient is susceptible to tooth decay or what may be triggering their oral inflammation," says Dr. Regiani, who uses a microscope to identify the causes of periodontal disease so it can be treated effectively.
Through simple tests in the offi ce, Dr. Regiani checks a patient's risk for bone loss around their teeth. "Zinc levels and nitrite oxide tests are easy and inexpensive ways to assess good bone density and a well-functioning immune system," he says.
A founding member of the International Academy of Oral Medicine and Toxicology (IAOMT), Dr. Regiani chooses dental materials that are more biocompatible, to safeguard patients from potentially toxic substances such as mercury.
"As part of a holistic approach, we offer patients the option of homeopathic remedies and nutritional support," Dr. Regiani says. "One of the main things I do is to educate my patients so they can make the best decisions for their oral health."
---
Vasileff Medical Group
Q: I think I broke my nose playing basketball, because it looks crooked and I've been having trouble breathing. How can I confirm that it's broken, and how do I fix it?
A: This problem is particularly common among men who have a history of nasal trauma from years of contact sports. Whether it happened last week or decades ago, your break can be repaired. You should make an appointment with a board-certified plastic surgeon who will use a tool called a speculum to confirm that your septum was deviated. Nose surgery, called rhinoplasty, requires a skilled surgeon, but it's nearly pain-free and there's very little downtime. Splints are placed on the inside and outside of the nose, to support and protect the new nasal structure while it heals. Most patients can return to normal activities within a couple of weeks (if you're getting back onto the court, you must wear a face guard to protect your nose). Although the nose reshapes for up to a year, patients enjoy immediate improvement in form and function.
---
William D. Yates, M.D., F.A.C.S.
Q: Has anything changed with hair transplantation, or do patients still have a scar and plugs that everyone can see?
A: Many advances have come into practice for hair restoration. We are now able to expertly punch out each individual hair follicle — with a punch that is smaller than 1 mm — from an individual's donor hair (the back and sides of the scalp), and transplant this hair into areas that are thinning. We usually concentrate on restoring the hairline and adding density to the top of the scalp. The results are completely natural-looking, without the traditional cut, stitches, pain, and scar associated with transplants performed years ago. We also have implemented robotic technology with the ARTAS Robotic Hair Transplant system to assist with this process. With the FUE (Follicular Unit Extraction) method of hair transplantation, you regain years — you look younger, but no one can ever tell you had a hair transplant!
Facebook Comments