SPECIAL ADVERTISING SECTION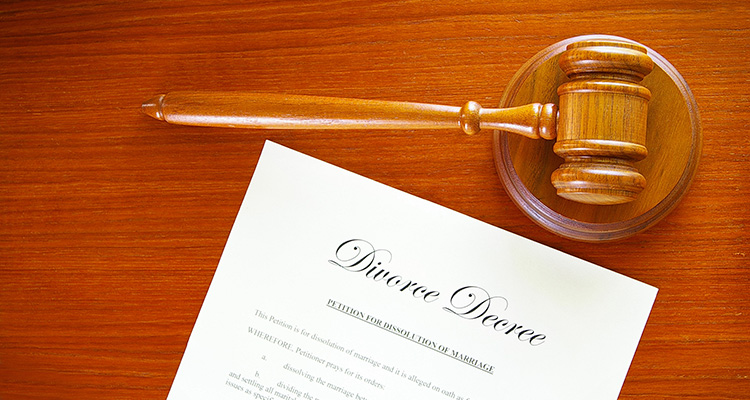 Divorce is not something anyone enters into lightly. But once the certainty is there, it's time to formulate a plan. People often seek advice from friends, family, and neighbors — which is fine — but seeking an attorney's advice early in the process is best. When you first consider a divorce, you may not even know what questions to ask, but an attorney versed in family law will guide you through the process and be your advocate. Emotions can run high, so it's important to have someone who is focused on your individual situation, knows what questions need to be asked, and will guide you through the legal process. By providing strategies to prepare and protect you, your attorney will ensure your needs are met and help you to maintain your composure and lifestyle throughout the process. Hiring the right attorney can make all the difference; that's why it's important to investigate your options and find an experienced attorney who can deliver top-quality family law services with your best interests at heart. Divorce should not be about winning and losing, but about finding a fair resolution. If your situation involves a partner who isn't interested in fairness, your attorney is going to fight for everything that is rightly yours. Ultimately, your attorney is looking out for you, not the partner involved in your divorce. A successful divorce begins by hiring the right person to represent you — someone who will help you answer questions that you may not even have thought to ask.
---
John F. Schaefer
Q: How is the length and amount of alimony determined?
A: The answer is misunderstood by many people — and, frankly, a number of lawyers. In Michigan, alimony is also called spousal support and it is gender-neutral. In traditional marriages, the payor is the husband, but more and more we see the husband seeking child support or alimony. Alimony is a function of three things: the ability of the obligor to pay; the needs/standard of living of the obligee; the ability of the obligee to contribute toward those needs/standard of living, either actively or passively. The first consideration is simple, but the second is more indefinable because one man's needs are another's luxuries. This requires one to analyze what the standard of living was over a period of time when the marriage was happier and neither party was spending in contemplation of divorce — or restricting spending in contemplation of divorce. The third consideration involves this question: Does the putative recipient of the alimony have the means to be partially supporting or self-supporting? This may involve active means, such as a job, or passive means, such as obtaining money from a property settlement that will earn money for the recipient. It is up to the court whether alimony is awarded at all. Typically, alimony is involved in situations where more money is involved. In Michigan, 85 to 90 percent of divorces do not involve alimony because often there are two working spouses who are contributing relatively equally, or there simply is no money. In cases where there is alimony, in my experience, I have found that the range of the amount is usually somewhere between 17 and 30 percent of the gross income of the payor/obligor. In complex matters that involve substantial resources, alimony is still very much a component of the divorce.
---
Alexander, Eisenberg & Spilman, PLLC
Q: My husband owns his own business. What are my rights in the event we divorce?
A: The value of any business owned by either party during a marriage will be considered a marital asset subject to division except under certain limited circumstances. In cases involving a privately owned business, it is critically important that the non-owner spouse receives fair compensation for the value of the marital share of the business. Experienced attorneys and forensic experts should always be engaged to ensure that the non-owner spouse is receiving their fair share of the business' value, whether it's in the form of cash, other assets, installment payments, and/or spousal support.
---
Abood Law Firm
Q: My spouse was cheating on me. Does fault matter in divorce?
A: For the most part, Michigan courts apply the "equitable division" theory, meaning that all assets acquired during the marriage are generally divided equally. However, if one person is at fault for causing the divorce by cheating or being abusive, it can make a difference in the property settlement. Fault is weighed more heavily if the actions of one party caused the divorce and there are children that were affected. Whether you or your spouse were at fault for breaking up the marriage, it is important that your attorney knows the facts in order to work in your best interest. The more that your attorney can understand you and your unique situation, the more your attorney can protect and fight for you.
---
Laurel Stuart-Fink
Q: How do I know if I need an antenuptial agreement (pre-nup)?
A: Many people think the rich and famous are the only ones who need prenups "to protect their assets." In fact, many people who are neither rich nor famous, but who are entering second (or third) marriages will need to have a pre-nup in order to ensure that the new spouse does not take assets in death or divorce that are intended for children born of earlier marriages. A pre-nup is not a boilerplate form. It must meet strict legal requirements and be expertly drafted under appropriate circumstances to protect its legality and its enforceability.
---
Woll & Woll, P.C.
Q: Will I get a better settlement if I file for divorce first?
A: In Michigan, judges do not care who files for divorce first. Michigan law is not designed to reward one party for beating their spouse to the courthouse to file for divorce. However, there are certain circumstances in which it may be in your best interest to be the first to file. For example, if you are afraid for your safety or the safety/well-being of your minor children, or if you are afraid your husband/wife is hiding, secreting, or liquidating marital assets, it may be best if you file first. Many family court judges will provide you with a mutual property restraining order that prohibits both you and your spouse from dissipating the marital estate during the divorce process. Another reason to file first is if your spouse is the wage-earner and he/she has cut you off financially. Still not sure what to do? Contact a family law specialist who can walk you though your options to determine what course of action is best for you.
Facebook Comments