Buddy's Pizza, creator of the Original Detroit-Style Pizza, started with one small location in Detroit. From a speakeasy during prohibition, to a neighborhood pizzeria that created a whole new pizza style from automotive blue steel pans, Buddy's is a prime example of the ingenuity that comes out of the Motor City. Now celebrating its 75th anniversary, the company has become a Michigan staple and an innovator in the pizza industry.
Buddy's Pizza opened in 1946 when Gus Guerra turned a speakeasy into a family restaurant at the corner of Six Mile and Conant. Using  the  square blue steel pans intended to hold nuts and bolts at local automotive  plants, Gus, along with friend and employee Concetta "Connie" Piccinato, created the first Detroit-Style Pizza.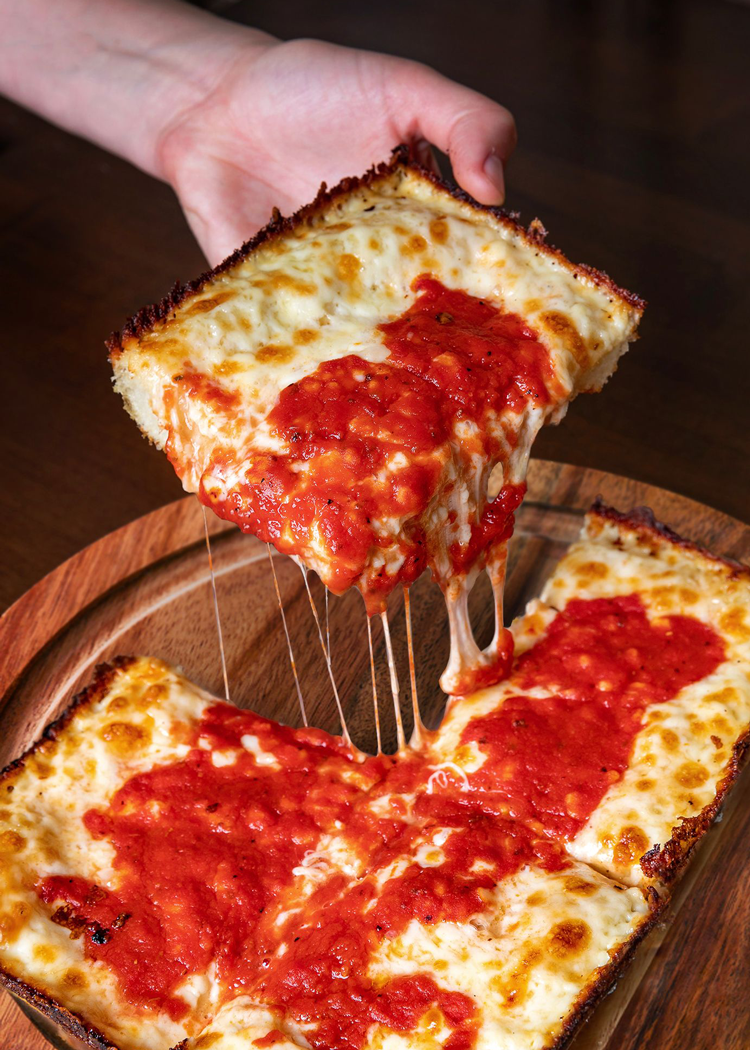 The signature pizza starts with house-made, double-proofed dough, stretched to fit into the corners of the pan. Pepperoni is then pressed into the dough, creating a one-of-a-kind flavor in each bite. A layer of ground Wisconsin brick cheese is spread edge-to-edge, creating a crunchy, caramelized crust. It's then topped with three stripes of tomato sauce, resembling racing stripes that pay homage to the pizza's automotive roots.
This year, Buddy's is celebrating its 75th anniversary – a major milestone for any company. To run a successful business for that length of time, a company must stay relevant while also remaining true to its core identity – and that's exactly what Buddy's has done. Every time you visit a Buddy's locations, it's a nostalgic experience, and you feel like family.
Buddy's credits its loyal fans for not only supporting the business over the decades but for also sharing special moments at the restaurant – birthdays, graduations, anniversaries and more. Thanks to its loyal customers, the company has truly become a generational tradition. Now, the company has grown across Michigan with 19 locations throughout metro Detroit, Lansing, Grand Rapids and Kalamazoo.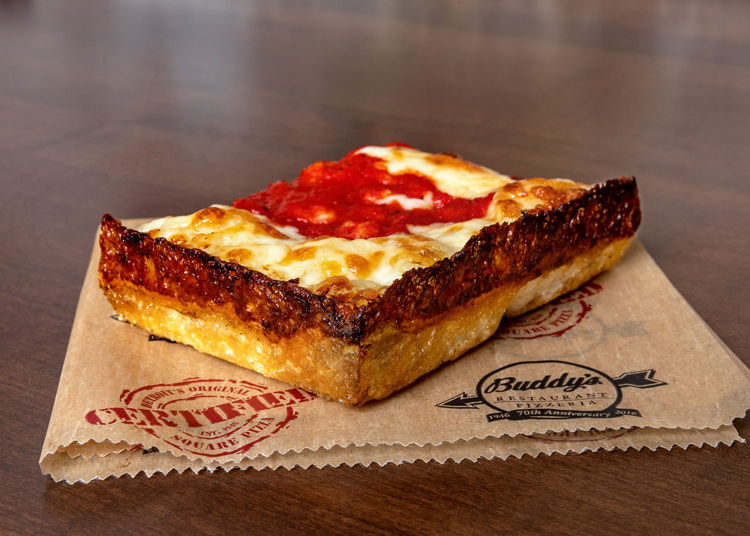 Since 1964, Buddy's has been supporting each community it serves. The company has built many long-lasting partnerships with nonprofits and organizations that impact the community, including Capuchin Soup Kitchen, Detroit Institute of Arts, The Henry Ford Museum and many more.
In June of this year, Buddy's commemorated its anniversary not only in Michigan, but with the nation. To kick off the 75-year celebration and solidify itself as the creator of Detroit-Style Pizza, Buddy's became the official founder of National Detroit-Style Pizza Day, taking place annually on June 23.
Buddy's wanted to celebrate with small businesses that have brought a slice of Detroit from coast-to-coast. The company partnered with pizzerias throughout the U.S., and on June 23, the participating businesses donated a portion of sales to local nonprofits that are working to fight hunger and homelessness.
To close out its anniversary year, Buddy's will partner with other Michigan-based companies throughout the state to give back to families in need for the holidays.
For those looking to make special holiday memories, Buddy's Pizza is the perfect destination for a family meal to celebrate the season. Looking for gift ideas? You can pick up a gift card during your next visit for the perfect stocking stuffer! For the Detroiters who couldn't make it home this holiday season, send them the Original Detroit-Style Pizza through Goldbelly.
When something is Detroit-built, it's built to last, and that reigns true for Buddy's Pizza. What began as a small speakeasy at the corner of Six Mile and Conant in Detroit has now impacted the pizza industry world-wide.