Now open for customers with final renovations due to be completed this fall, is Virginia Tile's new Chicago Elk Grove Village location – a move from their Wood Dale location – located at 1601 Estes Ave, Elk Grove Village, Chicago, Illinois, 60007. Both the showroom and warehouse will be transferred to the new location, which will have a new layout that will mirror the company's goals for future showroom renovations and moves. Virginia Tile is constantly re-evaluating their showrooms and distribution centers in terms of design and functionality, allowing them to provide premium experiences for their valued customers as their needs change. The new design spot will not only offer customers a better and more convenient access, but it will also provide their customers with a state-of-the-art facility that will inspire creativity and promote collaboration among designers, contractors, architects, and homeowners – elevating their position as a leader in the tile industry.
"We are confident that this upgrade will boost shopping experience, improve order pick-up, and help us better serve the Chicago community. We are excited that this transition into a larger, more modern space will better suit the needs of our customers," said Sean Cilona, Director of Product and Marketing, Virginia Tile.
Known for their extensive range of products, Virginia Tile is a premier provider of porcelain, ceramic, stone, glass, metal, and mosaic design solutions. Representing the finest manufacturers and suppliers in the industry, Virginia Tile distributes high-end domestic and imported products to customers across the Midwest.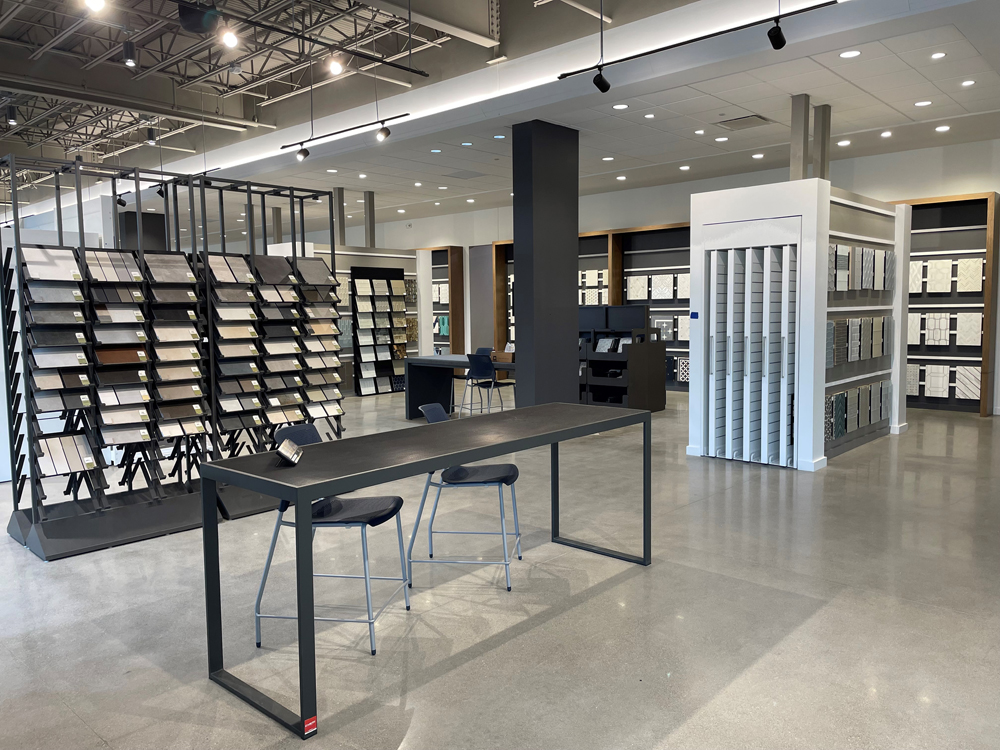 Their new flagship location on West Maple Street in Troy, Michigan continues to show just that. To better serve their customer base, the company has combined their former contractor-focused Sterling Heights location on 19 Mile Rd and former design showroom on Stutz Dr in the Michigan Design Center to create their new "all in one" space.
The 45,000+ square foot facility is home to Virginia Tile's state-of-the-art showroom and exclusive contractor lounge in addition to ample office space and a fully stocked warehouse. From contractors to consumers, Virginia Tile's new Troy location caters to all.
Two key aspects of Virginia Tile's new strategy are their "Will Call" service and contractor lounge, now open at the new Troy location and soon to come at the new Elk Grove location. The "Will Call" service will allow for fast and convenient pick up of products and project materials. Complete with complementary beverages and snacks, the lounge provides space for contractors to catch up on emails, plan their projects, and check out Virginia Tile's latest product demos.
"We have brought a premium tile and stone experience to the Troy design community, and we will continue to do so in the new Chicago Elk Grove location," says Mr. Cilona. "Serving customers in all 14 states we cover; this building [is] our biggest and most well-thought-out location yet."
Virginia Tile
Founded in 1928, Virginia Tile Company is the leading tile distributor in the Midwest servicing fourteen states from two distribution hubs in Livonia, MI and Kansas City, KS. The company is a premier provider of porcelain, ceramic, stone, glass, metal, and mosaic design solutions, with select regions providing resilient flooring and woodworking products. Virginia Tile Company has set the standard for flooring style and design in the building supply industry for ninety-two years. The company's offerings fulfill the needs of residential and commercial building industry customers, always BRINGING DESIGN TO THE SURFACE.