2Gather Elegant Event Venue, located in Auburn Hills Michigan is quickly becoming one of Metro Detroit's most sought-after wedding venues. Located in a private, wooded setting that photographers only dream about, 2Gather features an open vendor concept that allows their clients' vision to come to life! Couples will enjoy dedicated bridal and grooms' suites, onsite ceremony options, ballroom with customizable ceiling décor, outdoor patio space, and passionate onsite experts to make sure every event is nothing less than exceptional!
Ashley and Connor started their forever at 2Gather on December 17th, 2022. Ashley had a modern, princess glam vision for her wedding which came to life on this beautiful winter day, featuring the perfect dusting of snow. Ashley's gown was purchased from The Wedding Shoppe in Berkley, "I had tried on probably 9-10 dresses and when I walked out my face lit up and everyone behind me had the biggest smiles on their face." The 2Gather bridal suite offers a spacious and stylish location for getting ready with your bride tribe, featuring natural lighting, crystal chandeliers, floor length mirrors, and more! It is truly the picture-perfect space for the modern-glam bride!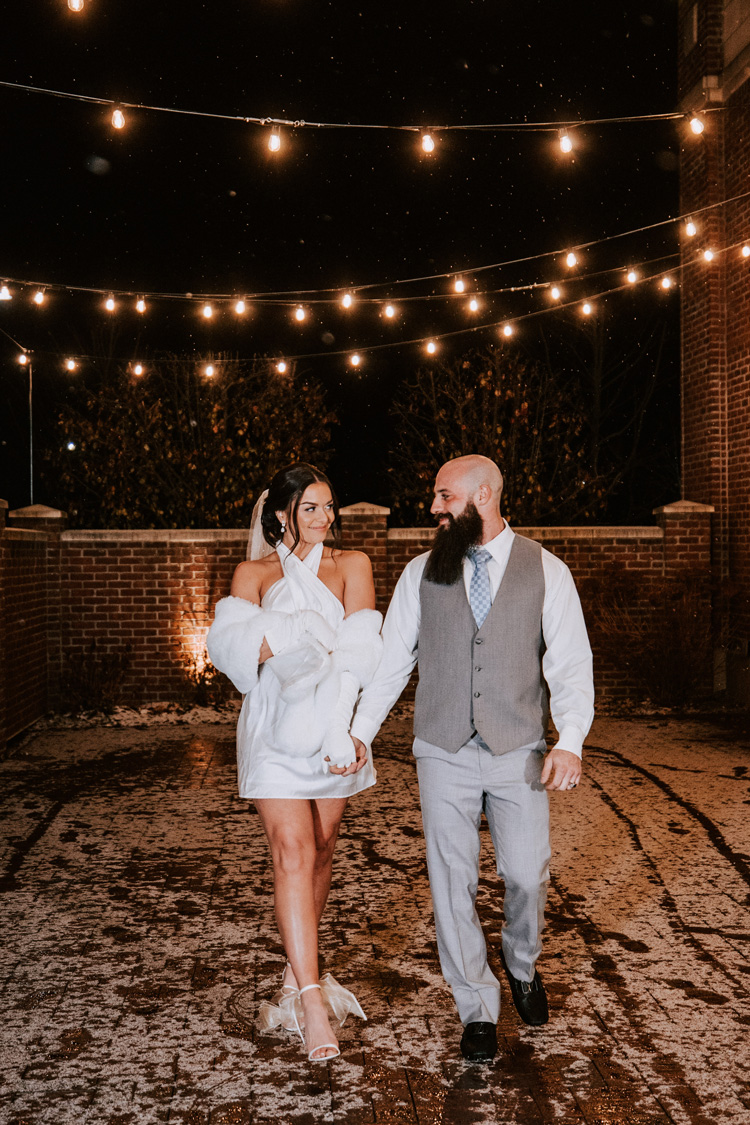 "I don't know that I could actually pick a favorite moment because it was all so perfect. The ceremony was everything I could have dreamed of as the little girl who wanted to be a princess when she grew up. The room Reveal showed every ounce of hard work, sweat, and tears that had gone into the last year of planning. The dancing with all of our closest family and friends the week before Christmas was the best present I could have ever asked for. It truly was the most magical day, and it was absolutely stunning" … And they lived happily ever after!
When couples say "I Do" to the Venue at 2Gather, they are treated like family. 2Gather's team of passionate onsite experts walk hand in hand with their couples, guaranteeing an exceptional experience! "The team at 2Gather was there the whole time from the planning process to the wedding day. Any time I had questions or doubts they were there every step of the way to lend a hand. Lexi made it fun, and I felt like I was planning with one of my best friends."
Come check out this beautiful venue at their Wedding Expo on March 5th. This one-of-a-kind boutique event at 2Gather Event Venue has everything you need to create the ultimate wedding experience you have always dreamed of!
Sunday March 5th, 2023
12PM – 4PM
Reserve your spot today!
Showcasing 25+ Wedding Vendors
Passionate Onsite Experts to help you plan your dream wedding!
Tastings, Raffles & Giveaways all afternoon!
Featuring Caterers, Bar Services, DJ Entertainment, Photography, Videography & more!
$5 Admission
2 Complimentary Tickets Available for 2023 & 2024 2Gather Booked Couples
Advance Tickets are available at Eventbrite.
Ashley and Connor found their fairytale wedding at 2Gather, and you can too!
---
2Gather Elegant Event Venue
3391 Cross Creek Pkwy
Auburn Hills, MI 48326
www.2gathermore.com
@2gathermore
Text Us @ 248-339-0333
Photos by Mallory Mae Photography
Video by Tri-Foot Productions