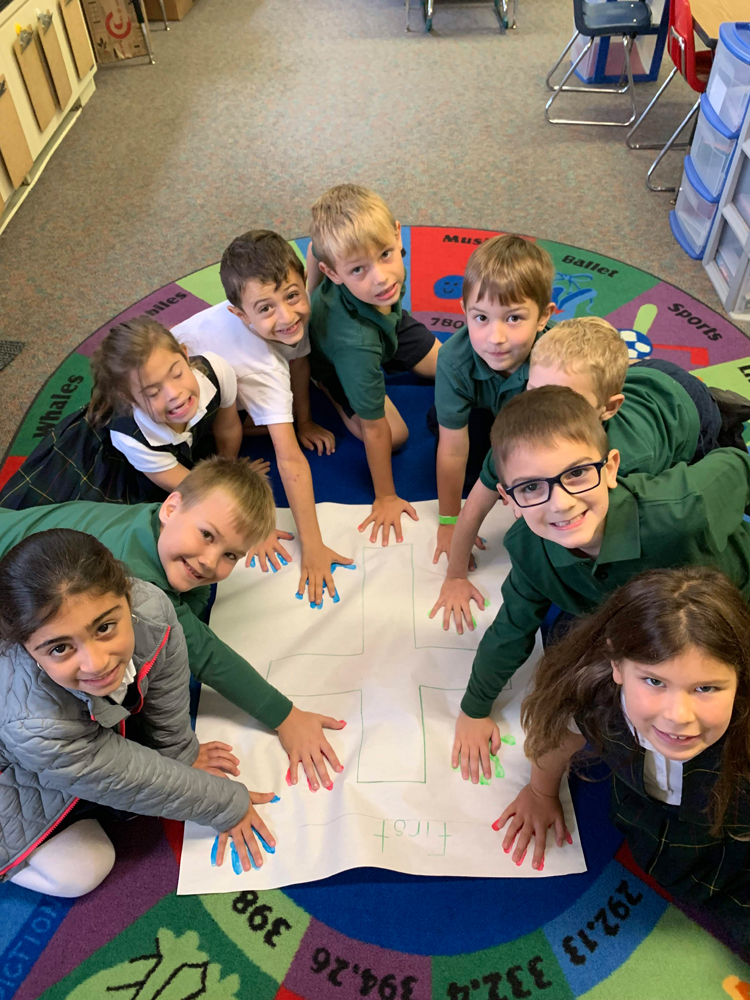 St. William Catholic School
135 O'Flaherty
Walled Lake, MI  48390
(248) 669-4440
A Community of Faith, Family, and Learning
Mission Statement:
"We exist to provide a school environment in which Christ is encountered and Discipleship is fostered through the teaching and practice of Catholic Tradition, values, and doctrine, while challenging each student to academic excellence."
St. William Catholic School opened its doors to students in September of 1950 and through the years has been an anchor in the Walled Lake community providing an excellent education for generations of families. We provide a strong academic program in a safe caring environment with small class sizes. Our students learn and grow under the loving guide of amazing teachers and Together we RISE each day!
Today, things look different in our classrooms as students wear masks and come to school for in-person learning.  We have moved to our excellent virtual platform when needed but will be back to in-person when we return in January. Our staff and community have worked hard to meet this challenging time. We've heard feedback from both the in-person and e-learning that St. William School is exceeding their expectations.
We are committed to the health and safety of our students, faculty and staff. We have an on-site cleaning crew that is working to sanitize spaces throughout the day and after school and we also follow all protocols set forth by the CDC. Students maintain physical distance and wear masks all day. We have found that our students have adapted beautifully to these new procedures and we can see them smiling under their masks.
While there are many changes, one thing that has not changed is the love and care of our community. Everyone is working together to ensure the success of our students. Our students are at the heart of everything that we do. We hope you'll take a closer look at St. William School. Enrollment is now open and we'd love for your family to join us!
---
Faith
Weekly mass
Virtues Program with assemblies
First Friday Adoration
Retreat experiences
Catechesis of the Good Shepherd for JK-1st
Yearly vocations visit to Sacred Heart Major Seminary for 7th grad
Season prayer services and rosaries
Family
Lasting student and parent relationships
Diverse student body
Parent organizations work to support school's mission – PSA (Parish School Association), Dads' Club, Parent Ambassadors
All faiths welcome
Tuition assistance available for those in need from the AOD and parish
Aftercare – The Crusader Club
Learning
Inclusion of special needs students into the classrooms with individualized math and language arts support from our S.O.U.L. (Support Our Unique Learners) Center
Small class sizes
Working with Notre Dame University to become a STEM school
Star 360 Program to allow teachers to adjust teaching to individual student needs
Advanced Math grades 5-8
Integrated in all classrooms – iPads in JrK – 2 and Chromebooks in grades 3-8.  Each teacher has a MacBook and iPad with Apple TVs in all rooms
School uses Google Classroom Suite
---
Upcoming Open Houses – Preschool – 8th grade
January 30, 2021 – OPEN HOUSE – 10am – 12pm – Catholic Schools Week – Virtual – Facebook Live on our school Facebook page, "St. William Catholic School".
February 27, 2021 – OPEN HOUSE – 10am – 12pm – Activity Center – Small group – based on COVID mandates – sign up required – 2 sessions.
March 20, 2021 – OPEN HOUSE – 10am – 12pm – Activity Center – Small group – based on COVID mandates – sign up required – 2 sessions.
*Check our website for updates and sign up information at:
stwilliam-school.com/registration-tuition/
Facebook Comments