–  A  D  V  E  R  T  I  S  E  M  E  N  T  –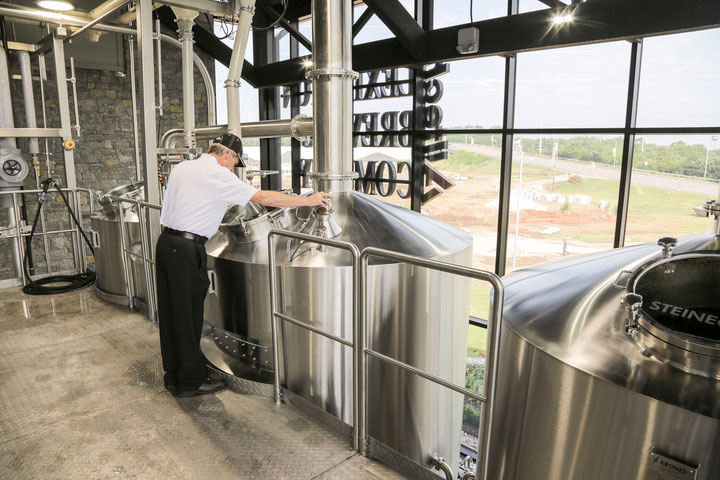 Located in the heart of bourbon country, Lexington, Ky., is known for the things it does well: horse racing, basketball, and bourbon. Kentucky Bourbon Barrel Ale, a new export from the central Kentucky town, will soon be hitting shelves in Michigan.
Alltech Lexington Brewing & Distilling Co. began in 1999 as a small brewery with a single local favorite, Kentucky Ale. After years of experimenting with what is considered a natural resource in Kentucky — bourbon barrels — Kentucky Bourbon Barrel Ale was released in 2006. The beer has a sweetness that's derived from the time it spends maturing in the freshly decanted barrels, but it still carries a strong malt backbone for beer lovers. An instant hit, Kentucky Bourbon Barrel Ale has a trophy case full of awards from the Great American Beer Festival, the World Beer Cup, and many more.
Following the theme of aging beer in fresh bourbon barrels, Alltech Lexington Brewing & Distilling Co. has released several more aged beers, including a coffee stout and a vanilla cream ale. The brewery even boasts a barrel-aged seasonal series, which highlights the flavors of the season but stays true to being 100 percent barrel-aged in fresh bourbon barrels. The barrels are used only once for beer, in order to provide the best flavor possible.
"With our proximity to the world's best bourbon distilleries, we have the ability to choose the best barrels around for our beer," says Ken Lee, master brewer. "We go through 5,000 to 7,000 barrels per week aging beer. It really is an amazing process to see."
In 2012, the brewery began distilling, opening Town Branch Distillery and releasing Town Branch Bourbon as its flagship whiskey. Part of the Kentucky Bourbon Trail, this distillery is now a vital piece of tourism in Lexington. The beautiful glass building houses two copper-pot stills from Scotland, and produces small-batch bourbon and single malt and rye whiskeys.
Opening the distillery has provided ample opportunity to experiment in the production of beer.
"We've used our Town Branch Rye barrels for seasonal releases and are looking into other flavor profiles that oak barrels can bring to our lineup of beers," says Pete Weiss, marketing manager. "This is a fun time in the craft beer world. There are so many opportunities to develop new flavors and use new ingredients in making beer."
Dr. Pearse Lyons, founder and president of Alltech Lexington Brewing & Distilling Co., has a long history in the brewing and distilling world. Hailing from five generations of coopers on his mother's side and distillers on his father's side, Dr. Lyons was the first Irishman to achieve a formal degree in brewing and distilling from the British School of Malting and Brewing. While at university, he interned at both the Guinness and Harp Lager breweries, and later worked as a biochemist for Irish Distillers. Dr. Lyons has brought his wealth of knowledge to Kentucky and is leading the charge in Lexington to make the best quality beer and whiskey around.
Kentucky Bourbon Barrel Ale and the family of barrel-aged beers will be available across Michigan through Imperial Beverage this fall.
Alltech Lexington Brewing & Distilling Co., 401 Cross St., Lexington, KY 40508 – 859-225-8095 – KentuckyAle.com
Facebook Comments