There may not be a cure for arthritis yet, but advances in technology and treatments can provide long-term relief. Robotic knee replacement surgery offers patients with severe knee pain caused by osteoarthritis shorter recovery times and longer-lasting results.
Robot-assisted surgery techniques have existed for years, confusion about these procedures can put patients on the fence. During traditional knee replacement surgery, damaged tissue in the knee is removed and replaced with an artificial joint. Robotic knee replacement is the same procedure as a traditional knee replacement procedure, performed with the assistance of a robotic arm.
Five things you should know about robotic knee replacement surgery to set the record straight.
1. Am I a candidate for robotic knee replacement?
Your doctor may recommend less invasive treatment methods first, depending on the severity of your condition.
If the more conservative treatments don't provide sufficient relief from pain, knee replacement surgery may help. Procedures like robotic knee replacement provide longer-lasting replacements and are excellent for younger patients suffering from knee pain. More accurate implant positioning means that patients can safely undergo total knee replacement surgery and get back to living an active lifestyle.
2. Is the surgery performed by a robot?
One common misconception is that robotic knee replacement surgery is performed 100% robotically. That's not the case – while a robotic arm assists the procedure, your orthopedic surgeon is still in control. The robotic arm helps your surgeon perform with greater accuracy and precision.
Technology improves the procedure in other ways, too. Before surgery, a CT scan creates a 3D model of the patient's knee, allowing surgeons to place the implant more accurately. The robotic arm creates a predefined space for your surgeon to work in during the procedure, preventing them from accidentally damaging the surrounding tissue.
3. Robot-assisted techniques can reduce recovery time.
Because robot-assisted techniques are newer, many long-term benefits are still being studied, but short-term benefits, like the potential for reduced recovery time, have quickly become apparent.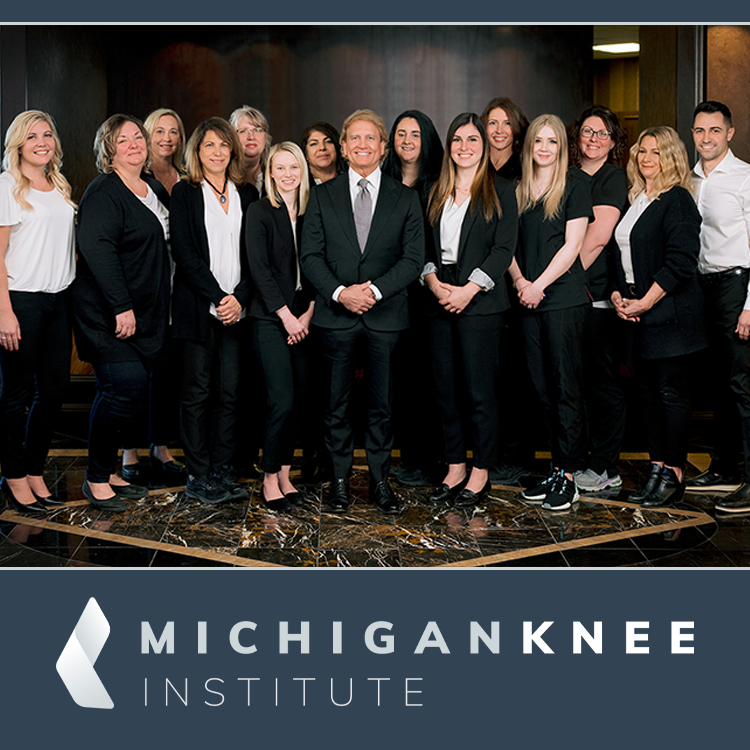 With a traditional total knee replacement surgery, the average patient's recovery time is 4 to 6 weeks. Robot-assisted technology can cut this recovery time in half. Smaller incisions combined with greater surgical precision mean less damage to soft tissue, speeding the body's natural healing process.
4. A more natural feeling after surgery.
Knee replacements can be customized to each patient's anatomy with robotic techniques, leading to a more natural feeling. Ideally, you should completely forget about your knee replacement as you go about your day-to-day life.
5. What are the risks?
Robotic knee replacement surgery has the same risks as traditional knee surgery. These include, but are not limited to:
Infection
Allergic reaction to the artificial joint
Nerve damage
Deep vein thrombosis (blood clots)
Because robotic procedures require a smaller incision and are performed with greater accuracy, doctors are hopeful that they can significantly reduce these risks. Even with traditional surgery, serious complications are rare. Your doctor will assess your health and discuss the potential risks and complications associated with surgery.
Dr. Jeffrey H. DeClaire has been a leader in the advancements and innovations in robotic knee replacement surgery. By implementing a combination of robotic technology and minimally invasive techniques, he performs most knee replacement procedures on an outpatient basis.
Michigan Knee Institute is a state-of-the-art medical facility providing patients with the best possible outcomes for injured and damaged knees. The practice offers full-service treatments, including minimally invasive partial and total knee replacements, robotic knee surgery, outpatient knee replacement, cartilage restoration, and arthroscopy to help get patients back on their feet and back to their active lives.
Facebook Comments