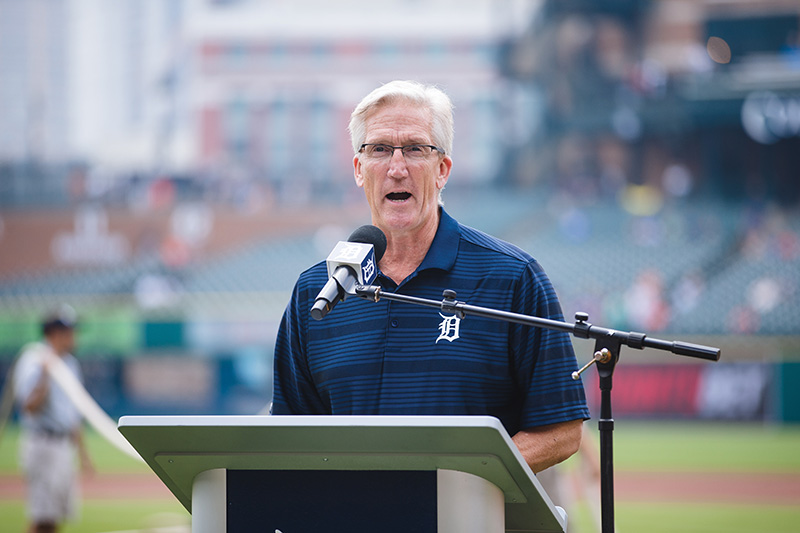 Veteran Tigers fans, you are not going to believe this. Are you sitting down? If so, and you're in your car, turn up the radio. This year marks the 20th season Dan Dickerson has served as radio play-by-play voice for your hometown baseball team. Can it possibly be that long? 
"I say 'my 20th year since Ernie retired,'" Dickerson clarifies, deferring to the late, legendary Hall of Fame broadcaster Ernie Harwell, soundtrack of our boys of summer for 42 seasons. In Harwell's final years behind the mic, Dickerson was hired to call the middle three innings; upon Ernie's retirement, he slid into the big chair. "I call it 'lead play-by-play guy.' Some people say 'the voice of the Tigers.' That always sounds a little pretentious to me, but it's fine."
Dickerson's style is anything but pretentious, says Stan Fracker, the Tigers' director of broadcasting and in-game entertainment: "He manages to resonate with fans while describing accurately what's happening on the field. The delivery is efficient; it's elegant. When the moment is big, he rises to the occasion."
While Harwell's legacy may forever permeate the franchise — the Comerica Park press box is officially the Ernie Harwell Media Center — Dickerson will be forever grateful for his mentor's advice early on, when he was first learning the ropes of calling baseball. When the Tigers hired Dickerson, he was known regionally for his work calling Detroit Lions and University of Michigan football broadcasts for WJR-AM. "I had done zero baseball play-by-play," he recalls. When he first met Harwell in the booth in Lakeland, Florida, where the Tigers play spring training, the elder man told him, "Just remember to get what's in front of you right. Does the listener have a clear understanding of what happened? Everything
else is just style." 
Raised in Birmingham and Rochester, Dickerson, 63, grew up a Tigers fan, seeing his first game in Tiger Stadium at age 9. "I realize how rare it is to call games for the team you grew up watching," he says. "It's pretty cool."
But how does one separate booster from broadcaster? "The thing you learn, especially if you grow up listening to Ernie Harwell, is to give a good call for both teams," he says. "He would appreciate a good play, a big hit by the other side. I am the Tigers announcer, but I don't want to be a 'homer' saying every call is against our team."
One part of the job that Harwell never had to contend with is the advent of social media, which Dickerson says provides a direct and sometimes difficult stream of public feedback. "I'm a big old baby," he laughs. "People are very complimentary, but I'll get that one tweet that burrows into my brain and I'll remember it for three days." Dickerson's biggest fans, adult children Rachel and Justin and wife Lori Anne, a journalism professor at Michigan State University, serve as reality checks.
You might think it draining to cover a team that suffered 114 losses just three seasons ago, but Dickerson points out that the Tigers were in the World Series as recently as 2012. Not even the Yankees can say that. "There are times I
leave it on my sleeve, like when they lose on a walk-off [hit]," he admits, "but I still love coming to the ballpark."
After acquiring a shortstop and catcher who are former All-Stars, signing a left-handed starter to join a talented young pitching staff, and watching a core of exciting players mature around Miguel Cabrera, Detroit may surprise some people this season, including Dickerson. After all, this is, according to the Chinese calendar, the Year of the Tiger.
---
This story is from the April 2022 issue of Hour Detroit. Read more in our digital edition. 
Facebook Comments