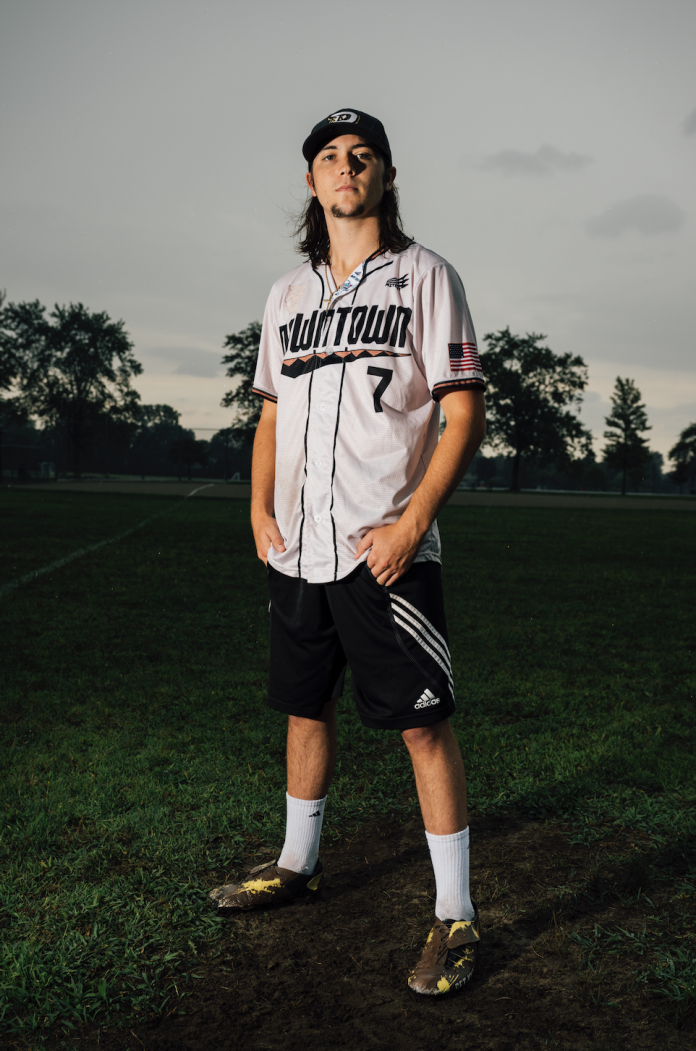 At 5 foot 9 and 150 pounds, with a tuft of whiskers on his chin and shoulder-length hair beneath a hat pulled low over his forehead, Jimmy Knorp is the archetype for unlikely sports heroes. But these days, the 22-year-old from Livonia is America's most famous Wiffle ball player — a household name among a subset of internet-addicted youth who share videos of his drop balls, long balls, and caught balls with the same fervor with which Ty Cobb used to spike opposing catchers.
Since joining Brighton-based Major League Wiffle Ball (or MLW) in 2020, Knorp (pronounced "Norp") has become the headliner for a league that has roughly 1 million followers on its social media platforms and considers itself America's most popular Wiffle ball league.
Much of that popularity is due to Knorp — 2021 league MVP, its best pitcher, and a two-time league champion — who's known for his impressive slew of highlight-reel plays that show off his unique combination of hustle, skill, and joy.
"Some days, I can't believe this is happening to me, and it's crazy that it's all because of Wiffle ball," says Knorp, who was once cut from his high school baseball team and worked part time at a Jimmy John's sandwich shop in town before enrolling at Eastern Michigan University this fall, where he plans to major in sports management.
Knorp's now traveled the country to ply his trade as one of Wiffle ball's greats: His Downtown Diamondbacks won MLW's 2022 World Series at Los Angeles' SoFi Stadium; he also struck out former National League MVP Jimmy Rollins on live television and has given Baseball Hall of Famer Pedro Martínez Wiffle-pitching advice.
Generations of kids have grown up with Wiffle ball in their backyards, parks, and streets. Played across the U.S. for the past 70 years, the game is a downsized version of baseball: a tiny diamond, no helmets or gloves, a plastic bat, and a plastic ball with slots on one side to make it easier to throw curveballs and other pitches. MLW's rules allow just three fielders, and games run three innings.
In Detroit's baseball vernacular, Knorp's ability is a combination of Miguel Cabrera's old-school power, Lou Whitaker's glove, and Mark Fidrych in his rookie year, rolled into one supremely talented package. His skills are often compared to those of Shohei Ohtani, the Los Angeles Angels superstar who both hits and pitches at a Hall of Fame level.
In 2021, Knorp hit a walk-off playoff home run that sent the Diamondbacks to MLW's World Series. This season, Knorp fell one out short of pitching a perfect game in June and settled for a 10-0 win.
Knorp practices so often that he's burned a dead spot in his parents' lawn. A former bowler at Schoolcraft College — he helped lead his team to the 2021 National Junior College Athletic Association men's bowling championships — Knorp estimates he threw nearly 2,000 pitches in his backyard before he got the feel for his drop ball, a massively arcing 12-to-6 curve that became the wipeout pitch in his Wiffle arsenal.
He's now instantly recognizable for his windup: From a pitcher's rubber on a mat of artificial turf, set 38 feet from home plate, Knorp often begins his windup looking like a hooked walleye out of Lake Erie. This is followed with a gyroscopic twisting of limbs and finishes with a lightning-quick break of white plastic ball.
Thanks to his skills and passionate, no-holds-barred playing style, Knorp has an outsize presence on the league's social media platforms. Victims of his plays call it getting "Knorped," and fans flock to their computers and phones to watch his darting pitches, mammoth home runs, and diving defensive plays. A slow-motion video of Knorp diving, Superman-like, into third base is particularly popular.
"Jimmy has been a godsend for this league," says Kyle Schultz, 24, who founded MLW on his parents' front lawn in Brighton in 2009 and serves as the league's commissioner. One of at least a half-dozen competitive Wiffle ball leagues across the country, MLW has eight teams and plays league games in locations from Vermont to California.
Games are uploaded onto the league's YouTube channel every Friday from spring to fall and are usually played at The Meadows, a field in Brighton adjacent to the Huron River whose outfield walls are covered with sponsor banners. The league's reach extends far beyond the field's PVC-piped walls: As of this summer, MLW's YouTube channel logged more than 54 million views.
Not surprisingly, being a pro Wiffle ball player is hardly a lucrative enterprise. MLW shares a cut of its jersey sales with players — Knorp's is the league's best-seller — "but it's not going to make anyone rich anytime soon," Knorp says.
"Still, it's not about that. I fell in love with this game, and it's put me in this place where I can be myself and be a little bit of an example for other people. Like, look at me: You don't have to be the biggest or the strongest to succeed. You can be competitive, but you can still do that while being positive and having a blast with your life."
As general manager of the Diamondbacks (top that, Ohtani), Knorp has taken online classes on baseball player evaluation. He watches opponents with the attention of a professional scout and writes detailed reports that he passes to teammates. His friends joke about his fastidiousness but say it's a major reason behind his success.
"Jimmy's going to come at you 100 miles per hour, but it's always going to be fun," says Jonah Heath, Knorp's best friend and Diamondbacks teammate. "He can do anything in the world, but. Jimmy will always be the same hardworking, honest guy you want to hang out with at the end of the day."
"MLW encapsulates so much of Jimmy, and it highlights the best of him," his sister Alex says. "You see how much he loves to play. In some ways, it's allowed him to show who he really is, to become more vulnerable."
Last year, Knorp, who has Type 1 diabetes, helped MLW promote SlamT1D, a nonprofit that advocates for those with the disease. "Most of us had no idea Jimmy was dealing with diabetes," Schultz says. "But then he steps up and says, 'I want to share my story.' Now, we have kids who see that and say, 'Jimmy Knorp is working through this, and so can I.'"
Fans regularly stop Knorp at Tigers games, at fairs, and at restaurants. This summer, he was eating with friends at a Red Robin when a boy stopped by the table with his mother.
"The kid wanted a photo," Heath remembers. "We made fun of Jimmy. Then, 30 seconds later, another kid came up to him."
Knorp recently got a text from his former math teacher at Stevenson High School in Livonia. Her 11-year-old son was watching a YouTube video in which Knorp appeared. "It's about time one of my students got famous," she wrote.
Knorp laughs at the memory. "My teacher said she was proud of me," he says. "I mean, how cool is that?"
---
This story is from the October 2023 issue of Hour Detroit magazine. Read more in our digital edition.