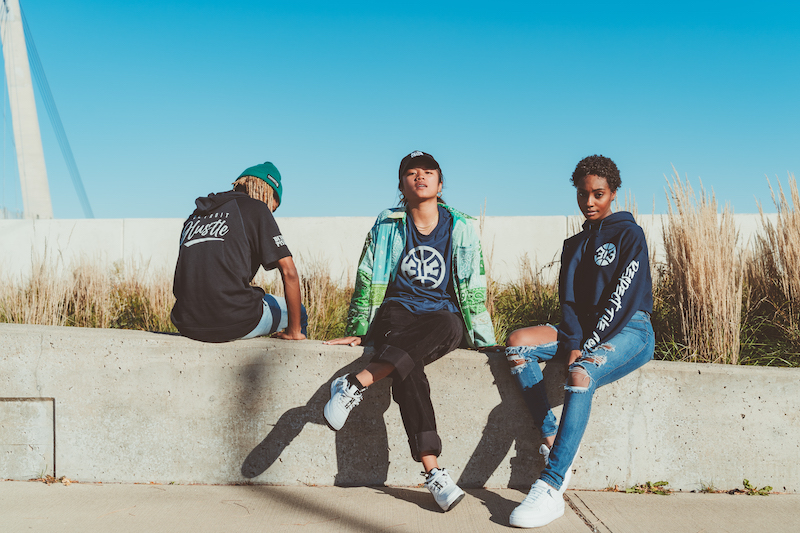 The Detroit Pistons have teamed up with Legends Global Merchandise — a retail and merchandising company that counts the NBA, NFL, UFC, and MBL among its clients — to launch Pistons 313 Shop, a new online merch store that specializes in men's, women's, and youth apparel that pays homage to the team's hometown.
The shop, which now serves as the team's official merchandise website, offers traditional Pistons merch, including crewnecks and T-Shirts (ranging from sizes small to 3X-Large) that feature the team name as well as snapbacks, jerseys, and novelty items like basketballs and posters. There's also a new line of stylish goods that have a uniquely Detroit vibe.
The 313 Collection and DET Collection, which are part of a new lifestyle-inspired line of apparel called "DETail Threads," are both available to shop on the site. Products in the 313 Collection feature a new logo that the team says is inspired by the Detroit area code, the manufacturing heritage of the city, and the basketball. The logo can be found on face masks, slides, beanies, and tops that feature messages such as, "What Up Doe," "Respect Our City," and "Detroit is a Team Sport." Meanwhile, items in the DET Collection feature a new circular logo with "DET" in bold type.
"Our DETail Threads private label and new 313 and DET logo treatments provide fans a directional glimpse of our merchandising future and how we intend to utilize the power of Legends' global expertise to diversify the look and feel of our team apparel offerings," says Mike Zavodsky, chief business officer for the Detroit Pistons.
Leaning into the team's roots even more, the Pistons have also launched a new video and campaign called "D-Up" to engage fans ahead of the 2020-21 season. According to a press release, the video and campaign intend to lean into "the ethos of Detroit culture," and the city's "relentless spirit, perseverance, and pride that bonds the people of this region."
Check out the video, narrated by Detroit native Jalen Rose, below:
For more information, visit pistons313shop.com.