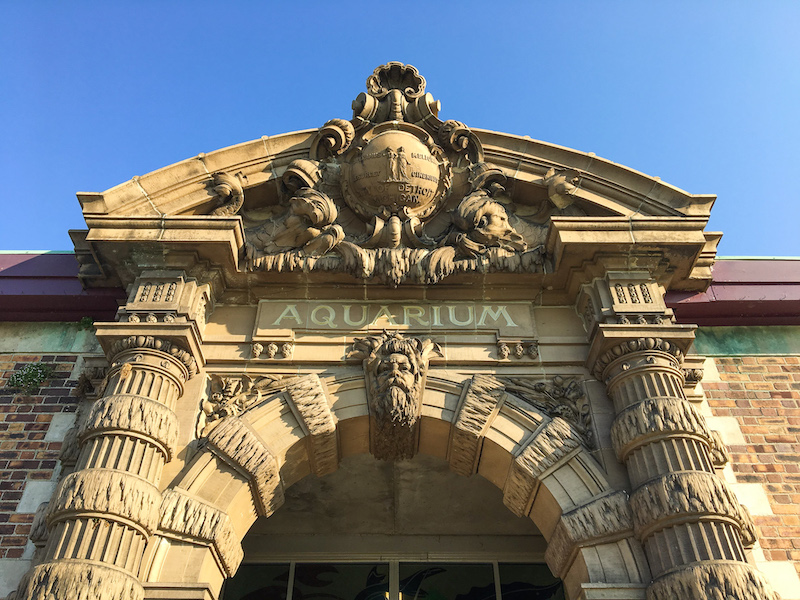 The Belle Isle Aquarium is set to re-open tomorrow after a 16-month closure and a $1.2 million renovation. Originally designed by legendary Detroit architect Albert Kahn in 1904, "America's oldest aquarium" is known for its sprawling marble floors, arched ceilings, and green glass tile work. Those unique features have been restored to their former glory thanks to funding from the Belle Isle Conservancy, a nonprofit that aims to preserve and enhance the natural environment and historic structures located on Belle Isle.
We asked Summer Ritner, chief operating officer at the Belle Isle Conservancy and director of the Belle Isle Aquarium, what guests should look for when they visit the restored facility. 
Refreshed tanks and habitats
Visitors will be able to view the aquarium's specimens more clearly thanks to new glass panes on the tanks and habitats. "To replace a piece of glass on one tank costs approximately $5,000 and takes several weeks to seal properly, cure, and then water changes must be done until the water is free of any chemical remnants," Ritner says. "Many of the tanks themselves were repaired, which entails removing the old concrete from the tanks and replacing it." Tankscapes have also been enhanced with live plantings and new lighting.
New animals
Ritner says the renovation allowed the aquarium to add several new species to the facility, including garden eels, mantis shrimp, and scorpion fish. Her favorite new addition is the axolotl, a freshwater salamander that hails from the lakes of Mexico City. "These incredible animals are native to one very specific location in Mexico and are critically endangered, meaning that they will likely be extinct in the wild within the next two years," Ritner says. "Axolotls were revered by the Aztec civilization, who believed that they were gods due to their ability to regenerate their own limbs, tails, lungs, and even their heart and spinal cord."
Enhanced signage
The aquarium's new species signage is not just a cosmetic enhancement, but an educational one as well. "I think that our message is now more cohesive due to the new signage," Ritner says. "We really want to make the connection in visitor's minds that all of these water systems around the world are connected and they are all affected by one another and face the same challenges such as pollution, habitat loss, the loss of biodiversity due to invasive species, and climate change."
Structural enhancements
An electrical overhaul, better tank filtration, and new water testing and monitoring systems are all part of the aquarium's transformation, says Ritner. The facility also now sports a new animal quarantine area, which allows the aquarium to separate individual specimens for observation.
Restored Foyer
The aquarium's historic marble and plaster foyer had to undergo several repairs before cosmetic enhancements could be made. "There have been several roof leaks over the years which caused damage to the plaster and lath underneath it," Ritner says. Old, damaged lath was removed and replaced, followed by fresh plasterwork, and finally a new coat of paint. "[The plaster was] painted to match the color that it originally was," Ritner says. "We were able to find the color based upon [reading] historic writings and peeling off over 100 years of paint until we got to the original." Remnants of the building's original paint, which contain unique gold leaf details, were given to Detroit-based jewelry designer Rebel Nell for use in a line of limited-edition Belle Isle Aquarium jewelry that was sold last year. Additionally, the foyer's marble floors, brass fixtures, and wooden doors have been cleaned and restored.
The Belle Isle Aquarium is open 10 a.m. to 4 p.m., Friday through Sunday, and does not charge an admission fee, which Ritner says is only possible because of donations.
"This historic facility is able to welcome guests from all over the world, conduct STEM field trips for thousands of [Detroit Public School District] students, and help in the conservation of animals and habitats," she says. "All of this important work is done through folks donating their time or money to us." She encourages visitors to leave a donation, sponsor a tank, or become a member of the Belle Isle Conservancy so they can continue to do their work.
For more information, visit belleisleconservancy.org.
Facebook Comments