Practice your poses, test your angles, and grab a (small) group of friends. The Pose Experience, a new selfie museum and interactive event space, opens today in Southfield.
The space — located at 15618 W. 10 Mile Road — features 10 vibrant and immersive exhibits that will surely help step your entire selfie game up. Take the Ended up in Bali installation, a much-needed tropical getaway complete with neon lighting and a backdrop of lush florals and greenery. The Girl Boss Office is a pretty-and-pink setup for all current and aspiring CEOs, entrepreneurs, and everyone in between. The Call Me exhibit features six vintage rotary telephones, and there's another space with a life-size Vogue magazine for you to step in and be on the cover.
Installations will be changed out quarterly, and The Pose Experience will also serve as a private event space for up to 25 guests. "It was about having something fun and creative where everyone could come together and have fun, and let go in a very curated, very cute, very trendy environment," says Kiera Henderson, a local entrepreneur and co-founder of The Pose Experience.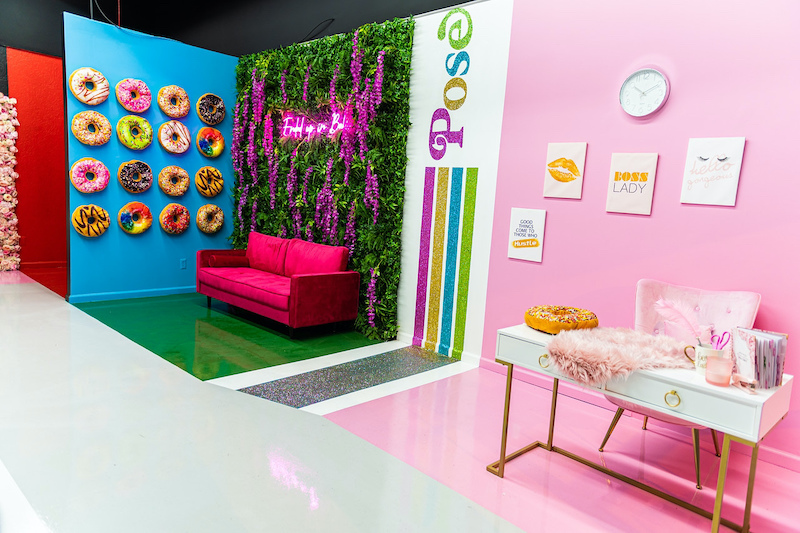 Henderson, along with fellow entrepreneurs and co-founders Dr. Danielle Penson and Danielle Hughes, began brainstorming ideas for the selfie museum late last December. The three women – who met when they each received the Michigan Chronicle's 40 Under 40 award in 2019 — wanted to create a community space for people to enjoy each other's company in a safe way during the pandemic. They brought their vision to life in less than two months.  "It's truly been a divine friendship and business partnership, and everything has truly flowed," Hughes says.
Tours are 45 minutes each and are currently appointment-only. To comply with COVID-19 safety, only 10 guests are allowed in the venue at a time. Masks must be worn at all times (with the exception of taking photos), and there will be temperature checks before entry. The space will be sanitized between each tour.
General admission is $28 per person and tickets can be bought online. Tickets are still available for today's opening — at which Hughes says guests can expect complimentary roses at the door, some treats, and other surprises for Valentine's Day weekend. "We are really looking forward to opening day and we just want this to be an experience," Penson says. "It's an immersive experience, [and we want to] bring some joy to the community."
To book a tour or private event at The Pose Experience, visit theposeexperience.com
Facebook Comments