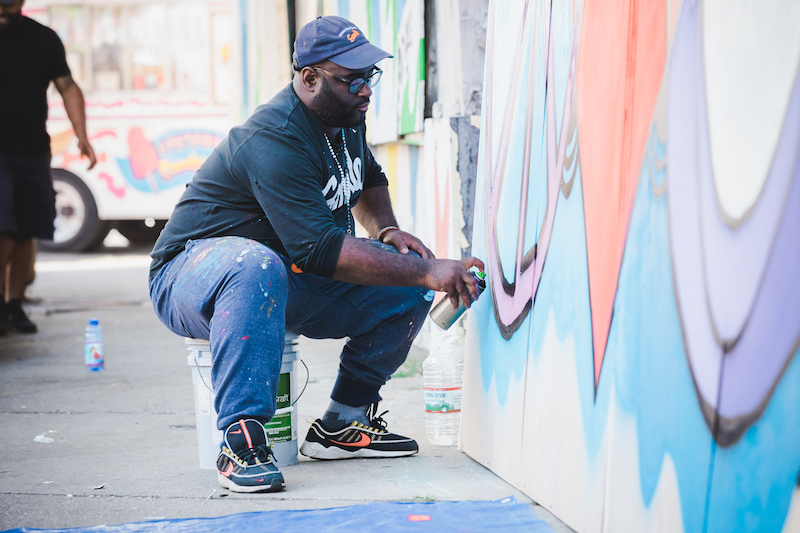 Sidewalk Detroit — an organization that celebrates and advances arts and culture in the city — will present its eighth annual Sidewalk Festival in four different neighborhoods in the city this year. The festival, which will take place every Saturday between July 24 and Aug. 14, will feature works by more than 50 participating artists.
Presenting performances, installations, and interactive art, the festival will make stops in Dexter-Linwood on July 24, Chadsey-Condon on July 31, Joy-Southfield on Aug. 7, and Jefferson-Chalmers on Aug. 14. Each event will spotlight about a dozen artists. Highlighted artists this year include painter and muralist Phil Simpson, muralist Freddie Diaz, multimedia artist Yvette Rock, blues singer Thornetta Davis, writer Cherise Morris, and musician and filmmaker Sacramento Knoxx.
The theme for the eighth annual Sidewalk Festival is Healing Revival Party, which organizers describe as an "arts festival meets neighborhood block party." "2020 was a year of change, transformation, and major social and spiritual challenges," Ryan Myers-Johnson says. "Our festival theme this year asks artists to focus on the healing we need to do as a community, as a people, and how we can facilitate revival within ourselves and in our public spaces."
Locations were selected by the festival's community partners, which this year are the nonprofits YouthWorks-Detroit, which provides mentorship and after-school programs; Bridging Communities, a grassroots organization that works to support local people of all ages; Joy Southfield Community Development Corp., which serves residents on Detroit's far west side; and Manistique Community Treehouse Center, which will be a space for occupational therapy and education.
"We are excited to travel to different neighborhoods across our great city to celebrate Detroit landscape and culture through interactive art and boundary pushing performance," says Ryan Myers-Johnson, executive director of Sidewalk Detroit, in a press release. "Detroit neighborhoods are full of power, history, and beauty"
Admission to Sidewalk Festival is free. The events in Dexter-Linwood, Chadsey-Condon, and Jefferson-Chalmers take place from 2 p.m. to 8 p.m., while the event in Joy-Southfield is scheduled from 4 p.m. to 10 p.m.
For more information — including the exact location of each event — visit sidewalkfestival.com.
Facebook Comments