Your little ones can be an astronaut for a day with a visit to Somerset Collection's new Out of this World experience. Created in partnership with the Kennedy Space Center Visitor Complex, the attraction opens on April 21 at the Troy shopping center and gives guests the chance to engage with interactive and educational installations related to space exploration.
"Our mission is to inspire the next generation of space explorers," says Dee Maynard, Kennedy Space Center Visitor Complex education manager, in a press release. "We hope that by immersing them in fun, space-related activities, we will help them see themselves as part of NASA's ongoing story of space exploration."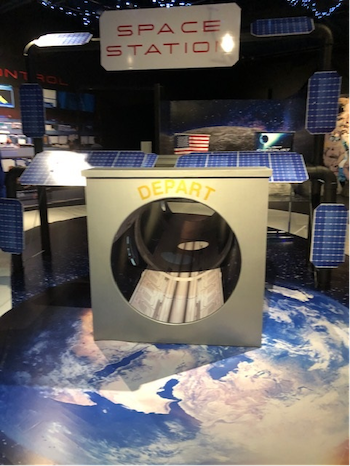 Visitors will be greeted by Maynard when they enter Out of this World, which was built to resemble an astronaut training center and is located on Somerset North's third floor near Nordstrom. Guests will have the opportunity to sit on a rooftop and stargaze, leap onto the surface of the moon and pose for a picture in a spacesuit, climb through a satellite, and more. Each activity in Out of this World will have a corresponding QR code, which attendees can scan to learn more about space.
The "journey" ends with an installation on NASA's Perseverance, a rover based on Mars that's currently making headlines for capturing photos of the first helicopter to fly on the planet. And while exiting the experience, visitors can check out the Kennedy Space Center Visitor Complex gift shop, which is stocked with books, toys, and other goods.
Admission is a $10 donation to Give Kids the World Village, a nonprofit resort in Florida for children with critical illnesses. Out of This World runs through June 1 and is open from noon to 7 p.m., Wednesday through Saturday, and noon to 6 p.m. on Sunday. Guests must wear masks, and hand sanitizer will be available.
For more information, visit thesomersetcollection.com/