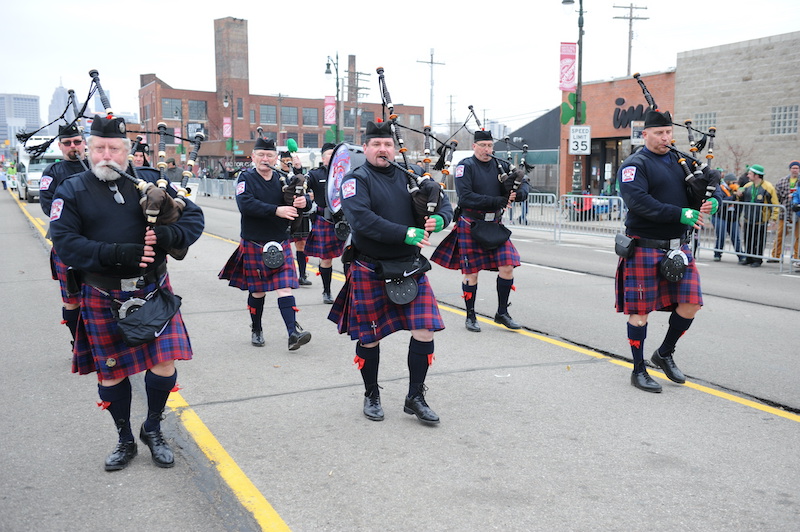 For the first time since 2019, the Detroit St. Patrick's Parade is returning to the streets of Corktown. The annual event, which has been on pause for two years due to the pandemic, takes place on March 13.
Attendees can expect to see marching and pipe and drum bands, color guard units, floats, clowns, novelty groups, and more in the parade. The event will also honor "hometown heroes:" Officer Adam Sheehan of the Huron Township Police Department, Detroit firefighter Jeffrey Hess, healthcare provider Bryan McCann Riffle, and educator Patricia Kennedy-Coughlin.
Paul W. Smith of WJR will be the parade commentator. Peggy Gray — a member of the Irish American Club who formerly worked on Parade Times, a fundraising publication for the parade — will return as grand marshal, while Dennis Hayes, another former grand marshal, will serve as a roving emcee.
"For more than 60 years, the St. Patrick's Parade has brought together people of all cultures and nationalities in metro Detroit to celebrate Irish culture and make lasting memories," Gray says in a press release. "I look forward to continuing that tradition this year. This parade is a wonderful time to celebrate Corktown, Detroit, and the positive momentum in the Corktown area."
Guests can also enjoy a Family Fun Zone. The family-friendly space will feature live Irish entertainment, coffee, donuts, water, and private restrooms. Tickets are $12 per person or $60 for six tickets.
The Detroit St. Patrick's Parade is hosted by the United Irish Societies, a group of more than 35 local Irish organizations. The parade begins at 1 p.m. near Sixth Street and Michigan Avenue, and it lasts roughly two hours. The Family Fun Zone will be open from 12:30 p.m. to 3:30 p.m.
For more information, visit detroitstpatricksparade.com.  
Facebook Comments